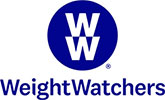 How many Weight Watchers points does a slice of pizza have?
If you are on WW (Weight Watchers Reimagined), a craving for pizza can really wreak havoc on your daily point total.
Pizza is basically dough covered in greasy cheese, which isn't exactly the kind of healthy food Weight Watchers teaches you eat with their point system.
Did You Know: The average American will eat about 6000 slices of pizza in their lifetime!
Knowledge is power, so if you are going to eat pizza on Weight Watchers, you have to be smart about it. Here are the WW points in pizza, plus some advice on how to make pizza fit into your daily WW FreeStyle / SmartPoints budget.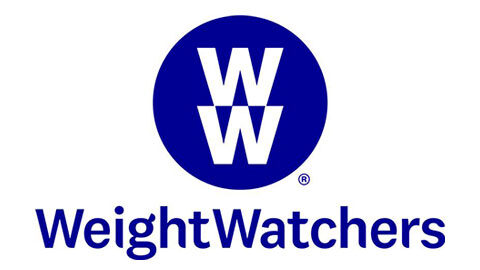 ---
Weight Watchers Points in a Slice of Pizza?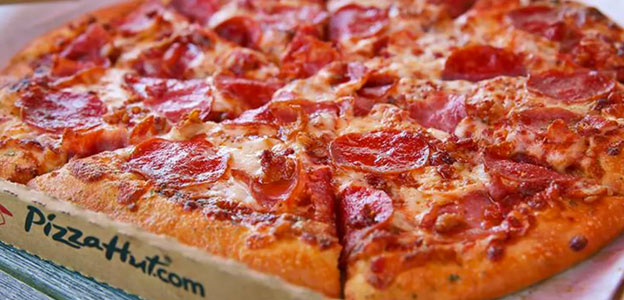 Ordering pizza from popular chains like Domino's, Papa John's, and Pizza Hut is going to cost you a lot of points! Hopefully, you can find a healthier alternative to ordering pizza from these restaurants, and when you see the point totals, I think you'll agree!
So, how many Weight Watchers Points in a slice of pizza? You can estimate that a piece of pizza (1/8th of a large pizza) from a local pizza restaurant will have 10 SmartPoints, and 8 PointsPlus. It seems to be a little less for most frozen pizzas, largely because the slices are usually smaller.
Here are the Weight Watchers points in a large slice of pizza:
Domino's Pizza

:
Hand-Tossed Pizza: 12 SmartPoints 10 PointsPlus
Thin crust pizza: 9 SmartPoints, 7 PointsPlus
Deep Dish Pizza 15 SmartPoints, 12 PointsPlus
Papa John's

:
Cheese Pizza slice: 9 SmartPoints, 7 PointsPlus
Thin crust cheese pizza: 8 Smart Points, 6 PointsPlus
(more)
Pizza Hut

:
Hand-Tossed Cheese Pizza: 10 SmartPoints, 10 PointsPlus
Cheese Pan Pizza: 12 SmartPoints, 9 PointsPlus
Thin & Crispy Cheese Pizza: 9 Smart Points, 7 PointsPlus
Cheese Stuffed-Crust Pizza: 10 Smart Points, 8 PointsPlus
(more)
Little Caesar's

Pizza:
Cheese Pizza (Hot-n-Ready): 8 SmartPoints, 7 PointsPlus
Deep Dish Cheese Pizza: 11 Smart Points, 11 PointsPlus
Frozen Pizza

: (Per Slice)
DiGiorno Thin & Crispy Pepperoni = 5 SmartPoints
Freschetta Margherita Artisan Crust Pizza: 7 Smart Points
Newman's Own Margherita Thin & Crispy Pizza: 4 SmartPoints
California Pizza Kitchen (Gluten-Free) BBQ Chicken Pizza: 5 SmartPoints
You can also calculate WW points from the nutrition label with our WW points calculator!

*Related: Healthiest frozen pizza? – Shape.com
---
Toppings: (Add WW points per slice)
Extra cheese: + 3 SmartPoints, 1 PointsPlus
Meat toppings: (Pepperoni, sausage, ham) about +1 WW point per slice
Veggie toppings: 0 SmartPoints
When ordering any pizza, you should also skip anything "meat-lovers, stuffed crust, deep dish, alfredo, or cheese-lovers," and for God's sake, you don't need to add breadsticks (4 SmartPoints each) or cinnamon bread twists! (6-8 SmartPoints per serving)
If you really want to stick with the Weight Watchers brand, you can find their Smart Ones frozen pizza (13 Smart Points) at some grocery stores.
*Related: WW Points List: The 99 Most-Tracked Foods
---
Some Advice About Pizza and Weight Watchers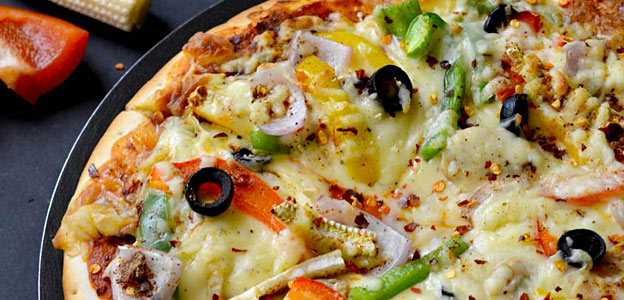 Yikes! So, how can you enjoy pizza without blowing up your diet? Well, you can skip Pizza Hut, Papa John's, and Domino's pizza, and order something healthier!
But, maybe you find yourself at a restaurant, friend's house, or birthday party, and don't have a DIY pizza option? Here are a few suggestions for eating pizza on Weight Watchers FreeStyle, or any other diet.
---
Tip: Skip White Pizza!
Like a taco salad, white pizza also has an undeserved reputation for being healthy. Maybe this is because it's a favorite of women who usually are better at making decisions than men. Maybe it's because we think (wrongly) that white foods are pure and healthier. Or, maybe we believe that putting a little broccoli or tomato on top of anything makes it healthy?
Actually, the opposite is true, as the healthiest part of pizza is the tomato sauce which has antioxidants. To make things worse, most pizzerias brush on garlic oil which is loaded with calories. In fact, a single slice of white pizza can have 600 calories and cost you 12 Smart Points!
*Related: Weight Watchers points in Wine?
---
WW & Pizza: Choose Healthy Toppings
Ok, so putting veggies on pizza isn't going to make it healthy food, but at least it's healthier. Skip the sausage and pepperoni and add fresh vegetables like red or yellow peppers, broccoli, and tomato.
The canned Mushrooms most pizza restaurants use as a topping don't have much nutritional value, but if you have the option of fresh mushrooms, top your pizza with them for extra antioxidants and health benefits. Fresh eggplant is also a great healthy alternative to most meat toppings, if available. Remember, with myWW+, most vegetables are 0 Smart Points!
---
Choose Whole Grain or Thin Crust Pizza
In most restaurants, the crust is about as healthy as Wonder Bread, as it's made with unhealthy white flour and high in carbs. If you have the option of whole-grain or thin crust, you're getting fewer carbs while still enjoying the same amount of tomato sauce and veggie toppings.
In fact, thin crust pizza has significantly fewer Weight Watchers points than regular or deep dish pizza! Even better, if you're making your own pizza, try using whole wheat pita rounds or fresh naan for crust.
You'll also notice that eating a slice of thin-crust pizza won't make you feel lethargic the way a couple of slices of regular pizza does. That's because it takes a lot of your body's energy to burn those carbs from pizza crust; that's energy that would be better used burning fat!
---
Brief History of Pizza:
Pizza as we know it originated in Naples in the 18th Century and was a "food of the working class," looked down upon by the wealthy as a crude meal sold by street vendors.
That all changed after Italy was unified and Naples got a visit from Queen Margherita who was tired of fancy cuisine and took a liking to pizza; specifically the kind made with mozzarella cheese, red tomatoes, and green basil.
Perhaps she also appreciated that this variety of pizza featured the colors of the Italian flag, but either way her appreciation for what later became, "Margherita" pizza caused the food to skyrocket in popularity with all social classes in Italy and later in America when the Neapolitans started flocking to cities like Trenton, Chicago, New York, and St. Louis in the late 19th Century for factory jobs, bringing their love of pizza with them.
---
Make Your Own Pizza! Weight Watchers Pizza Recipes: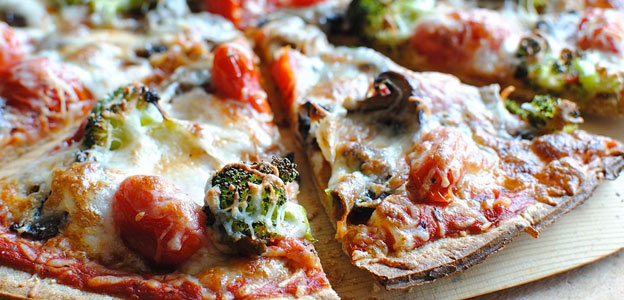 So, if you aren't at a restaurant, party, or friend's house, you'll have a lot more options for making healthy choices when it comes to pizza.
Tip: If you're making your own pizza know that store-bought pizza sauce is high in fat, sodium, and sugar. That means more WW points! Instead, try buying a jar of fat or sugar-free pizza sauce, and then mix in some tomato paste to thicken it, and some fresh diced tomatoes.
While Weight Watchers reserves many of their recipes for members, they still have a number of free pizza recipes available, including their recipe for basic pizza dough. You don't have to just depend on WW for pizza recipes, as there are lots of great Weight Watchers-friendly pizza recipes online, most of which include WW points / Smart Points.
Here are a few WW pizza recipes to get you started:
---
My Conclusion: Weight Watchers Points & Pizza
So, as you can see, a couple of slices of pizza from a chain restaurant like Domino's, Pizza Hut, or Papa John's can really blow up your weight loss efforts with a diet like Weight Watchers.
In fact, 2 slices of cheese pizza can equal more than half of your entire day's budget of Weight Watchers points! Unlike diets such as Nutrisystem (view coupons) that plan all of your meals, no foods are off-limits with Weight Watchers or Noom.
For that reason, if you must eat pizza, be smart! Go for a thin crust, limit yourself to a slice, and top with veggies. Better yet, make your own healthy, Weight Watchers-friendly pizza at home with fresh ingredients. Weight Watchers is about