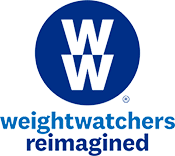 WW is "Weight Watchers Reimagined," and they ask you to, "live life fully." That's easier to do when you live a healthy lifestyle and feel good about yourself. Plus, saving money on the cost of joining should make you happy, too!
So, are there any good discounts for Weight Watchers? Yes, you should never pay full-price when you sign up for WW because every week they have several coupons available for their Digital, Workshop, and Personal Coaching plans. Here are this week's WW coupons and specials for a 50% discount and free registration on 3 and 6-month myWW+ plans:
WW: Coupons & Specials | Best Coupon? | Savings Plans | 6 Months $128 | 50 off 3 Months | Join Free | Food Coupons | AAA Discount
---
WW (Weight Watchers) Coupons, Specials Nov. 2020:
Black Friday / Cyber Monday deal + Free Tote bag & cookbook. View offer:

Virtual, 3-6 month WW Weight Watchers Meetings deal. View:

1-6 months. Save $20-80+. myWW+ Digital, Workshop, Coaching. Apply coupon:

$7.79/week for 1 month. myWW+ personal coaching special:

WW Canada 25-50% off or 6 months for $128: (French)

Up to a 50% discount on WW Digital & (virtual) Workshop

Buy WW food, bars, shakes, SmartPoints scale; view codes:

Click to view WW Shop promotion:
*Update: (11/01/20) Due to the coronavirus WW Workshops (in-person meetings) are still virtual instead. Black Friday Deal starts 11/27/20 learn more
---
1. Which WW (Weight Watchers) Coupon or Special is Best?

Save money now with today's best Weight Watchers promo codes, coupons, signup deals, and joining specials. Recent deals have included: 50 off 3 months, 55% off the 6-month Savings Plan, and 6 months for $128. But, which WW special is best?
As you can see, WW usually runs more than one promotion at a time. That means you'll pay a different price at signup, depending on which special you join with.
We're here to help you get the best deal, so here's more about Weight Watchers coupons, and how to choose the best one:
Tip: Compare "Your Savings" on WW Promo Page
Comparing advertised Weight Watchers promotions can be confusing. Imagine this:
You clicked on a banner for 6 months for $128 promotion, but then saw that there's also a 50% off 3 Months promo, and a "Join Free" sale going on too. So, how do you know which special is the best deal?
Here's a good way to make an apples-to-apples comparison of two or more Weight Watchers specials:
Click one of the coupons or specials
You will be taken to a landing page for that specific WW promotion
Look at where it says, "Your Savings" under the price breakdown: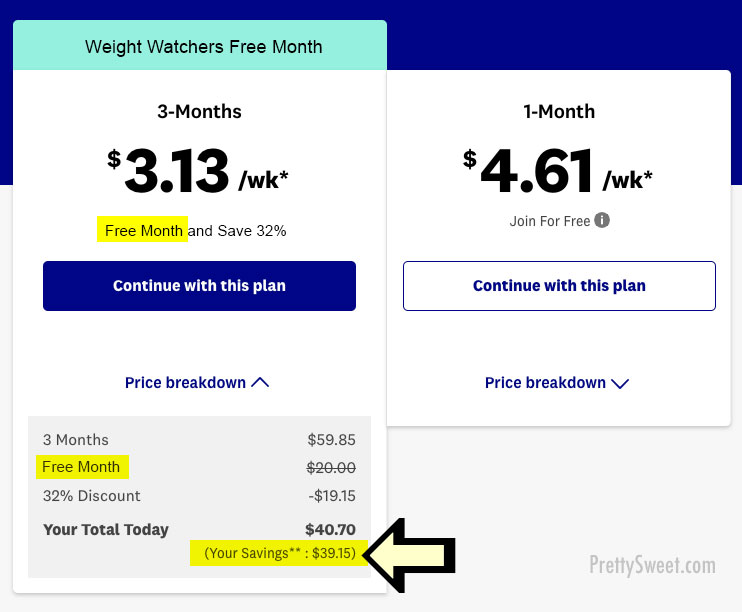 Now, write down those savings, and repeat the process again to compare it against the second deal.
Weight Watchers coupons only work towards your initial order, so the discount that you see at signup is the total savings that you will get. When the promotional period ends, so does the monthly discount!
So, what coupons or specials save the most? Let's talk more about how to get the best deal:
---
2. The "6 Month Savings Plan" is Usually the Best Deal:
As we were saying, Weight Watchers coupons are only applied to your first order. That means if you're ready to make a long-term commitment, you'll save more money. If you are in this for the long-haul, then you'll save the most by committing to at least 3 months.
If you are presented with an option for how long you'd like to join for, look for the 6 Month Savings Plan as an option: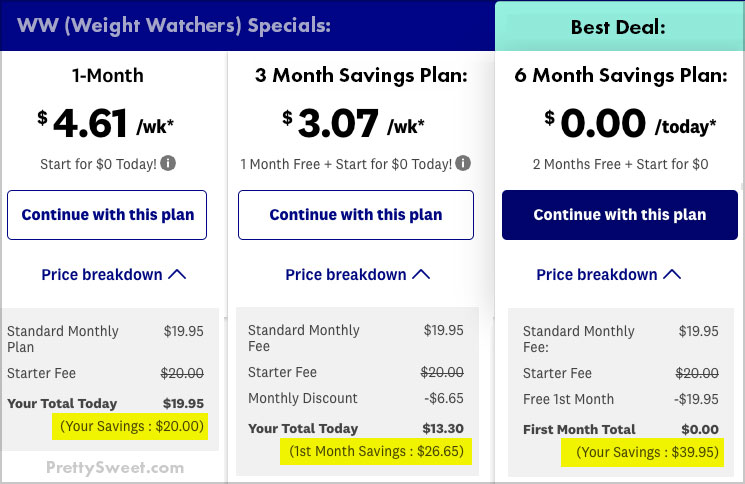 As you can see, joining for longer saves more money!
You find a special for 50% off membership and have the choice of 1, 3, or 6 months.
Weight Watchers Digital (Online) costs about $20 per month.
In this case, that means paying up-front for 1 month will only save you $20. However, pre-paying for 6 months (max length) will save you closer to $40 with that same coupon!
However, you should also be aware of the fine print under the terms of the 6-month savings Plan which reads:
"An early termination fee of $39.95 applies if you cancel at any time during the first 5 months of your 6-Month Commitment Plan"
In other words, you are expected to fulfill the initial commitment that you make, or else you pay a cancellation fee.
But, what if you join and don't like the program?
Tip: If you don't like the idea of a long commitment, then consider the 50 off 3 months promotion instead of the 6-month savings plan. Tax season? Save $5-25 on TurboTax with this coupon from Mighty Taxes!
Now, let's talk about the popular Weight Watchers, "6 months for $128" promotion.
---
3. Why You Should Skip "6 Months for $128"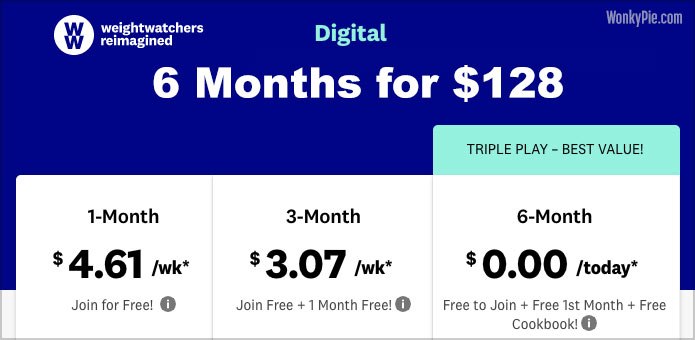 Is 6 months for $128 a good deal? WW Digital (Online) currently only costs $20 per month plus a $20 registration fee. That means the Weight Watchers 6 Months for $128 special isn't very "special" at all. In fact, you'd only be saving $12, plus the value of a possible free month ($20).
At a maximum discount of $32, I suggest that you pass on "6 months for $128" unless you are in Canada.
---
4. Weight Watchers 50% Off 3 Months:
Even though a 6-month commitment saves the most money, it's a long time to commit to WW. This is especially true if you aren't familiar with the program and point system, and are trying it out for the first time.
In that case, the Weight Watchers MyWW+ 3 month special might be a better option, and you can often find a "50% off 3 months" promo out there.

Tip: The 3-month savings plan is kind of in the sweet spot of Weight Watchers specials: it's a shorter commitment that still offers big savings!
Look for the WW 50% off 3 months sale during diet season when the competition is fierce for your business. The 50-55% off sale might even include a "join for free" kicker to sweeten the deal:
---
5. Is "Join for Free" Included in Your WW Special?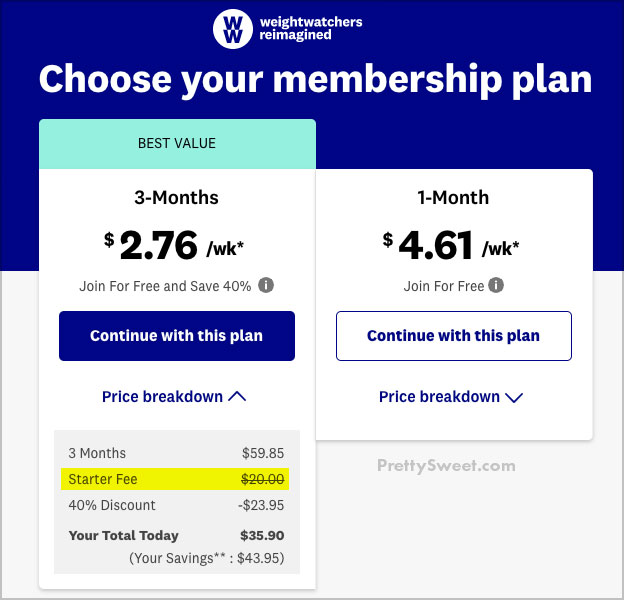 Did you know that there's a $20 starter fee when you signup for Weight Watchers? That's in addition to the monthly fee, but the good news is that you can avoid paying it.
That's because the best Weight Watchers coupons and deals include free registration which waives the starter fee. That's an additional savings of $20 in addition to the "percent-off" discount, and that's significant.
Tip: 50% off or join Free not included? Wait for a better WW special!
---
6. Weight Watchers Promo Codes? Not Any More!
You used to be able to find WW promo codes online for up to 55% off your first month at signup. However, they no longer distribute them, and there is no longer even a "promo code" field to enter one.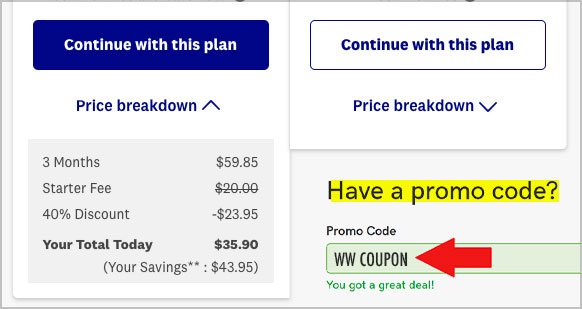 That means you must click on a promotional link or banner to apply the advertised discount.
That's OK though because the problem with promo codes was that the terms of the discount weren't always clear. Currently, when you click over to weightwatchers.com from a coupon-link or banner, the terms of the special are clearly spelled out, as well as your exact discount from the promotion.
---
7. The Weight Watchers "Free Month" Promotion is Good!
So, you're going to use a 50 off coupon? While it might be the best deal, be sure to compare it to another sale like the "free month" offer.
A free month of WW Digital is a $20 savings, so when combined with their "join free" special, the savings really add up.
Free month promotions can also include a discount of up to 55%, which is like getting a double-coupon.
*Related: Does WW Have a Military Discount?
---
9. Weight Watchers Food Coupons (WW Shop / Store)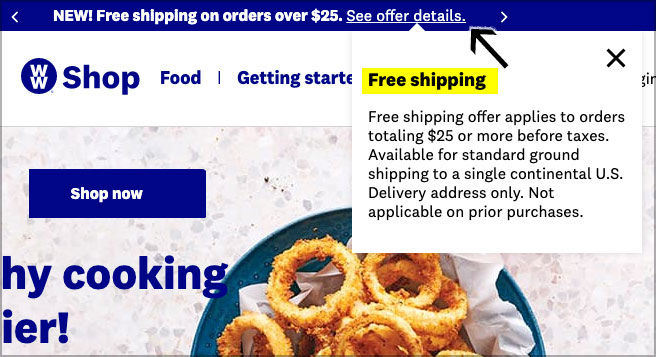 Coupons for Weight Watchers food: Did you know that WW has their own line of products and food in the Weight Watchers Store at weightwatchers.com?
It's true, and the most popular foods include their protein boosters and protein bars. Every food also comes with nutritional info and FreeStyle / MyWW+ SmartPoints values for easy logging of WW points. No need to use a calculator!
They also have 1-2 coupons every day which are featured on the WW Store homepage like this: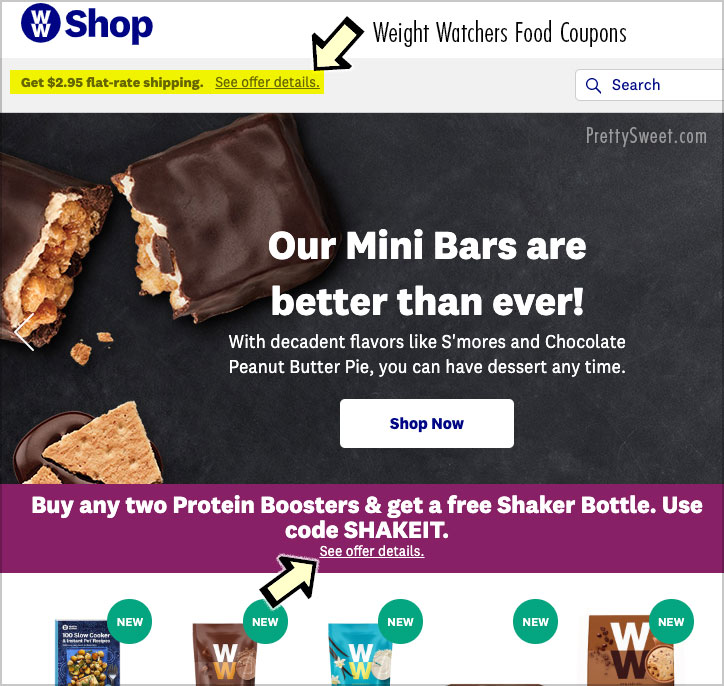 If you are looking for WW frozen foods, check out WW Smart Ones.
*Related: These Are the 99 Most-Tracked Foods on the WW App
---
10. Weight Watchers Discount AAA: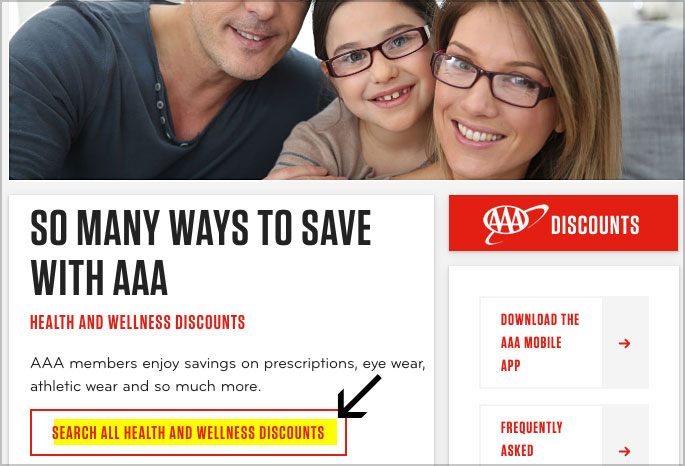 Are you a member of AAA (Triple-A)? If so, you might be eligible for a special WW discount of up to 50%. So, how can you check if AAA is offering a better deal than us?
Go to the "health & wellness" section on aaa.com/discounts
Click "Search all health and wellness discounts"
Login to your account
See if there are any WW specials available
Currently, there are no WW discounts listed, but AAA discounts seem to be updated monthly, so you never know. *Related: TurboTax AAA Discount?
WW Coupon FAQs:
What's the best WW Digital coupon? 💵
Specials change every 3 days, but look to save up to 50% off on your first 3-6 months! (Join Free?) View deals
What's the best coupon for WW Workshops?
Currently Workshops (meetings) are virtual, and you can save up to 50% here
Can you join WW free?
While there is no "free" membership, the best Weight Watchers promotions waive the $20 sign up fee.
---
Conclusion: Use Our Coupons for the Best Deal on WW Digital (Online) or Meetings!
WW has been rated as the, "Best Weight Loss Diet" again this year, and I'm happy to recommend it as a way to live a healthier life. New Weight Watchers coupons are released every Friday, so if you don't see a great deal, don't signup! Take your time and wait for the best possible deal.
Tip: We get exclusive Weight Watchers Coupons and special offers for up to 50% off that you won't find on any of the big coupon sites!
Also, weight loss works better when you have the support of others. For this reason, we recommend that you take advantage of WW Connect through the app or online, and meetings, if possible.
Regardless of which plan you join, we hope you take advantage of our Weight Watchers coupons and specials to get the best price on membership!
Final tip: Add Workshop (aka "meetings") if you can. Meetings double the success rate of Weight Watchers because they add accountability and motivation; two key components to a successful weight loss program!
*Related: Not sold on WW? We also have coupons for Noom, South Beach Diet, Adam & Eve, Freshology, and Nutrisystem!
---
*This Weight Watchers deals page was created in 2018, and updated throughout 2019, and 2020.