The best feature of WW (Weight Watchers) FreeStyle point system is probably the free, ZeroPoint™ foods. The list of free WW FreeStyle foods includes over 200 proteins, fruits, and vegetables. With so many free foods, it's a good idea to print a list of them all and keep it handy for the grocery store.
So, what are the WW ZeroPoint foods? We made a printable list of zero point foods for exactly that reason, plus we put together a list of some one point foods for your budget. Here it is:
---
Weight Watchers Zero Point Foods List, Printable:
WW has 200+ zero-point foods that are "free" for your daily WW points budget. That's too many to remember, so here's a printable list of all WW FreeStyle zero point foods that you can take grocery shopping: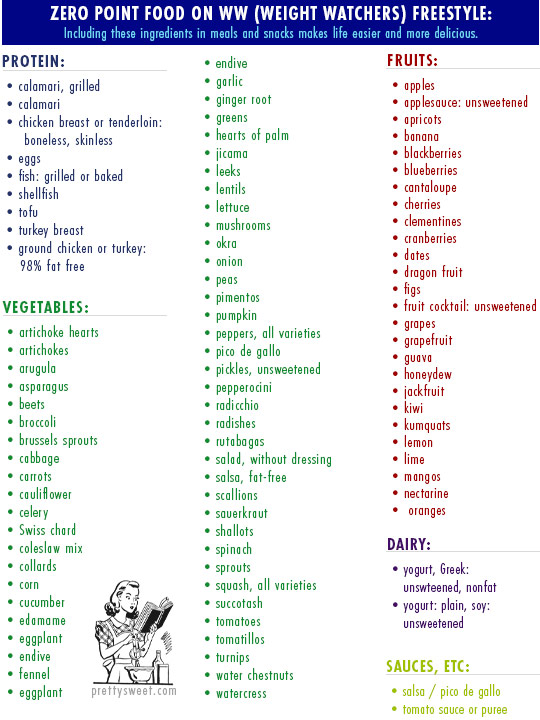 ---
WW One-Point Foods & Snacks: (FreeStyle SmartPoints)
If you want to thrive on WW FreeStyle, you have to be smart and thrifty with your points. Here are some ideas for Weight Watchers one point foods:
Almonds (7-8)
Almond milk (8 oz.)
Baby carrots w/ 2 Tbsp ranch (fat free) dressing
Babybel mini Light Cheese (1)
Colby Jack string cheese (1/2 stick)
Cool Whip (2 Tbsp) + add fresh fruit for free!
Dannon Light & Fit Yogurt (2 oz.)
2-Egg omlette w/ vegetables + mozzarella cheese
Feta cheese (2 oz fat-free)
Goat cheese (1/2 oz low-fat)
Graham crackers (1 square)
Guacamole (2 Tbsp)
Hummus (1 Tbsp)
Laughing Cow cheese (1 wedge)
Mozzarella string cheese, light (1)
Multigrain crackers (2)
Oreo Thin Cookie (1)
Popcorn, light butter (1 cup)
Popcorn cake (plain or lightly sated)
Pretzel sticks (16-20)
Progresso Light Soups (most, 1 serving)
Rice cake (plain or lightly salted)
Saltine crackers: (4)
Turkey bacon (1 slice)
Turkey breast, deli oven-roasted (2 oz.)
Turkey jerky (1 oz.)
Turkey pepperoni (uncured) 1 oz.
Tortilla chips (4)
Tortilla strips (Fresh Gormet, 2 Tbsp)
Whipped cream (Aerosol, 2 Tbsp)
---
How WW (Weight Watchers) Zero Point Foods Work on FreeStyle:
As you know, WW FreeStyle is all about having a daily budget of SmartPoints which you can spend on food. So, how do you wisely use your points while still staying full?
WW zero point foods are a great, guiltless way to eat throughout the day without having to worry about spending or tracking points.
Actually, you can eat as much of the free foods on the WW Zero Points list as you'd like while you're on Weight Watchers without having to calculate points.
By combining these WW free foods with other popular foods, you should be able to fill your menu with delicious food within your SmartPoints budget.
• Q. Are all fruits and vegetables worth zero points?
No, while most fruits and veggies are free, there are a number that will cost you a couple of points, including: avocados, plantains, cassava, yuca, olives, parsnips, potatoes, sweet potatoes, and yams.
---
5 WW FreeStyle Zero Point WW Snack Ideas:
Looking for a free snack that won't cost you any WW Smart Points? Skip those high-carb bagels and muffins! Here are some ideas for healthy zero point snacks:
Strawberries with a teaspoon of balsamic vinegar
Chicken breast cold cuts with a handful of grapes
Fat-free Greek or plain yogurt with fresh blueberries
Hard boiled egg with a pinch of pepper
Fresh tomato salsa with veggie crudites
---
Have You Signed Up For WW Yet?
No single diet is best for everyone, so it's good to do your homework before joining. Many women and men find that they can't fit WW meetings into their busy schedules, but if you can, it can really be helpful and improve your odds of success.
If you are thinking of joining WW, check out our exclusive WW deals below.

Not sold on Weight Watchers?
We also give our opinion on other diets like Nutrisystem, (reviews, cost, coupons) South Beach Diet (reviews, coupons) and the popular Noom (reviews, cost, coupons) app.
Thanks for stopping by Wonky Pie!