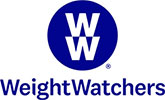 The best feature of the Weight Watchers point system is probably the 200 + free, ZeroPoint™ foods like proteins, fruits, and vegetables that you can enjoy guilt-free in reasonable portions. With so many free foods, it's a good idea to print a list of them all and keep it handy for the grocery store.
What are Weight Watchers ZeroPoint foods? WW chose foods for their zero-point list that are high in vitamins and minerals like fiber and protein that help you to feel full and stretch your points budget.
We made a free list of zero-point foods by category plus a printable PDF for your quick reference. Plus, if you're thinking of joining, check out today's WW coupons here!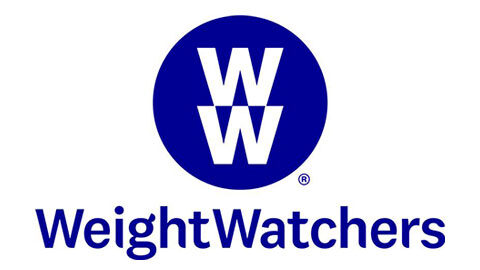 WW Zero-Point foods: Printable List | Fruits | Vegetables | Meats | Herbs & Spices | Drinks | Snacks | How Zero Works
---
Weight Watchers Zero Point Foods List (Printable)
Weight Watchers has 200+ zero-point foods that are "free" for your daily WW points budget. That's too many to remember, so here's a printable list of all WW zero-point foods that you can take grocery shopping: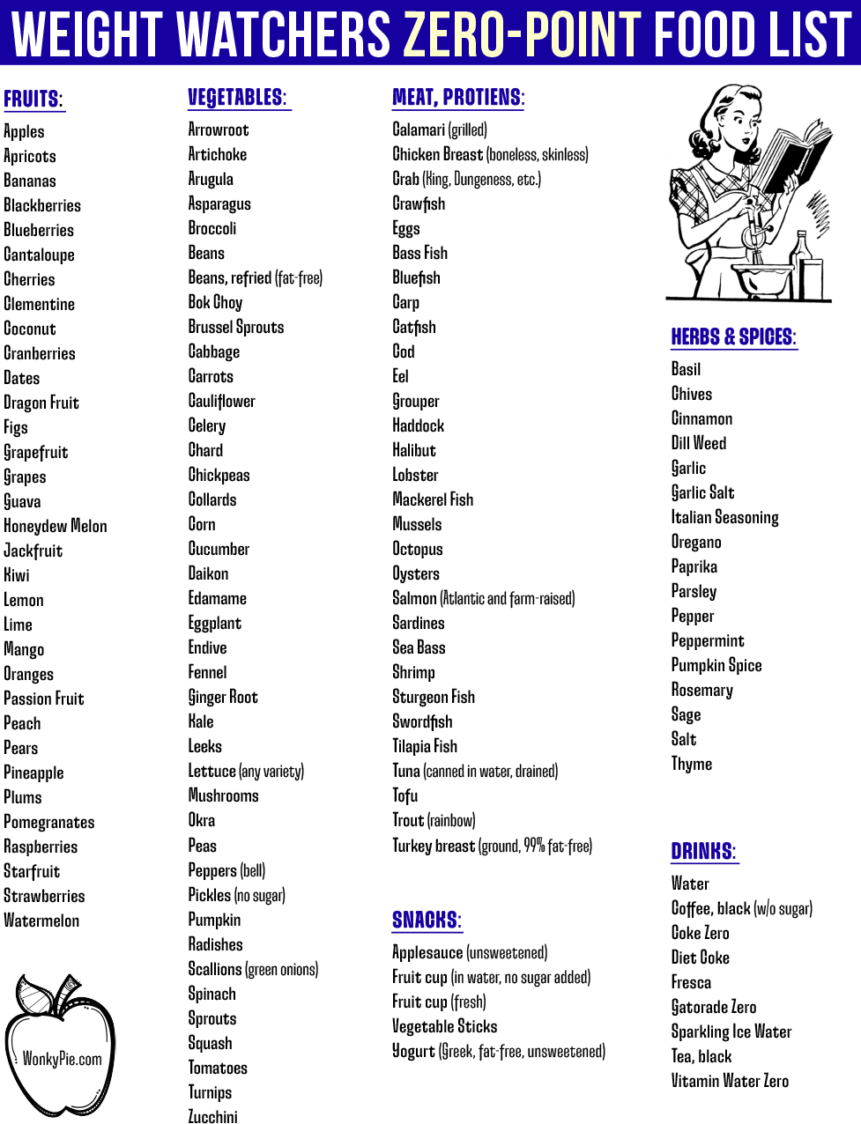 Now, here's that same list of Weight Watchers zero-point foods by category.
---
Weight Watchers Zero Point Fruits:
Apples
Apricots
Bananas
Blackberries
Blueberries
Cantaloupe
Cherries
Clementine
Coconut
Cranberries
Dates
Dragon Fruit
Figs
Grapefruit
Grapes
Guava
Honeydew Melon
Jackfruit
Kiwi
Lemon
Lime
Mango
Oranges
Passion Fruit
Peach
Pears
Pineapple
Plums
Pomegranates
Raspberries
Starfruit
Strawberries
Watermelon
Are all fruits and vegetables worth zero points? No, while most fruits and veggies are free, there is a number that will cost you a couple of WW points, including avocados, plantains, cassava, yuca, olives, parsnips, potatoes, sweet potatoes, and yams.
---
WW Zero-Point Vegetables:
Arrowroot, raw
Artichoke
Arugula
Asparagus
Broccoli
Beans (black, cannellini, garbanzo, kidney, Great Northern, lima, pinto, etc.)
Beans, refried (fat-free, no added sugar)
Green Beans
Bok Choy
Brussel Sprouts
Cabbage
Carrots
Cauliflower
Celery
Chard
Chickpeas
Collards
Corn
Cucumber
Daikon
Edamame
Eggplant
Endive
Fennel
Ginger Root
Kale
Leeks
Lettuce (any variety)
Mushrooms
Okra
Peas
Peppers (bell)
Pickles (w/o sugar)
Pumpkin
Radishes
Scallions (green onions)
Spinach
Sprouts
Squash
Tomatoes
Turnips
Zucchini
---
WW Zero-Point Proteins (Meats, Seafood, Poultry):
Calamari (grilled)
Chicken Breast (boneless, skinless)
Crab (King, Dungeness, etc.)
Crawfish
Eggs
Bass Fish
Bluefish
Carp
Catfish
Cod
Eel
Grouper
Haddock
Halibut
Lobster
Mackerel Fish
Mussels
Octopus
Oysters
Salmon (Atlantic and farm-raised)
Sardines
Sea Bass
Shrimp
Sturgeon Fish
Swordfish
Tilapia Fish
Tuna (canned in water, drained)
Tofu
Trout (rainbow)
Turkey breast (ground, 99% fat-free)
---
Weight Watchers Zero-Point Spices & Herbs:
Basil
Chives
Cinnamon
Dill Weed
Garlic
Garlic Salt
Italian Seasoning
Oregano
Paprika
Parsley
Pepper
Peppermint
Pumpkin Spice
Rosemary
Sage
Salt
Thyme
---
WW Zero Point Drinks:
Water
Coffee, black (without sugar)
Coke Zero
Diet Coke
Fresca
Gatorade Zero
Sparkling Ice Water
Tea, black
Vitamin Water Zero
---
Weight Watchers Zero Point Snacks: (Printable List)
Looking for a free snack that won't cost you any points? Skip those high-carb bagels and muffins! Here is a printable list of healthy zero-point snack ideas: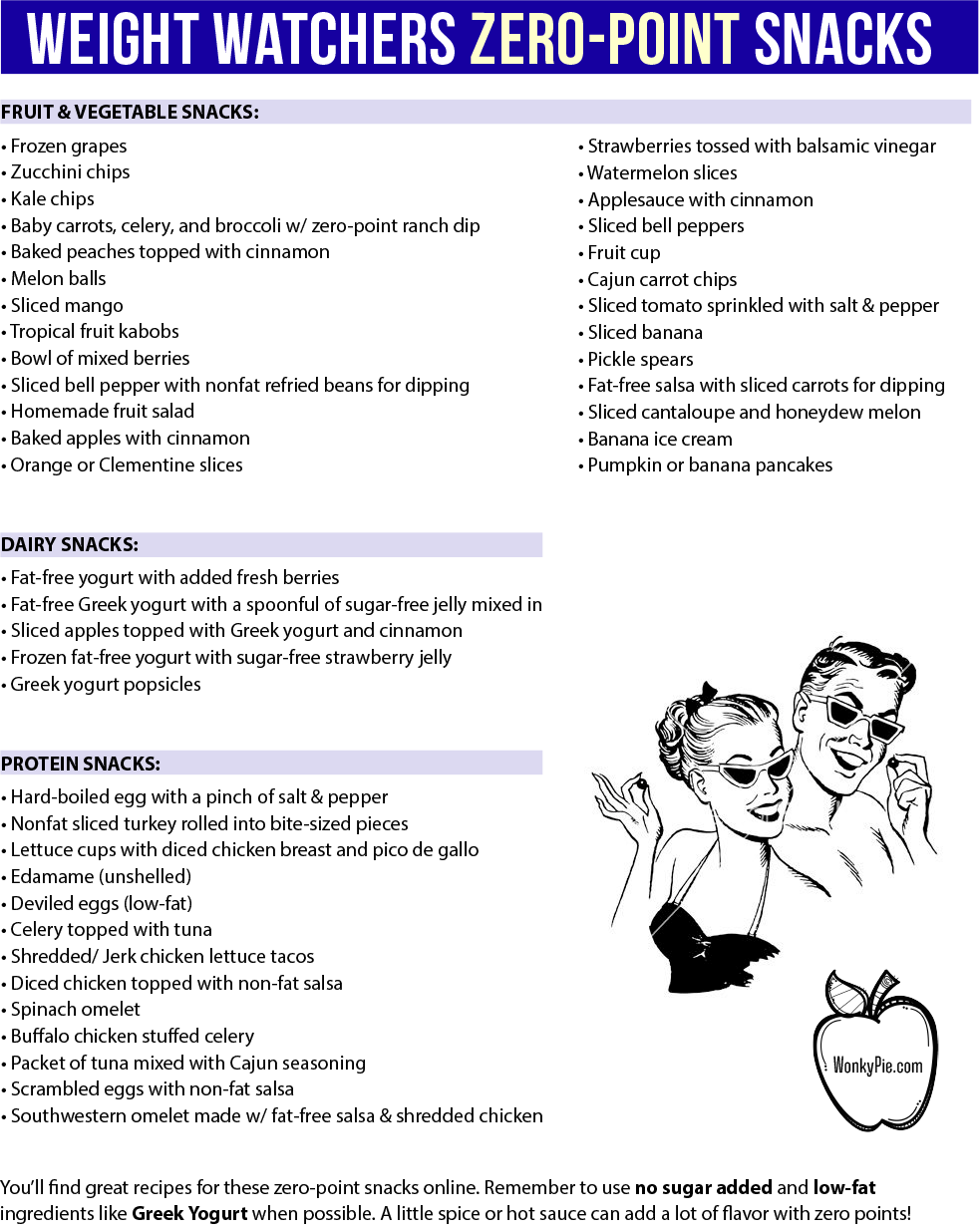 ---
How Do Weight Watchers Zero Point Foods Work?
The concept behind Weight Watchers' zero-point foods is to encourage healthy eating habits by assigning a point value of zero to certain foods.
Zero-point foods are typically low in calories and highly nutritious, making them an excellent foundation for a healthy diet. The idea is that you can eat these foods without using any points from your daily or weekly budget.
When planning your meals or snacks, you can choose from this list of zero-point foods from this list to create meals that are satisfying and nutrient-dense without using any points.
Weight Watchers Zero-point foods are a great, guiltless way to eat throughout the day without having to worry about spending points or tracking points.
By combining these free foods with other popular foods, you should be able to fill your menu with delicious food within your points budget.
Are weight watchers zero point foods unlimited? While zero-point foods don't have a point value, it's still essential to practice portion control and mindful eating. Overeating large or unlimited quantities of these free foods can be counterproductive and hinder your weight loss.
---
Have You Signed Up For WW Yet?
No single diet is best for everyone, so it's good to do your homework before joining. Many women and men find that they can't fit WW meetings into their busy schedules, but if you can, it can really be helpful and improve your odds of success.
If you are thinking of joining WW, check out our exclusive WW deals below.

Not sold on Weight Watchers?
We also give our opinion on other diets like Nutrisystem, (cost, coupons) and the popular Noom (cost, coupons) app.
Thanks for stopping by Wonky Pie!