Remember when we were happy to report that Starbucks had unveiled a new vegan-friendly However-You-Want-It Frappuccino? Well, we are very, very unhappy to now report that the Strawberries & Crème Frappuccino, as well as the Strawberry Smoothies (both made with soy milk), are NOT vegan.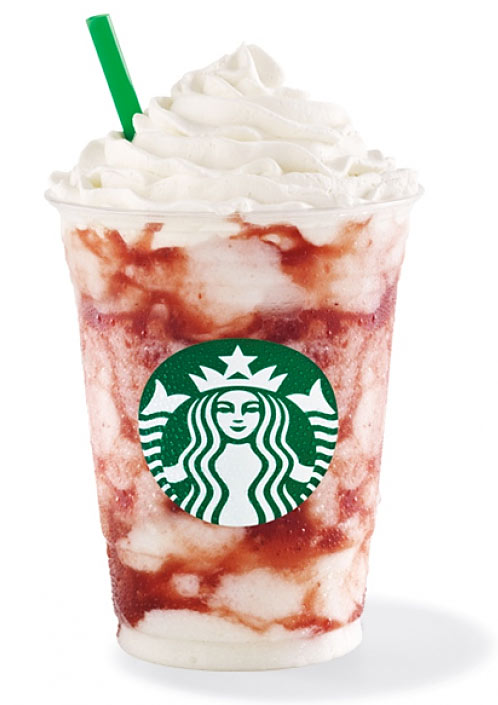 A barista for the Seattle-based coffee company wrote to us:
Hi! I'm a vegan who currently works as a barista at a Starbucks in the midwest, and I wanted to let you guys know that the Strawberries and Cream Frappucinos and Strawberry Smoothies at Starbucks are NOT vegan. The strawberry sauce we use contains "cochineal extract". My guess would be that the recipe changed about three or four weeks ago, when our strawberry sauce got new packaging. I was hoping you guys could help get the word out there so that no veg*ns end up drinking this formerly vegan frappucino by mistake! Thanks. 🙂
She also snapped a picture of the packaging: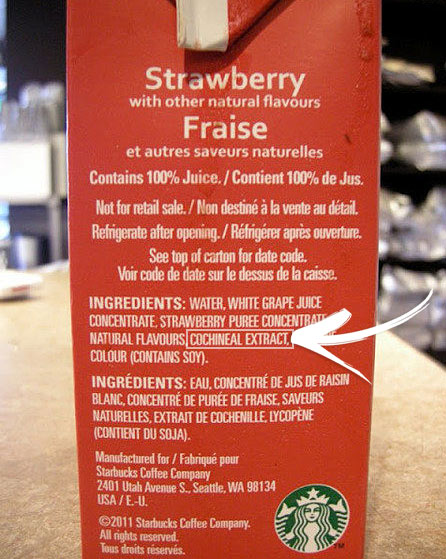 ---
What Is Cochineal Extract?
Ladies and gentlemen, the beetles!
Wondering why cochineal in your coffee might bug you? Cochineal extract is a red dye made out of dried female cochineal insects. And to put things in perspective, according to PETA it may take as many as 70,000 female cochineals to produce 1 pound of the red dye.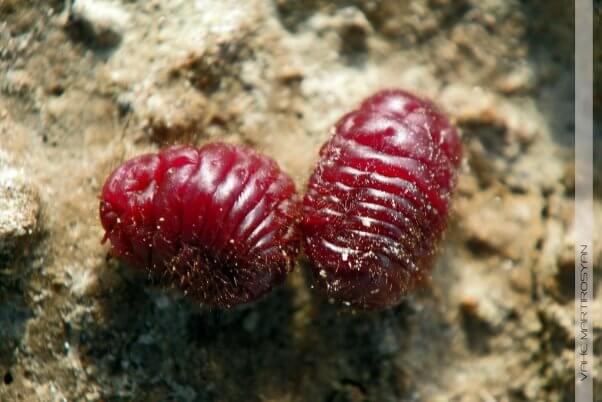 Tip: Cochineal extract can also be listed as an ingredient on products (like cosmetics) as "CI 75470", "natural red 4", "crimson lake", or "carmine.
So vegans, beware. It just goes to show, even if we get the thumbs up on supposed vegan products, it's always good to double-check packaging, if possible. You never know when something new will be slipped in.
What a shame.
We do have an email out to Starbucks for a comment on this issue but have yet to hear back.
Update 3/16/12: We received word from Starbucks. According to a Starbucks spokesperson:
At Starbucks, we strive to carry products that meet a variety of dietary lifestyles and needs. We also have the goal to minimize artificial ingredients in our products. While the strawberry base isn't a vegan product, it helps us move away from artificial dyes.

Many Starbucks ingredients can be combined to create a beverage free from animal-derived products; however, we are unable to guarantee this due to the potential cross-contamination with other animal-derived products in our retail locations.
---
Updates:
After weeks of negative press, relentless pressure from consumers, and possibly an epiphany-like common sense awakening, Seattle-based coffee giant Starbucks has decided to stop using bugs to color their products.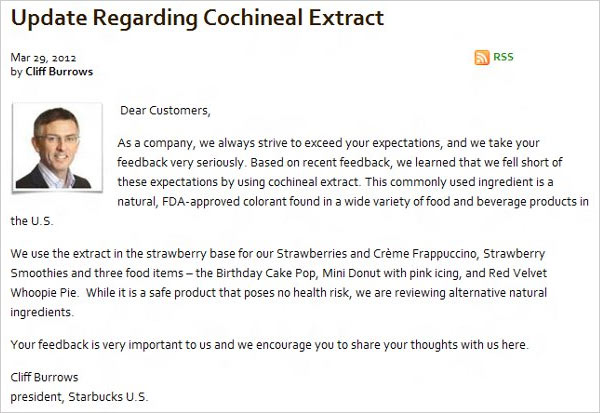 "As I first shared on March 29, we've learned that we fell short of your expectations by using natural cochineal extract as a colorant in four food and two beverage offerings in the United States," said company president Cliff Burrows. "Our commitment to you, our customers, is to serve the highest quality products available. As our customers you expect and deserve better – and we promise to do better."
And apparently "better" means no more crushed bug coloring in all of the company's offerings including the now infamous Strawberries & Crème Frappuccino blended beverage and Strawberry Banana Smoothie. Additionally, food offerings that currently utilize cochineal including the Raspberry Swirl Cake, Birthday Cake Pop, Mini Donut with pink icing, and Red Velvet Whoopie Pie will no longer use the coloring.
So what will Starbucks use instead of copious amounts of squished cochineal beetles? The java peddler will transition to a less ewww-inspiring product, Lycopene — a natural, tomato-based extract.
"This transition will occur over time as we finalize revisions and manage production. Our intention is to be fully transitioned from existing product inventories to revised food and beverage offerings near the end of June across the U.S.," added Burrows.
On behalf of our readers and grossed-out consumers from sea to shining sea, thank you for listening, Starbucks!
Archive: Sign the petition at Change.org. Starbucks: Stop using bugs to color your strawberry flavored drinks Red beet, black carrot, purple sweet potato, and paprika are all-natural alternatives to artificial dyes and safe for those with dietary restrictions. (And those who don't want crushed bugs in their designer drink.)
Last Updated on November 11, 2022 by kevin