Weight Watchers Shrimp soft taco recipe: During warm weather months, I eat a lot of shrimp tacos. In fact, if you'd rather be outside, you can even (carefully) grill the shrimp and soft taco shells for this recipe.
Weight Watchers Shrimp tacos Recipe: 
Videos for Weight Watchers recipes on youtube are a little crazy. I usually have to watch them 5 times to digest all the info, (and my heart rate goes up!) so here's an actual recipe:
1.) To make the slaw:
Ingredients: 
2 Cups coleslaw mix
1/4 cup cilantro
3 Tbsp light mayo
2 tsp fresh lime juice
1/2 tsp canned chipotle peppers in adobo sauce
1/4 tsp salt
4 tsp water
Instructions: Mix all ingredients in a bowl and reserve.
2.) To make the shrimp:
Ingredients:
1 lb. medium or large shrimp
1 tsp ground cumin
1/2 tsp salt
Instructions:
Mix ingredients together
Spray pay with olive oil cooking spray
Cook shrimp until done. Set shrimp aside.

Lightly brown soft taco shells, about 1 minute per side.

(overcooking will make them crunchy and hard to fold) 
Optional dusting of feta cheese crumbles

Serve with a lime wedge!

I recommend topping with a little chopped avocado, and Sriracha sauce on the side.

(for everything!)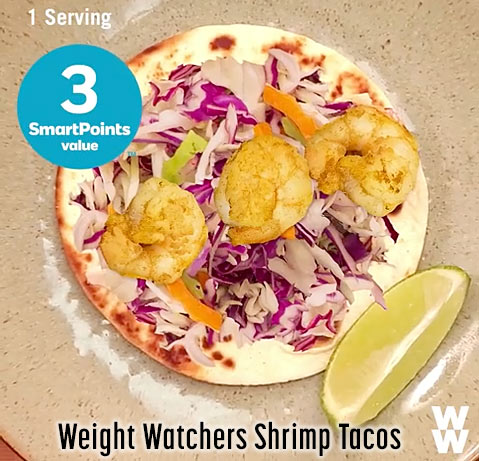 *If you are really into spicy, a couple diced chili peppers are also a great addition. We also like to cut corn right from the ear and fry it up (in light olive oil) to serve on the side. 
*That makes a lot of slaw! If you only like a little, (and prefer to add some chopped avocado) maybe halve that part of the recipe. If you add avocado, it will add one Smart Point, though.
Serves 4-5. Only 3 Smart Points per serving!
*Another WW recipe: 3 Healthy french fry alternatives
Find Weight Watchers recipes on Reddit