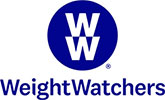 Marsala chicken is a delightful Italian dish known for its rich and savory flavors. It starts with boneless chicken breasts or thighs, which are pounded thin to ensure even cooking. The chicken is then dredged in flour and sautéed in a pan until golden brown, creating a crispy exterior.
Are you on Weight Watchers? If so, we have a WW-friendly marsala chicken recipe costing only 2 points to share with you!
If you haven't tried WW yet, you can sign up for as little as $10 a month with one of today's specials: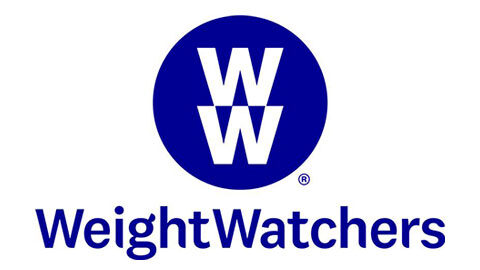 Here's the recipe from Weight Watchers:
---
Weight Watchers Chicken Marsala: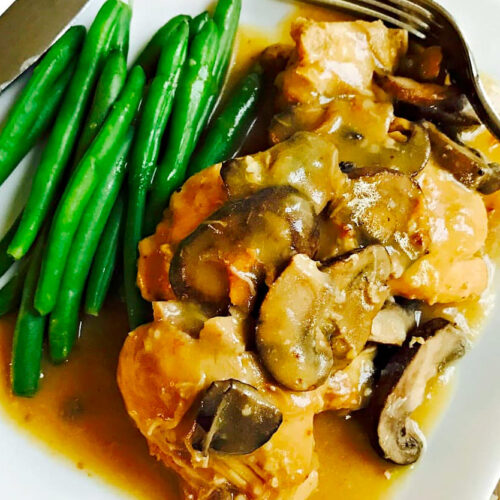 WW Chicken Marsala Recipe
Healthy Weight Watchers chicken marsala recipe from Weight Watchers with only 2 points!
Ingredients
1

lb.

chicken breast

uncooked, boneless, skinless

3

cops

mushrooms

sliced

1 1⁄4

cups

beef broth

lower-sodium

1/2

cup

table wine

dry marsala

2

tsp

olive oil

1

tsp

dried thyme

1/2

tsp

table salt

1/4

tsp

black pepper

1 1⁄2

Tbsp

cornstarch
Instructions
In a 12-inch nonstick skillet, heat the oil on medium-high.

Add the mushrooms and cook until they are tender and release their liquid, about 5 minutes, stirring occasionally.

Season both sides of the chicken with the thyme, salt, and black pepper.

Push the mushrooms to the outer edge of the skillet. Arrange the chicken in the center and cook until golden, 2 to 3 minutes per side.

Add the marsala wine to the skillet. Simmer for 1 minute, scraping up any browned bits from the bottom of the skillet.

Add 3⁄4 cup beef stock and simmer until the chicken is tender and cooked through, 8 minutes. Transfer the chicken to a plate and keep warm.

In a small bowl, stir the cornstarch into the remaining 1⁄2 cup stock until dissolved and add to the skillet.

Simmer until the sauce thickens, about 1 minute, stirring constantly. Serve the chicken with the sauce.
Notes
Serving size is one 3 oz chicken piece +

1⁄3 cup marsala sauce. 
This recipe is WW-friendly, costing you only 2 points! 
---
Why Marsala Chicken is a Good Weight Watchers Dinner Recipe: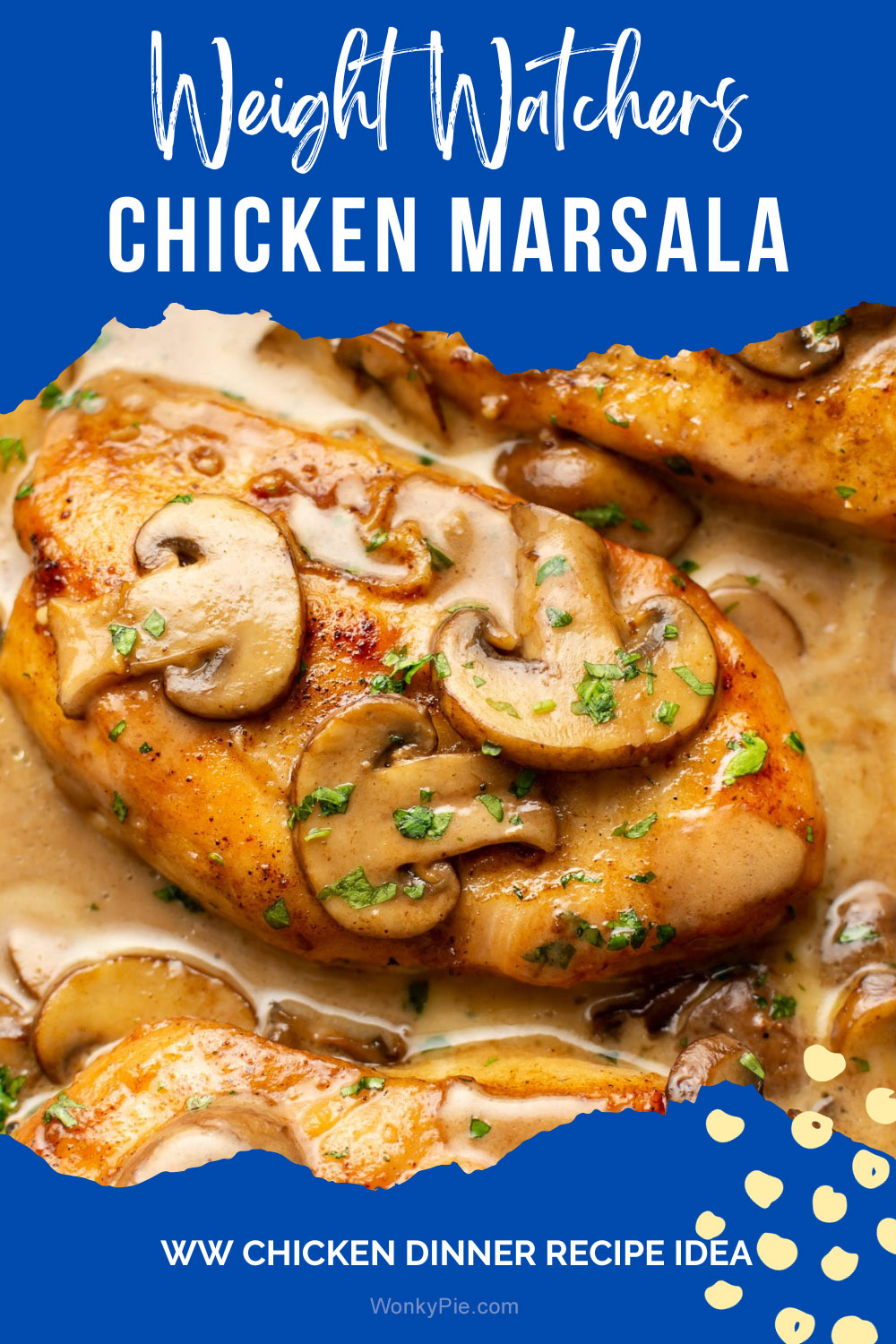 The star of the show is the Marsala wine sauce. Marsala wine, a fortified wine from Sicily, is used to deglaze the pan, infusing the dish with a sweet and slightly nutty flavor. To enhance the sauce, ingredients like mushrooms, shallots, and fresh garlic are often added. These components lend depth and complexity to the dish, creating a luscious, aromatic sauce.
To finish the dish, the chicken is simmered in the Marsala sauce, allowing it to absorb all those wonderful flavors. Some recipes call for a touch of heavy cream or chicken broth to further enrich the sauce and make it even more luxurious. However, if you're counting points with WW, avoid the cream!
Tip: An open bottle of Marsala wine will stay good in the fridge for up to 6 months, so you can use it again the next time you make WW chicken marsala or another recipe
---
What Side Dish is Best for WW Marsala Chicken?
Marsala chicken is typically served with a side of pasta, mashed potatoes, brown rice, or even crusty bread to soak up the delectable sauce. However, if you want to conserve Weight Watchers points, consider a vegetable, like broccoli, green beans, or a side salad.
The result is a harmonious blend of tender chicken and a luscious, slightly sweet Marsala sauce with earthy undertones from the mushrooms and shallots. It's a dish that's easy to prepare and guaranteed to impress your taste buds, making it a favorite in both Italian restaurants and home kitchens.
I hope you enjoy this delicious chicken marsala recipe from Weight Watchers! Remember, it only has 2 points, so pair it with a healthy or even zero-point side dish for a great dinner idea.
Tip: This WW chicken marsala recipe is also great if you're on Noom, which is similar to WW and highly-rated app like WW. Try it free here.
Thanks for stopping by Wonky Pie!