Inspiring diet & weight loss quotes: Even though there are very few good quotes specifically about weight loss, there are some great ones out there that are very relevant to losing weight, setting goals, and getting fit. These motivational weight loss quotes focus on believing, the journey, and success and failure.
Richard DeVos once said, "Few things in the world are more powerful than a positive push. A smile. A world of optimism and hope. A 'you can do it' when things are tough."
So with that in mind, I hope that you find these quotes inspirational and motivating, and they are that "positive push" or, "word of optimism" for your journey or challenge.
If you think a friend would benefit from these inspirational weight loss quotes with pictures, please share on Pinterest or Facebook! (Oh, and if you just need a laugh, we also have funny weight loss quotes too!)
Motivational Weight Loss Quotes: Belief & Motivation | The Journey | Success & Failure
---
1. Motivational Quotes About Weight Loss: "Belief & Motivation"
Diets like WW, Nutrisystem, and Noom now recognize that motivation and believing in yourself an important part of their weight loss programs. Here are some good quotes about motivation:
"You don't become what you want, you become what you believe." –Oprah Winfrey
"If you believe it will work out, you'll see opportunities. If you believe it won't, you will see obstacles." – Wayne Dyer"
"Weight loss doesn't begin in the gym with a dumbbell; it starts in your head with a decision." –Toni Sorenson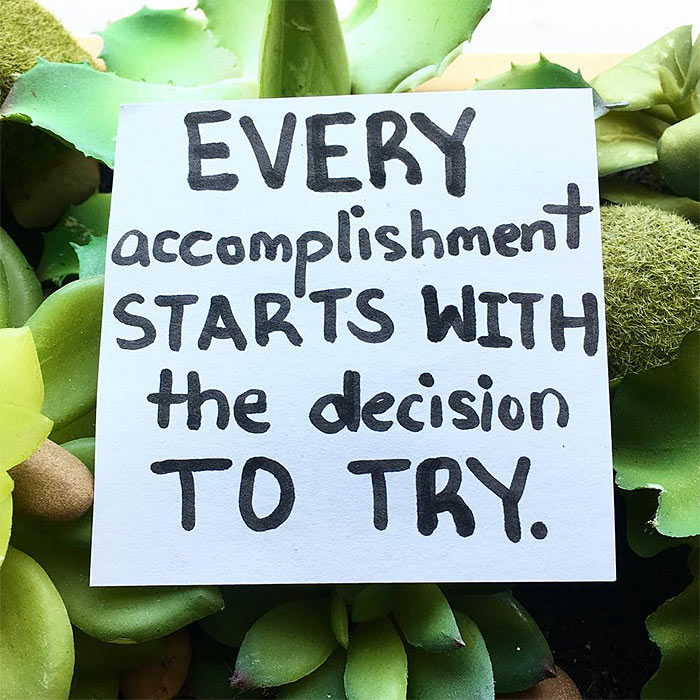 "It's lack of faith that makes people afraid of meeting challenges, and I believed in myself." ;- Muhammad Ali
"By changing nothing, nothing changes." – Tony Robbins
"Work hard, stay positive, and get up early. It's the best part of the day." – George Allen, Sr.
"It has to be hard so you'll never ever forget." – Bob Harper
"If it doesn't challenge you, it doesn't change you." – Jenna Wolfe
"Always remember you are braver than you believe, stronger than you seem, and smarter than you think." – Christopher Robin
"Life's challenges are not supposed to paralyze you, they're supposed to help you discover who you are." – Bernice Johnson Reagon
"Ability is what you're capable of doing. Motivation determines what you do. Attitude determines how well you do it." – Lou Holtz
"Nobody is perfect, so get over the fear of being or doing everything perfectly. Besides, perfect is boring." – Jillian Michaels
"It does not matter how slowly you go as long as you do not stop." – Confucius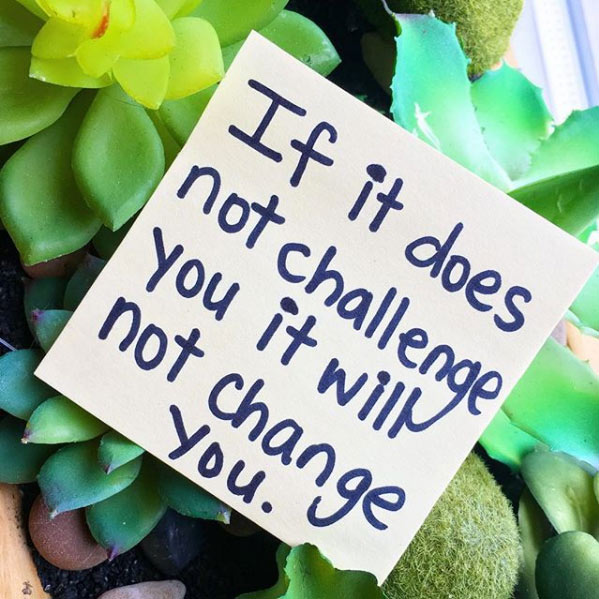 "I am STRONG because I know my weaknesses. I am BEAUTIFUL because I am aware of my flaws. I am FEARLESS because I learned to recognize illusion from real. I am WISE because I learn from my mistakes. I am a LOVER because I have felt hate, and I can LAUGH because I have known sadness." – anonymous
"If you have discipline, drive, and determination … nothing is impossible." – Dana Linn Bailey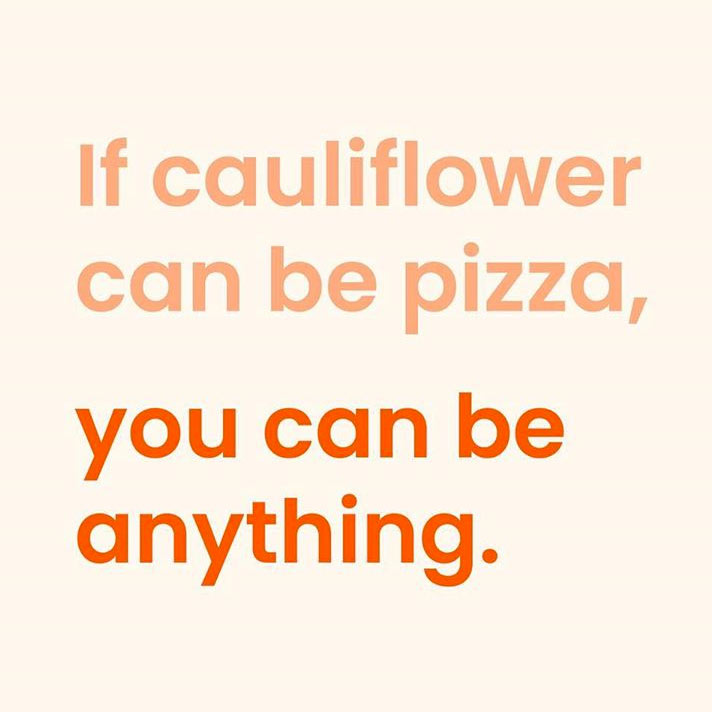 "Just believe in yourself. Even if you don't, pretend that you do and, at some point, you will." – Venus Williams
"If you hear a voice within you say 'you cannot paint,' then by all means paint, and that voice will be silenced." – Vincent van Gogh
*Did we mention that we have exclusive coupons for Weight Watchers and Nutrisystem? Ok, back to the inspirational weight loss quotes!
---
2. Inspiring Weight Loss Quotes: "The Journey"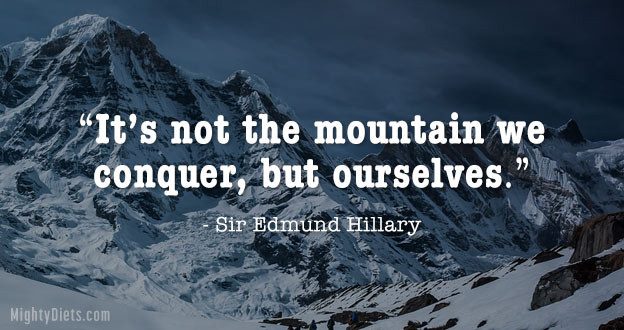 Losing weight is a journey. Successful and sustainable weight loss is more of a jog or hike than a sprint. It's about wellness and living a healthy lifestyle, not about a cleanse or diet pills. Here are some weight loss quotes about the journey:
"It is not the mountain we conquer, but ourselves." – Sir Edmund Hillary
"I've learned that fear limits you and your vision. It serves as blinders to what may be just a few steps down the road for you. The journey is valuable, but believing in your talents, your abilities, and your self-worth can empower you to walk down an even brighter path. Transforming fear into freedom – how great is that?" – Soledad O'Brien
"Aim for the sky, but move slowly, enjoying every step along the way. It is all those little steps that make the journey complete." – Chandra Kochhar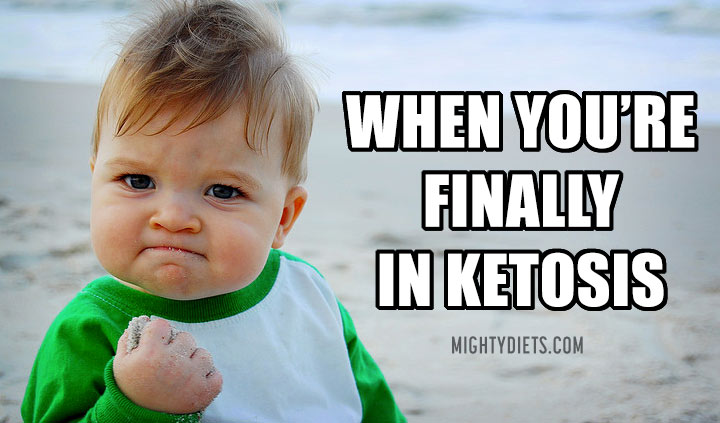 "Make time for it. Just get it done. Nobody ever got strong, or lost weight, or got in shape by thinking about it. They did it." – Jim Wendler
"The key to realizing a dream is to focus not on success but significance, and then even the small steps and little victories along your path will take on greater meaning." – Oprah Winfrey
"Maybe the journey isn't so much about becoming anything. Maybe it's about unbecoming everything that isn't really you, so you can be who you were meant to be in the first place." – Anonymous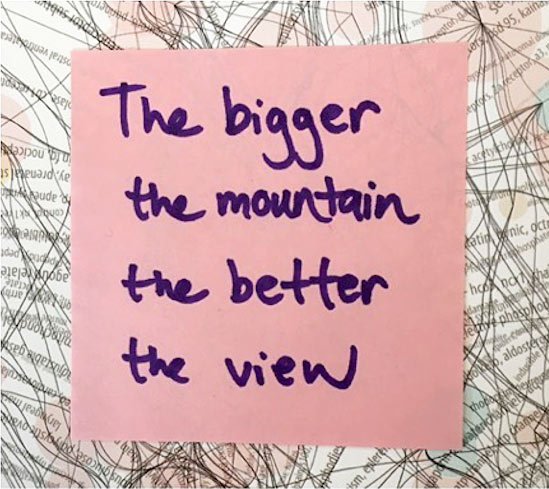 "The journey of a thousand miles begins with one step." – Lao Tzu
"Believe me, my journey has not been a simple journey of progress. There have been many ups and downs, and it is the choices that I made at each of those times that have helped shape what I have achieved." – Usher
"Obstacles don't have to stop you. If you run into a wall, don't turn around and give up. Figure out how to climb it, go through it, or work around it." – Michael Jordan
"The beautiful journey of today can only begin when we learn to let go of yesterday." – Steve Maraboli
"If you can't fly, then run. If you can't run, then walk. If you can't walk, then crawl, but by all means, keep moving." – Martin Luther King, Jr.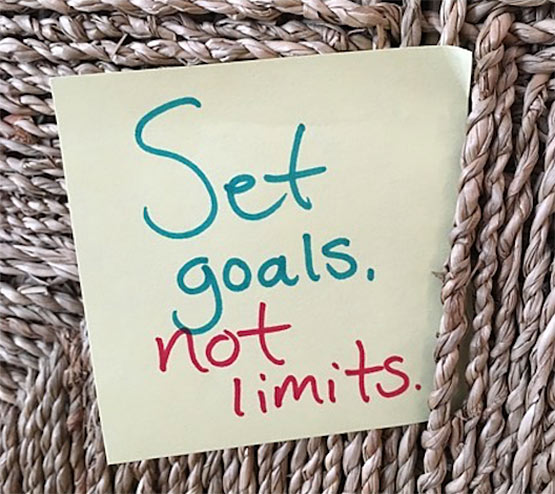 "Optimism is the faith that leads to achievement. Nothing can be done without hope and confidence." – Helen Keller
"The only journey is the one within." (weight loss goal?) – Rainer Maria Rilke
"Believe me, my journey has not been a simple journey of progress. There have been many ups and downs, and it is the choices that I made at each of those times that have helped shape what I have achieved." – Satya Nadella
"The only impossible journey is the one you never begin." – Tony Robbins
"Everything you've ever wanted is on the other side of fear." – George Addair
"A year from now you will wish you had started today." – Karen Lamb
---
3. Motivational Quotes on Weight Loss: "Success & Failure"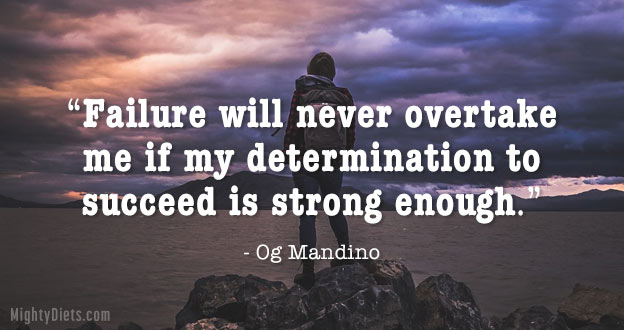 Diets usually fail because we mistakenly approach weight loss as a race. We decide on a number that we'd like to weigh, (destination) and forget about the journey. To lose weight, we have to change from the inside, with weight loss merely being a welcome side-effect of a healthier life. Here are weight quotes about success and failure that relate to weight loss:
"Failure will never overtake me if my determination to succeed is strong enough." – Og Mandino
"Eliminate the mindset of can't – because you can do anything." – Tony Horton
"You may be disappointed if you fail, but you are doomed if you don't try." – Beverly Sills
"Success means doing the best we can with what we have. Success is the doing, not the getting; in the trying, not the triumph. Success is a personal standard, reaching for the highest that is in us, becoming all that we can be." – Zig Ziglar
"At the end of the day, you are solely responsible for your success and your failure. And the sooner you realize that, you accept that, and integrate that into your work ethic, you will start being successful. As long as you blame others for the reason you aren't where you want to be, you will always be a failure." – Erin Cummings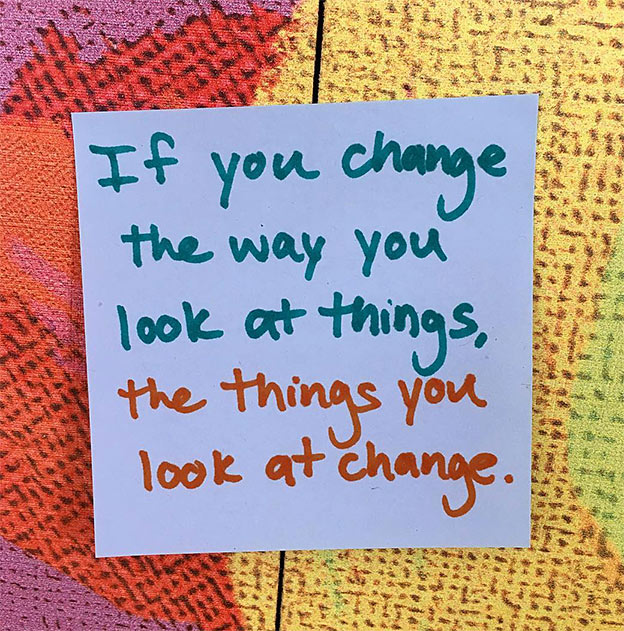 "When you feel like quitting, think about why you started." – anonymous
"Failure is simply the opportunity to begin again, this time more intelligently." (Have fad diets failed you?) – Henry Ford
"Success Is Due To Our Stretching To The Challenges Of Life. Failure Comes When We Shrink From Them." – John C. Maxwell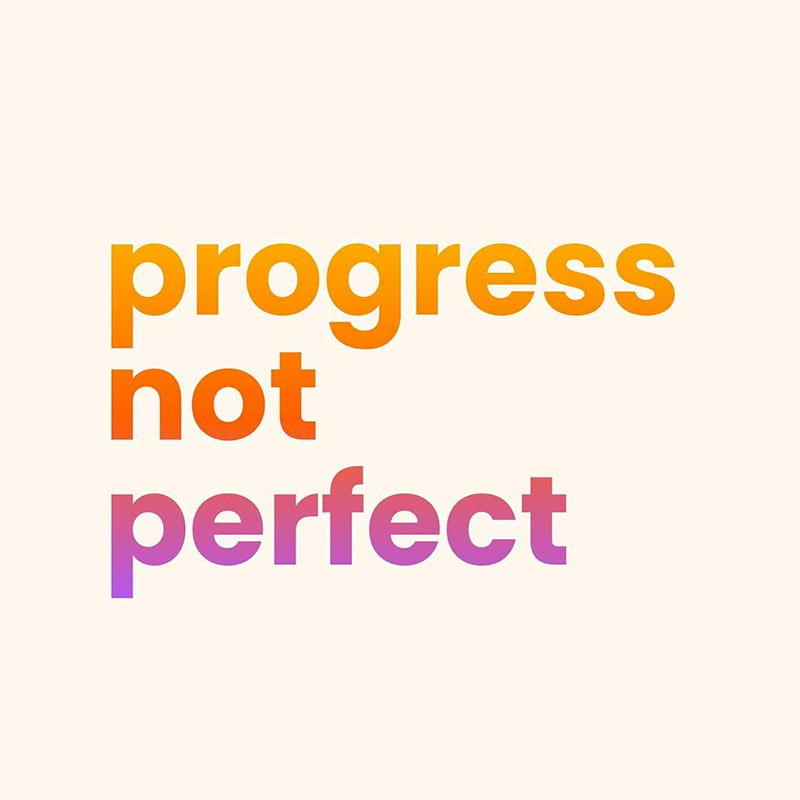 "You build on failure. You use it as a stepping stone. Close the door on the past. You don't try to forget the mistakes, but you don't dwell on it. You don't let it have any of your energy, or any of your time, or any of your space." – Johnny Cash
"You are capable of more than you know. Choose a goal that seems right for you and strive to be the best, however hard the path. Aim high. Behave honorably. Prepare to be alone at times, and to endure failure. Persist! The world needs all you can give." – E.O Wilson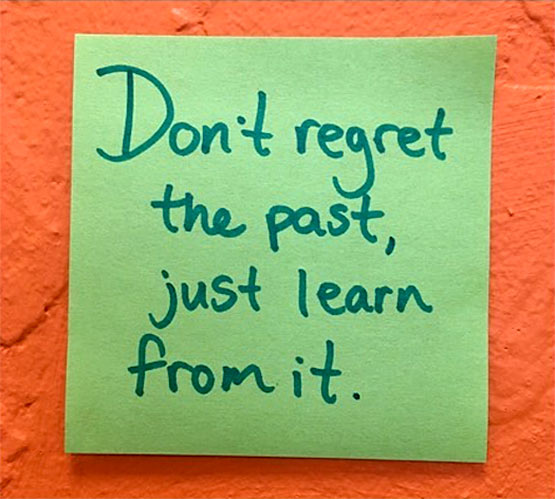 "We are what we repeatedly do. Excellence, then, is not an act but a habit." – Aristotle
"Our deepest fear is not that we are inadequate. Our deepest fear is that we are powerful beyond measure. It is our light, not our darkness, that most frightens us. We ask ourselves, 'Who am I to be brilliant, gorgeous, talented, fabulous?' Actually, who are you not to be?" –Marianne Williamson
"Remember your dreams and fight for them. You must know what you want from life. There is just one thing that makes your dream become impossible: the fear of failure." – Paulo Coelho
*Related: History of the Famous "Death and Taxes" Quote
---
OK, Now Stop Doubting Your Greatness!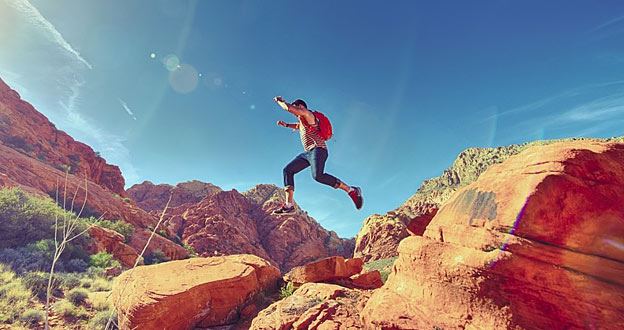 I recently read a book called, "You are a Badass, How to Stop Doubting Your Greatness and Start Living an Awesome Life."
It was really motivating and inspirational to me because there is an important psychological component to achieving any goal, including weight loss.
So, while I set out to make a page of motivational weight loss quotes, I quickly realized that it directly related to goals of all kinds; whether related to weight loss & health, career, or any personal goal.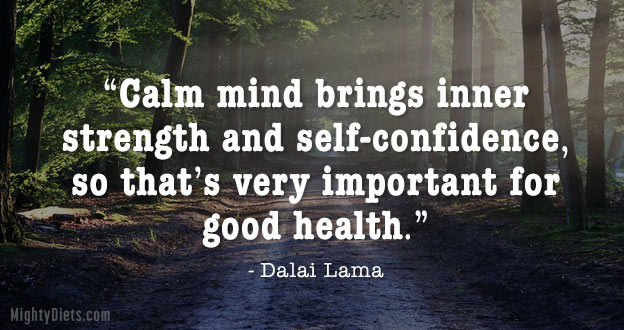 So, in that spirit, I'm going to end this list of quotes with one from the book that I think really nails the psychology of weight loss:
We don't realize that by eating that fourth doughnut, or by ignoring our intuition and marrying that guy who's an awful lot like our low-down, cheatin' Daddy, that we're being driven by our subconscious minds, not our conscious minds.

And, that when our subconscious minds are out of alignment with the things and experiences we want in our conscious minds & hearts, it creates confusing conflicts between what we're trying to create and what we're actually creating. It's like we're driving with one foot on the gas, and one foot on the brake.

– Jen Sincero, You Are a Badass
So, essentially, to succeed in any goal, we have to put our subconscious and conscious mind (heart) in alignment.
---
Most Importantly: "Believe In Yourself!"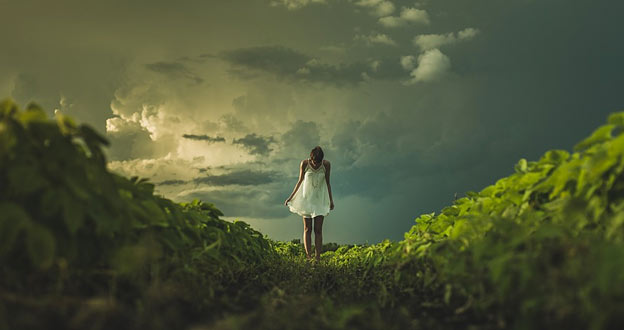 So, in conclusion, I hope that these weight loss quotes provide a little inspiration and motivation. I also hope that reading these quotes makes you peel back a layer or two and do some healthy introspective thinking.
What are the internal and external obstacles in my way, and how can I start removing them now and living my best life?
OK, I'll leave you with one last quote:
"Wouldn't it be powerful if you fell in love with yourself so deeply that you would do just about anything if you knew it would make you happy? This is precisely how much life loves you and wants you to nurture yourself.

The deeper you love yourself, the more the universe will affirm your worth. Then you can enjoy a lifelong love affair that brings you the richest fulfillment from inside out."

Alan Cohen
I hope these quotes inspired you. Good luck with your weight loss or other personal journey!