Nutrisystem advertises several promotions during diet season. One of the most popular is their BOGO sale (Buy One Get One Free), which gives you your first two months for the (retail) price of one. But is this really the best deal? Usually, it is but also read about their similar, "2 for 1" sale. Check it out!
---
How the BOGO Sale Works:

If you are thinking of joining Nutrisystem, it's very important that you choose the best possible deal to sign up with. If it's diet season, there's a good chance that Nutrisystem is running their BOGO (Buy One Get One Free) sale, which is the best deal of the year!
Why is BOGO best? The Nutrisystem BOGO sale initially gets you two months for the price of one, and then locks-in a 50% discount thereafter. This is key because some of the other deals give you a great price the first month or two, but then unexpectedly go up after that.
Tip: Always check the details of any coupon or promotion before signing up. Make sure that the discount is applied to, "all future 4-week plan shipments." Here's how:
First, click on a promotion, such as BOGO. Then, click the "details" link at the top left of the screen: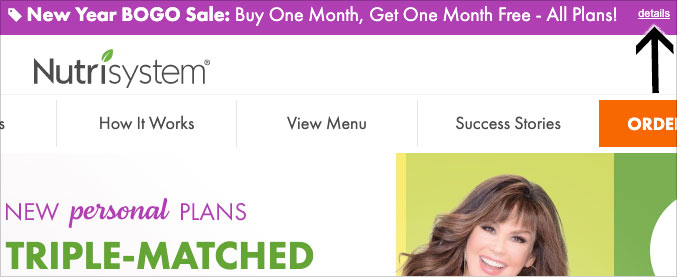 You'll get a pop-up window detailing the terms of the sale or coupon like this:
The Nutrisystem BOGO sale says:
BOGO Savings: Buy one month at full retail price and get your second consecutive 4-week plan shipment FREE
Bonus Savings: After your second shipment, you'll receive 50% off the full retail price for all future consecutive 4-week plan shipments.
Important! After proceeding to checkout you must choose "BOGO" under "Your Delivery" like this to get the full savings: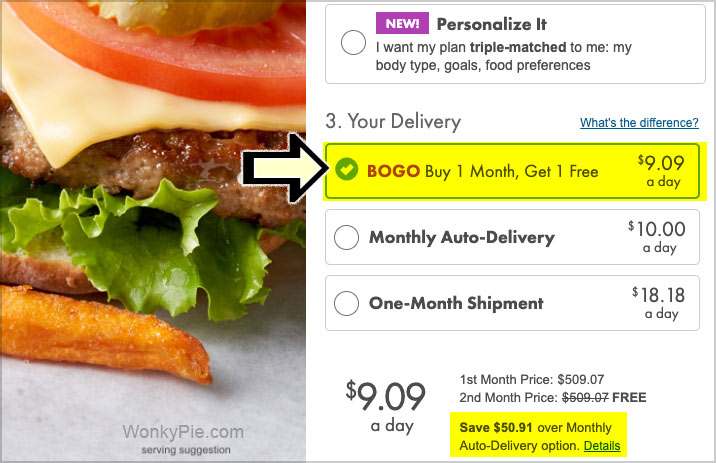 As we mentioned, that discount on all future orders is key and makes this the best Nutrisystem sign-up deal of the year.
---
Nutrisystem 2 for 1:
Note that Nutrisystem some times runs a similar sale that they call, "2 for 1." It could be the same as BOGO, but read the details to make sure: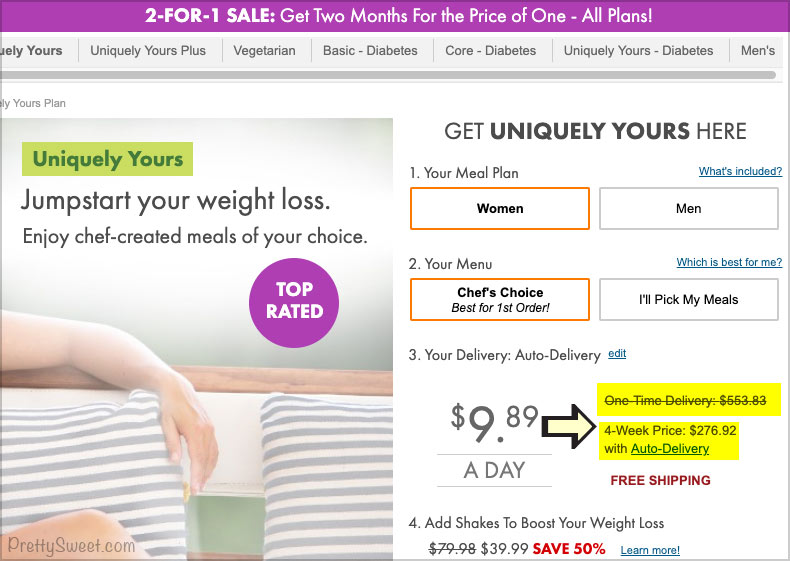 Yes, it includes 2 months for the price of 1, but does it include a 40-50% discount on all future shipments?
If so, awesome! If not, it's probably not the best deal. If that's the case, then skip it and look for a better offer.
Also note that in both the BOGO sale and the 2 for 1 deal it's a savings based on the inflated "retail", one-month price of Nutrisystem that no one really pays. It's still a great deal, but calling it a 50% savings is a little ambitious!
---
Which Is Better: BOGO or 2 for 1?
Usually the BOGO deal is unrivaled because it not only gives you a "free" month, but it also locks in a 50% discount on the monthly price. While it's possible that the 2 for 1 sale does the same, you'll have to verify that by reading the fine print!
We update all available Nutrisystem coupons and promo codes here every day to make sure you get the best deal. You can also use promo codes at checkout for freebies and free food!
Not sold on Nutrisystem? If you think DIY is your thing, then be sure to read about Noom, a hot new wellness app!