Does Nutrisystem have a gluten-free menu? A lot of women and men looking for the right meal-delivery diet wonder whether Nutrisystem has a gluten free option, and the short answer is no.
While a small number of their meals are gluten-free, it's not enough variety, and you're better off considering other options.
If you do want to consider sticking with Nutrisystem, they offer a "wheat free" menu which might be a good option.
---
Nutrisystem's Wheat-Free Menu:
Nutrisystem's "Core" and "Uniquely Yours" plans are pretty flexible and allow for the omission of certain foods based on various filters. One such filter, available on their website or in your dashboard, is for wheat allergies.
Although these foods aren't certified to be gluten-free, omitting wheat might be good enough for you. Here's how to go "wheat free:"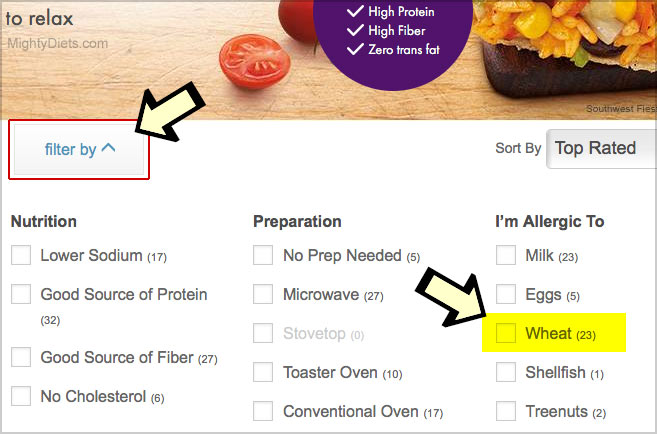 On their site click "View Menu"
Choose a meal: breakfast, lunch, dinner, or snacks, and then click
Then click "filter by" on the left of the page
Choose, "I'm allergic to / wheat" from the filters.
Now Nutrisystem will omit foods containing wheat from the menu. You can decide if the remaining menu items are a good enough selection for you to eat while on Nutrisystem, or if you want to pass and find a better gluten-free option.
You can check out their menu, learn more about "wheat-free" food, costs, and apply their best discount by clicking below:
---
Gluten Free Nutrisystem-Alternative? Consider Bistro MD
Nutrisystem is not a good Gluten-Free diet if you have been diagnosed with celiac disease, and their FreshStart® fast weight loss phase is not celiac-friendly. However, there is a better alternative meal delivery diet called, "Bistro MD" that has a certified gluten-free plan.
This plan has several options that start at $89 per week that have a much better variety of gluten-free foods than Nutrisystem. Their Gluten-Free program sets the menu for you for up to 7 days a week of gluten-free foods chosen by their experts.
To learn more about the gluten-free plan, click below and apply a 25% off coupon while you're at it!
Do You Really Need to Be Gluten-Free?
Have you been diagnosed with celiac disease? There are a lot people who haven't been and are interested in going gluten free simply for the perceived health benefit. Surprisingly, it may actually be counter-productive to eliminate gluten from your diet if you don't have to.
According to a recent study, people who do not have celiac disease should not go gluten free. In fact, it was determined that restricting gluten can actually be unhealthy for people not advised to do so by a doctor. That's because whole grains are an important part of your diet, and adopting a gluten-free diet can actually be harmful and increase your risk of heart problems.
---
In Conclusion…
According to reviews, Nutrisystem is not a good gluten free option, and the limited menu probably won't work for the needs of either women or men. If you've been diagnosed with celiac disease and need a gluten free alternative to Nutrisystem or the South Beach Diet, consider Bistro MD instead. If you are only going gluten-free for the perceived health benefit, consider keeping whole grains in your diet or choose wheat-free food options.
If you aren't sold on meal-delivery, you can also consider Weight Watchers, which is more of a do-it-yourself dieting option.