DIet-to-Go has been helping women and men reach their weight loss goals for over 25 years through the delivery of their nutritious and delicious pre-portioned meals.
Thinking of signing up? Then we have some good news! We have an exclusive promotion directly from Diet-to-Go for $100 off the cost when you join. See below for today's top promo codes and coupons:
Diet-To-Go: Coupons | Using Promo Codes | Best Coupon | Free Shipping
---
Diet-to-Go Promo Codes, Coupons: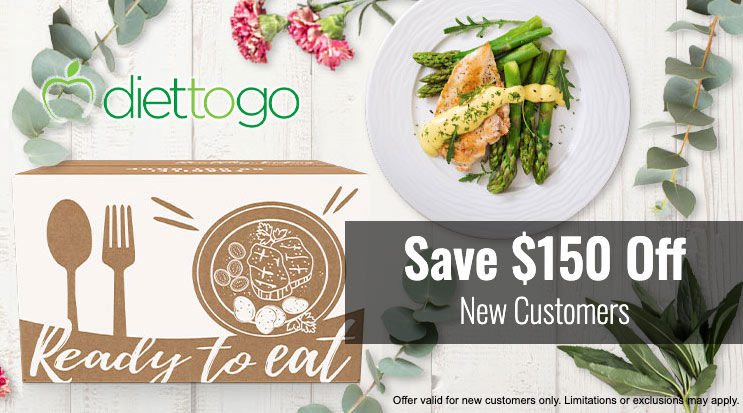 Diet-to-Go: $40 Off
3. First week of meals; any plan. View promotion at DietToGo.com:
3. First week of meals; any plan. View promotion at DietToGo.com:
Show Less
---
How to Use a Promo Code:
Don't sign up with Diet-to-Go or Freshology without using a promotional code! That's because you can save up to $100 when you take a moment at checkout to type in a code. Here's how:
During the checkout process, you'll come to a "Payment" screen. Just under your payment info, you'll notice a text box that says, "Promo Code:"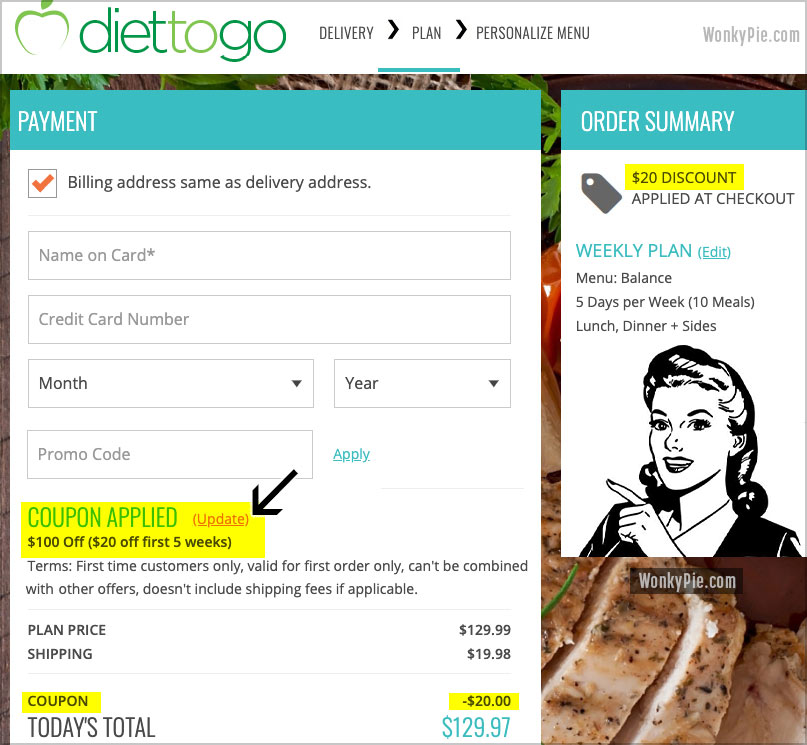 Just type in your code there and then click "Update" to apply the coupon. If it's valid, you'll get a message that says, "Coupon Applied," as well as the terms of the coupon code and an itemized line in your order total showing the discount.
Also, if you've clicked on a promotional banner, there may already be a promo code applied! If you're happy with the discount, then don't change it. However, if you've found a better coupon, click the "Update" link and enter a new code.
Tip: You can compare the savings from multiple codes by entering them in one at a time and clicking "apply." However, you can't combine two promo codes on the sale order.
---
Which DietToGo Coupon Is Best?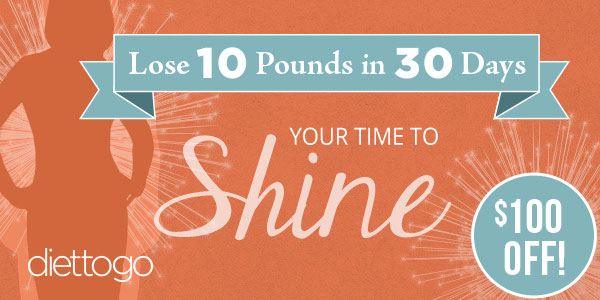 You'll notice that the big coupon sites have a number of DietToGo promo codes including 30% off, $50 off, and more. So which one is best?
We're happy to tell you that our exclusive coupon for $150 off from Diet-to-Go will save you the most money! Just click the offer and a promo code will automatically apply, and you'll come to a special landing page just for Wonky Pie readers that looks like this:
Other codes may give you $30-50 off your first order and look pretty good. However, our Diet-to-Go coupon is best because it saves you the most money over 5 shipments. While it's tempting to save $50 all at once, you'll save an extra $50 over 5 weeks when you use our coupon.
Tip: Skip the pop-up offers on DietToGo.com, as you'll save a lot more with our promo code. It's OK, just go ahead and click the snarky "I'd rather pay full price" message on the pop-up window!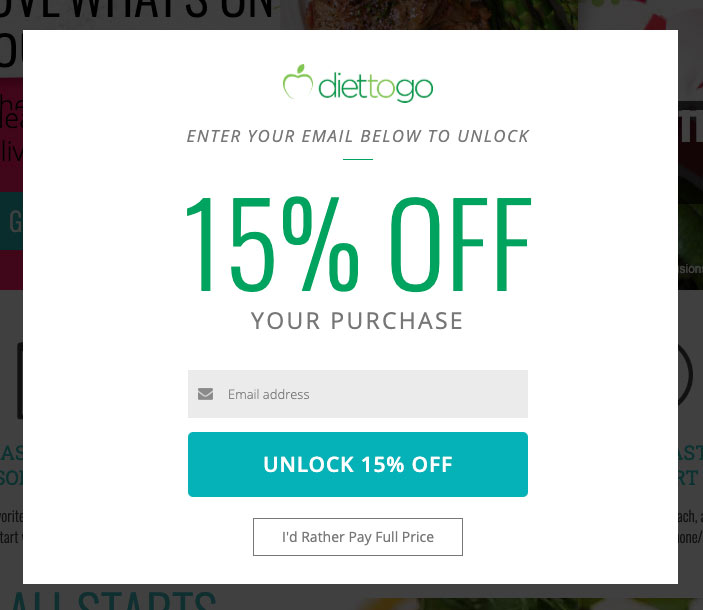 Free Shipping Code?
When placing your order for food at DietToGo.com you'll notice the shipping fee listed under your order summary: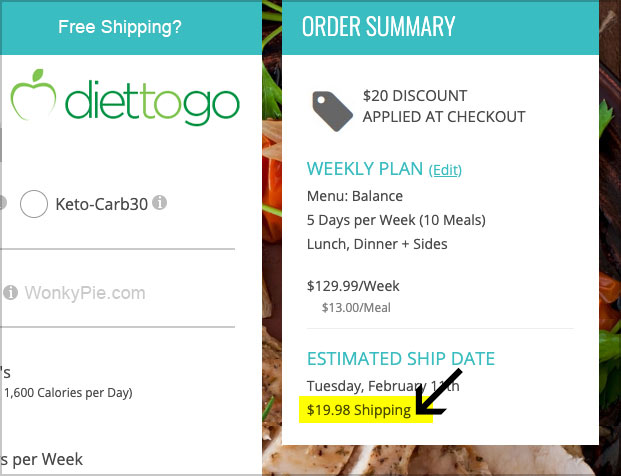 Well, the food might be tasty and nutritious, but the shipping price is pretty SALTY!
Is there any way to avoid this shipping fee?
Unfortunately, I have never seen a coupon for free shipping, so it seems to just be unavoidable like death and taxes. Of course, if there are any valid promo codes for free shipping, we will certainly post them here.
Thought: I have to assume that Diet To Go isn't really making much of a profit off that shipping fee, as delivering perishable frozen food is just expensive.
Even though free shipping with no minimum is elusive, you can still apply a promo code for $100 off here!
---
DietToGo Alternative Coupons for 2021-2022:
Diet-to-Go is one of the highest-rated meal-delivery diets and is known for its tasty food. However, they do cost a little more than some other commercial diets. if you aren't sure that it's the best fit for you, then definitely research other options. Currently, we have exclusive coupons to pass on from diets including Nutrisystem, the ProLon Fasting Mimicking Diet, and Jenny Craig.
If meal delivery isn't your thing, then we recommend the super-hot wellness app, Noom. (Free Trial) and WW (coupons). Actually, you can do these app-based diets together with healthy meal delivery from services like BistroMD, Purple Carrot and Home Chef.
In any event, be sure to talk to your doctor before starting any new diet. Good luck, and thanks for stopping by Wonky Pie!