HomeChef.com promotions: Home Chef delivers everything you need to make delicious gourmet quality meals yourself in about 50 minutes. Just choose your favorite recipes or go with their recommendations each week.
Meal-delivery services can seem expensive, but Home Chef offers some great coupons and promotions to bring down the price. Here are today's best coupons for up to a $100 discount and free shipping on your first four deliveries.
Home Chef Coupons: Best Now | How to Use | $100 Off | Free Trial? | Referral Bonus
---
Best Home Chef Coupon Codes:
How to get the best deal:
There are several Home Chef promo codes, so which one is best? Here's how to get the best deal when you sign up at homechef.com:
Click their featured "$90 off" promotion
Promo code AFF90OFF will be applied for $90 off the first 4 boxes
Refer friends for a $35 credit for each one who signs up.
Follow those steps to get the best possible deal right now when you join Home Chef!
*Related: Today's Best NOOM Coupon | Better Than Invisalign? Save $165 on Byte Aligners
---
How to Use a Coupon:
Don't ever just go to homechef.com and signup with the on-site offer. You can save a lot more if you take a minute to find a better deal on a site like Wonky Pie! In fact, most coupons are applied instantly when you click on a promotional link or banner, like this:
The second way to get a discount at HomeChef.com is to use a voucher code. Here's how:
---
Have a Voucher Code?
Here's how to use a promo / voucher code:
1. On the payment screen, look for a text link that says, "Promo code or gift card" like this: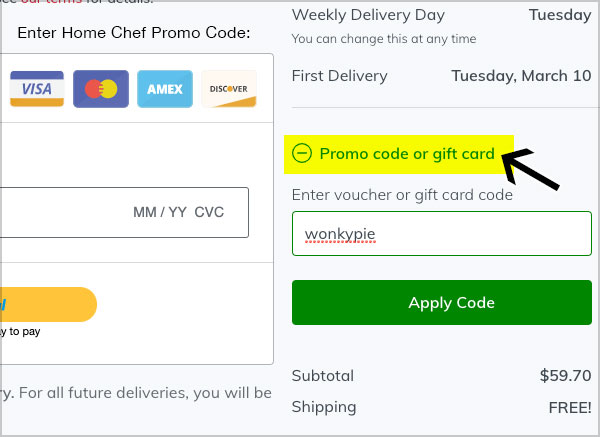 2. Click, "apply code" and if the code is valid you will see your itemized savings like this: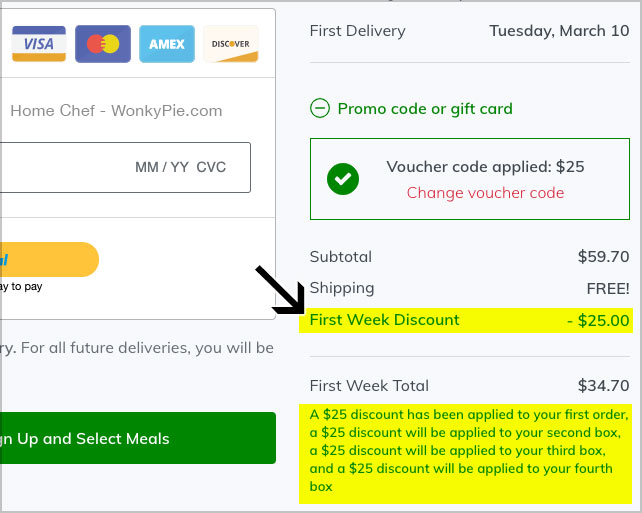 If you have another voucher code t try, just click, "change voucher code" next to the "Voucher code applied" message.
*No code needed: Apply $100 coupon!
Promo code not working? Most of the codes I try using from coupon sites don't work, and result in a "invalid promo code" message on homechef.com! We test all codes before posting them, so please let us know if a coupon isn't working, and we'll give you a free box of goodies!
---
Best Home Chef Deal? $80 Off, $100 Off, or 50% Off (Digital Coupon)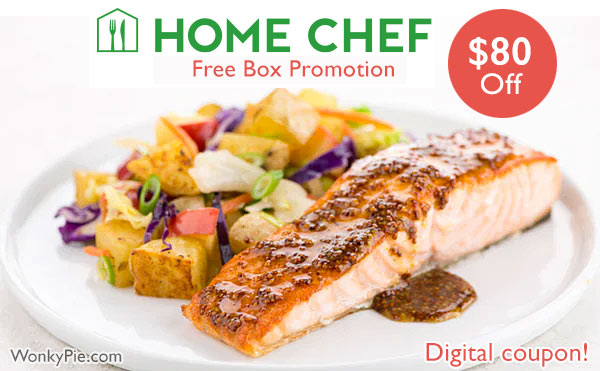 There are usually a couple of coupons out there, so which one is best? Common coupons will give you $35-40, but during peak seasons, it's possible to save even more.
I've seen coupons for $50-80 or even $100 off around New Year's, but there's a catch. With those promotions, the savings are spread out over 3 months or more. Well, not a catch, but you should understand how the savings work.

Tip: The "$50 off" is usually: $30 off your first order, and $10 off your second and third order, for a total savings of $50. The amazing $100-off coupon is $25 off your first four deliveries!
Wow! That's a pretty sweet subscription deal. Want to eat more vegetarian meals? We also have a coupon for $30 off Purple Carrot!
---
Home Chef: Free Trial or Free Box Promotion?
Shipping perishable food is expensive, and delivery costs are clearly Home Chef's biggest expense. For this reason, they don't offer a free trial or free box, as they are already losing money on their $30 off new customer promotion. However, you can take advantage of the low initial cost to try it out as a new customer, and then quit anytime if you aren't loving it.
---
"Just Like a coupon" – Get a $35 Credit If a Friend Signs Up
Psyched about Home Chef? Another neat bonus (not really a "coupon," per se) is that Home Chef will give you a $35 voucher for every friend you refer who signs up. There's always a "Earn $35 Credit" button on their site which prompts you for the email addresses of anyone you think might also like Home Chef.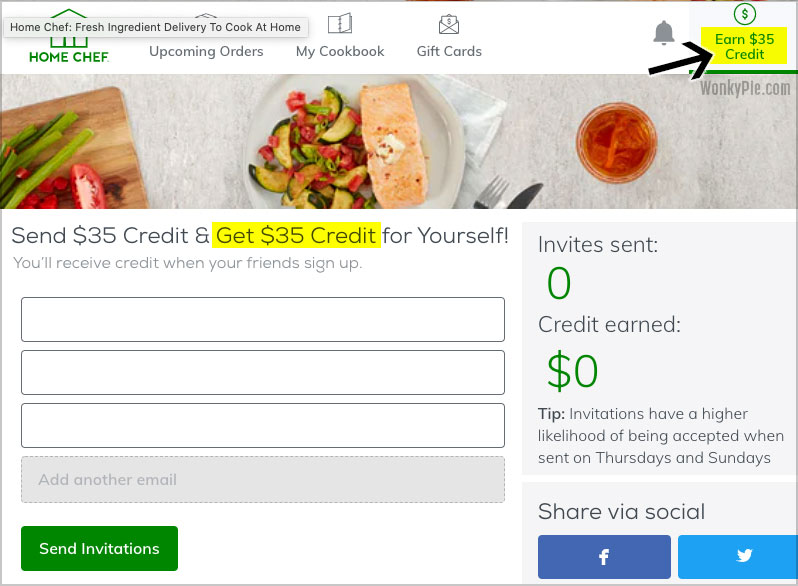 So, if you get a friend or family member to sign up, you'll instantly get a $35 credit on your account. Sweet!
*Related: 20% off Proflowers!
---
Tip: A Home Chef Coupon Is Always Available!
Besides Home Chef, there are a number of other names in the "meal kit delivery service" space, (over 100 brands!?) and they are all competing for your business. For this reason, you can usually find a coupon or promotion to get a great price, so don' t ever pay retail as a new customer!
Thanks for checking out our Home Chef coupons! We also have deals for other meal and wine delivery services like Winc Wine Club (review, coupons) Diet-to-Go, Tasting Room, and Purple Carrot. If you have a valid coupon code that you'd like to add, please drop us a comment below. Thanks for stopping by Wonky Pie!
Related: Ultimate Guide to Best Meal Delivery Kit Delivery – Forbes.com