Meal delivery is all the rage, and it's become quite a crowded space. That's OK because increased competition usually results in higher quality and lower prices.
One of the most popular meal-delivery services right now is Home Chef, which promises to "make delicious food simple." Known for their convenient recipes and super-fresh ingredients, they are rated #1 in customer satisfaction† among meal-delivery services. We thought we'd check out the cost and use a coupon to give them a try. Here's our review of Home Chef.
Home Chef: How it Works | Customer reviews | Complaints | Our review
---
How Home Chef Works: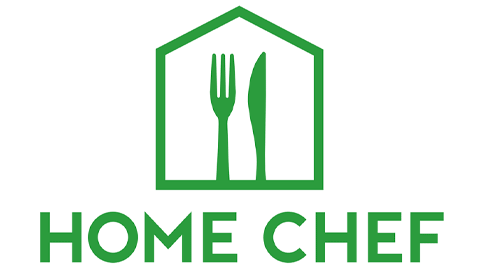 OK, so hopefully now you understand how Home Chef works. Sounds fun, right? Now, let's look at customer reviews to see what others say about their experience with Home Chef.
---
Customer Reviews: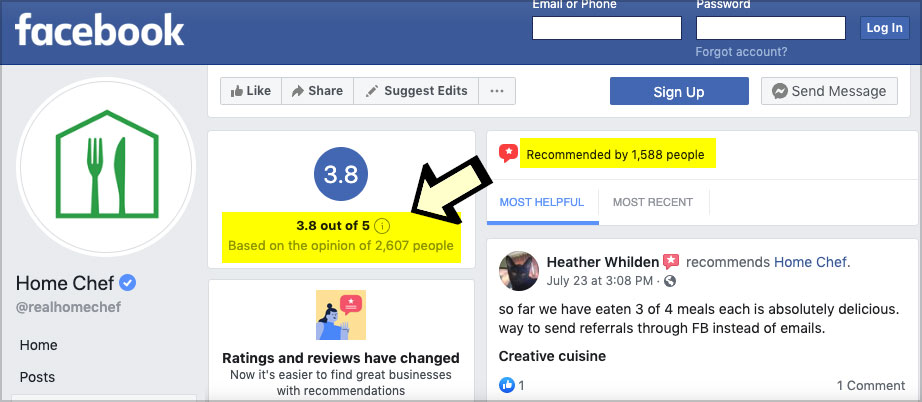 The best source for honest Home Chef reviews seems to be Facebook, where over 2900 customers have left a rating and review. Currently, Home Chef scores impressive 3.8/5 stars, and there are a lot of helpful comments and complaints in bad reviews.
Also, check out Trust Pilot where Home Chef scores an impressive 93% positive rating based on over 2500 customer reviews: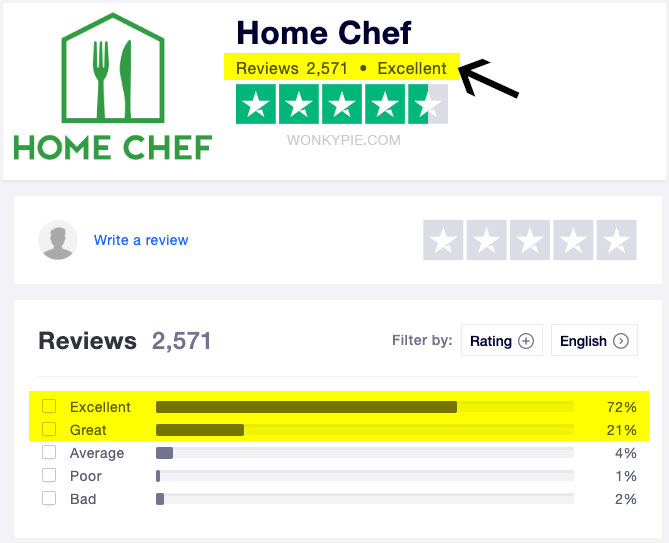 Top praise from customers includes:
Good weekly menu variety
Simple to follow recipes
Quality, tasty ingredients
Complaints: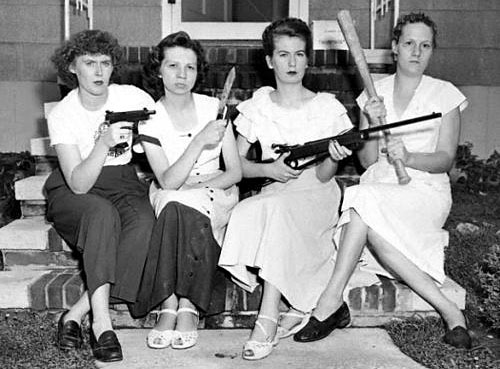 So, what do customers complain about in Home Chef bad reviews?
By far, the top complaint is trouble with (FedEx) delivery, and a number of people complain that their box arrived a day late with the ice packs melted, and the food spoiled. (source)
After doing a little research, it seems that the logistics of packaging and sending out thousands of boxes each week is a huge challenge for the entire meal kit industry.
Question: How do you deliver salmon and vegetables to Florida or Arizona in the Summer and not expect the occasional disaster!?
The second biggest complaint is with billing. Home Chef is a weekly delivery service, and it seems that some people don't fully understand how billing works. They ask you to have your menu set several days before your delivery date, as they need to prepare and process the order.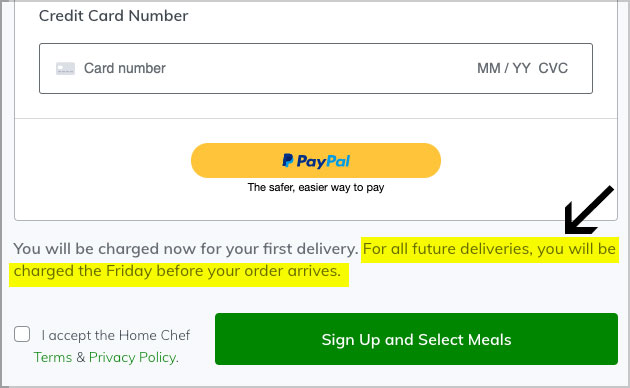 It seems fair, but a lot of people seem to decide two or three days before their delivery date that they want to change their menu or pause service.
This isn't possible, so they get billed and the food arrives to an angry household. Oh, well; just stay on top of upcoming meals and make any changes 5+ days in advance and there should be no reason to complain!
OK, we decided to try out Home Chef, so here's our review:
---
1. Our Review:
Cooking a Home Chef meal is a great way to spend time together. Plus, you get to work on your cooking and cooperation skills!
If you are thinking of signing up for Home Chef, you'll want to make sure you find the best sign-up deal. All meal kit delivery is a bit pricey, so I was happy to see that Home Chef offers a $100 off promotion (all coupons) good for $25 off each of the first four orders, so I'll use that to get started.
After signing up, Home Chef asks you to specify:
Number of weekly meals (2-8)
Servings per meal (2-6)
Weekly delivery day (Tues-Friday)
Then, you'll set your taste profile, which is where you can list any likes or dislikes, such as "fish, beef, spicy, nuts," and more.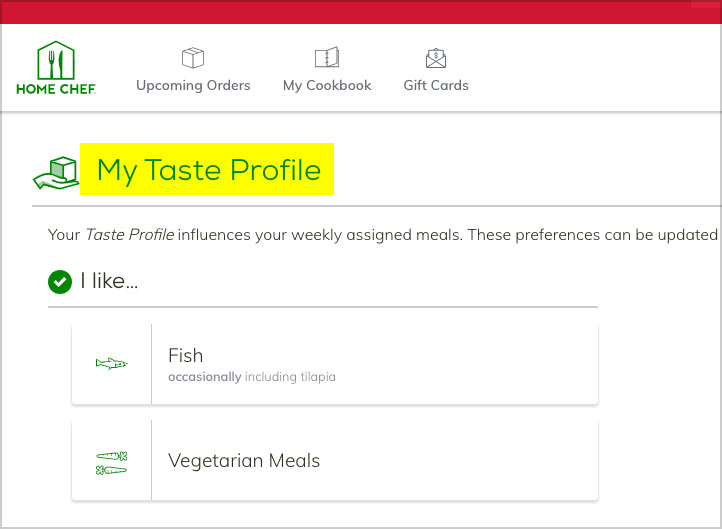 After setting your preferences, they will suggest a menu for your first order:
If there's something you'd like to change, just choose from their alternate meals under, "Available Items."
I decided on 2 meals per week with 4 servings each.
First up on my menu was "Brown Sugar Salmon" and, "Black Bean Tortilla Pie." Sounds good!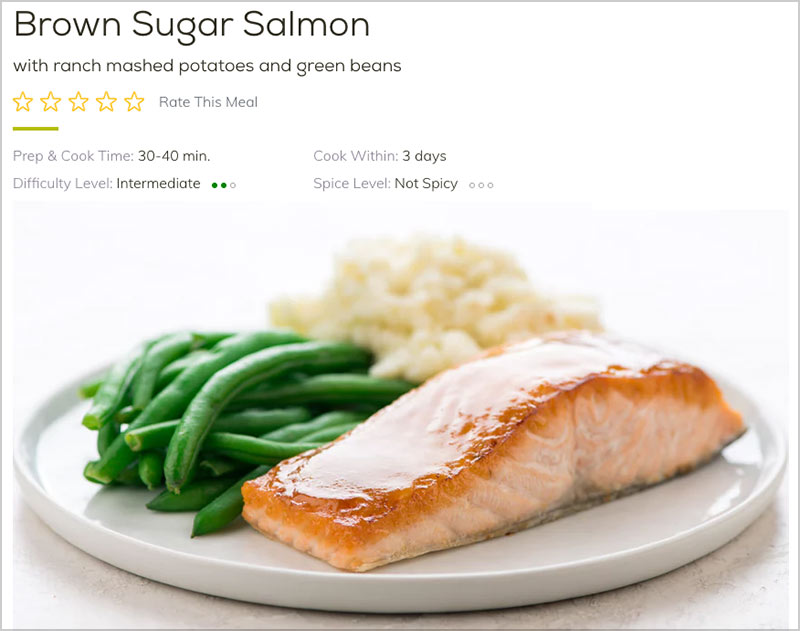 Tip: All meals cost $9.95 per serving unless noted. There is also a good selection of lunches for $7.99 per serving to choose from.
*Featured diet coupons: Nutrisystem $25 off, WW 50% off code, Factor75 $120 off
---
2. Delivery & Packaging:
The box from Home Chef arrived, as expected, on Wednesday afternoon with all of the ingredients and instructions well-packaged.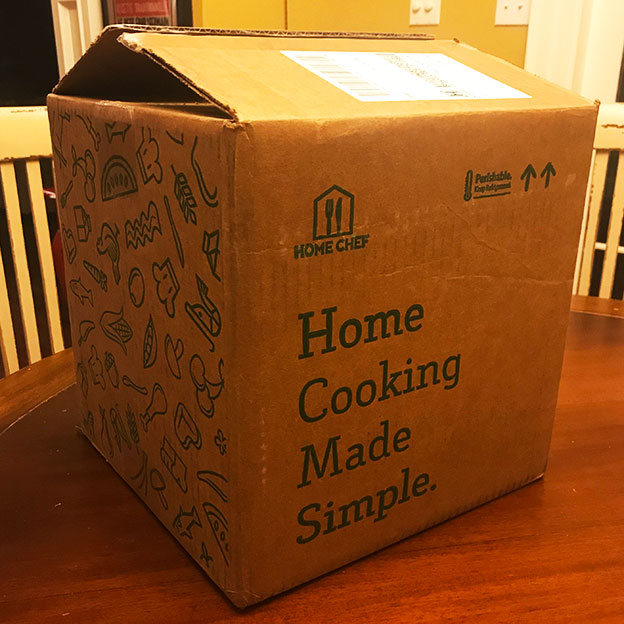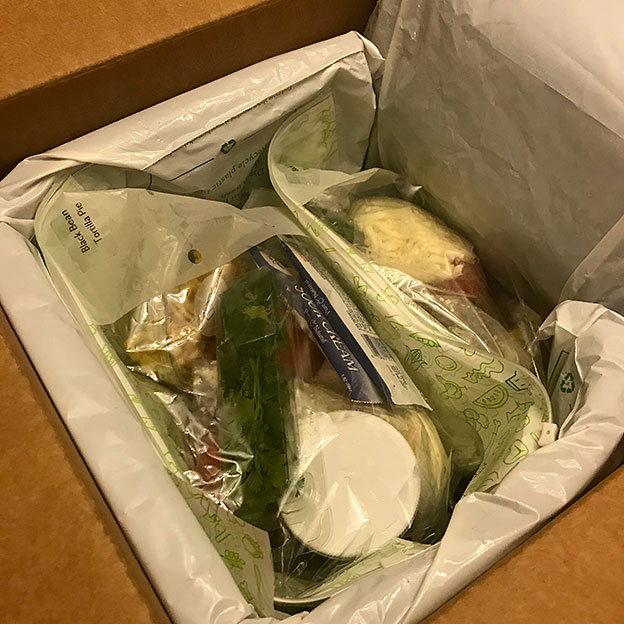 Everything is well-labeled, and the two meals are sealed in separate plastic bags. The food is surrounded by ice packs which stay cold for a couple of days, so it's not a problem if the box sits on your doorstep for a few hours.
---
3. Let's Cook!
I decided to start with the Brown Sugar Salmon, which specified that it should be cooked within 2 days. (Due to the highly-perishable fish) Here are the ingredients and recipe: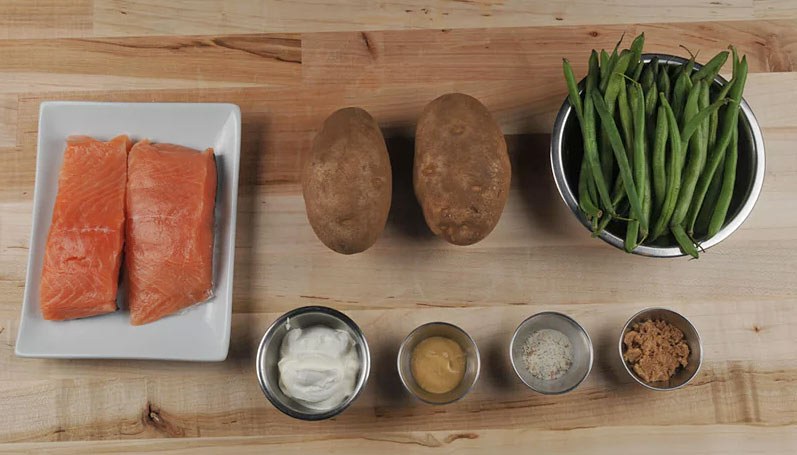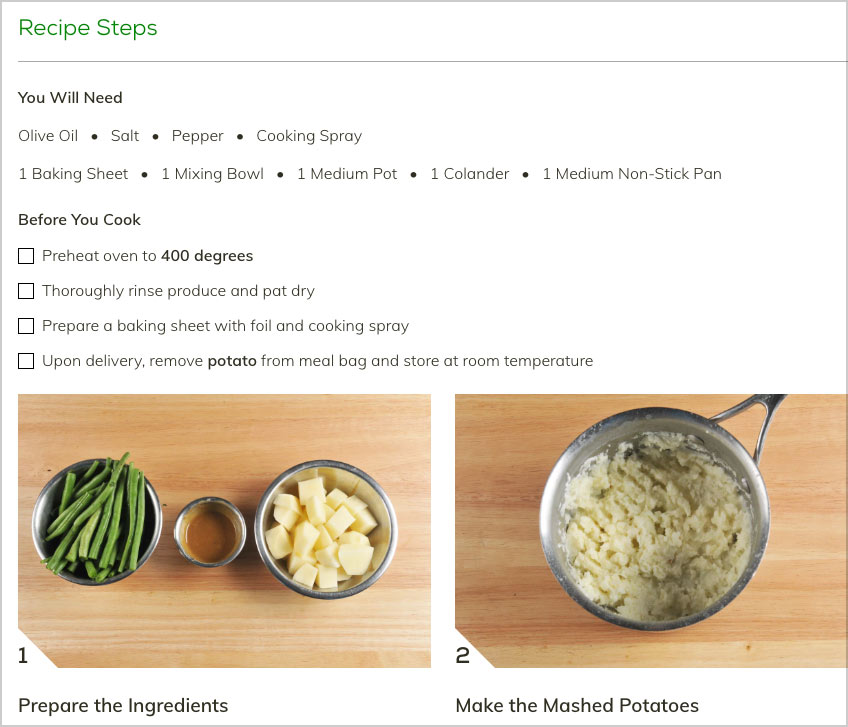 All of the ingredients are in their own little orderly packages, and there's never any extra or leftover ingredients.
Every meal also includes a recipe card that you can put in the binder that they give you on your first order to use again later.
The recipes are very easy to understand and walk you through meal prep and cooking step-by-step. They seem to be designed for convenience (weeknight dinners) although you can request more complex recipes if you'd like.
Here's what my meal looked like halfway through cooking: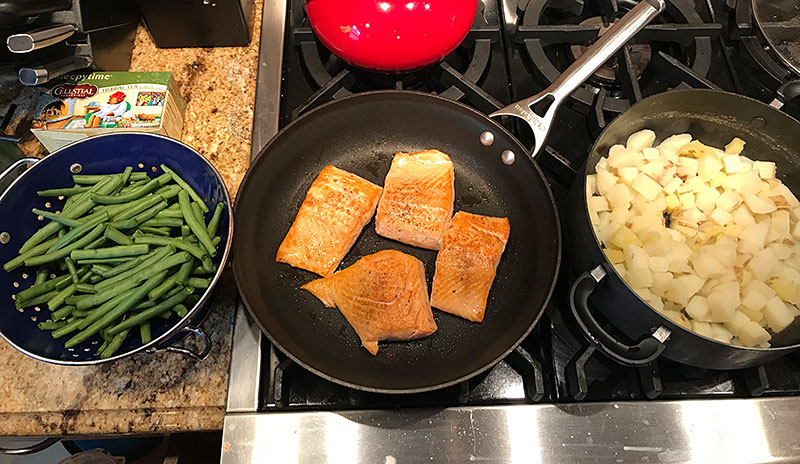 After following the instructions to mach the potatoes and glaze the salmon, the meal was complete. (And smelled great!)
Here's what one of the four servings looked like just before we dug in: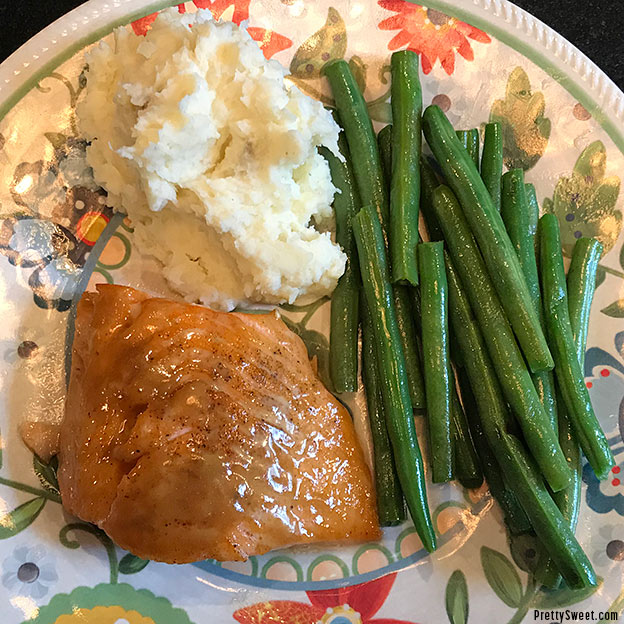 4. How Long Does Prep & Cooking Take?
Home Chef has estimated that the prep and cooking time would be 30-40 minutes, which was accurate, as this dinner took me about 45 minutes to prepare.
However, by timing myself for this review, I found myself rushing a bit, which I wouldn't recommend. Actually, the cooking process itself is important, so make sure you enjoy each step and try to be "present" in what you're doing!
Also, after a couple of months, you may be surprised to find that you've become a better cook!
Tip: If you don't like the idea of cooking (with your partner?) then no meal delivery makes sense, as it's cheaper to buy prepared meals from the supermarket. So, slow down and enjoy!
"I cook with wine. Sometimes I even add it to the food."

Funny quote from W.C. fields
---
5. How Did the Food Taste?
Our first Home Chef meal was delicious! The ingredients were fresh and well-portioned. Everyone agreed that the salmon and potatoes were outstanding. Our kids don't eat green beans, but they were crisp, and my wife and I enjoyed them.
Tip: Some meals include highly-perishable ingredients like fish or shrimp, so plan to cook them within a day or so of delivery
We stayed with Home Chef for another 2 months, or so, and really enjoyed all of the meals. Because of our busy schedules, we weren't able to take delivery a few times, so we skipped a week here and there, which is easy to do through your account settings online. (Just be sure to do so several days before your delivery date!)
---
Conclusion:
Home Chef was great!
The website is easy to use, and there's a great variety of tasty meal options within my preferences. It's also easy to skip a week if you need to. They also post a lot of inspiring pics and recipes on Instagram for menu items:
Currently, I have my subscription on "pause," as our crazy Spring schedule (soccer, etc) rarely allows for an enjoyable home-cooked meal during the week!
Anyway, trying and reviewing these meal-kit companies is a fun project, and I'm thoroughly enjoying it. Because the competition is so stiff, you'll always find a good coupon out there for the top brands in the space. In fact, if you want to eat more vegetarian meals, check out our Purple Carrot coupons here.
Thinking of signing up? If you're interested in trying out Home Chef, here's their best promotion now:

Related: Thinking of trying a meal-delivery diet? We have coupons for Factor75, Nutrisystem, and Diet-To-Go. We also tried out the super-hot Noom Coach weight loss app. Here's our review
† Source: US Grocery Benchmark Study, 2017-2018, Market Force Information, Inc.