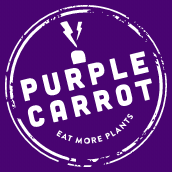 Eating more plants is good for you and the planet! Purple Carrot (our review!) is a leading plant-based meal-delivery service and a convenient way to cook up super-tasty and healthy vegetarian and vegan meals.
Speaking of being "green," we can save you some green with our Purple Carrot coupons and promo codes for up to a $30 first-time discount on the cost of any subscription! Plus, after you join you can earn a free box to send to a friend. Here are today's best discounts and promotions for Purple Carrot:
Purple Carrot: Featured Coupons | Best Deal? | Using Coupons | Student Discount? | Free Box
Best Purple Carrot Coupons & Discount Codes Now:
---
How to Get the Best Deal:
Thinking of signing up? Follow these steps to get the cheapest subscription possible for Purple Carrot:
Click "let's do this!" at purplecarrot.com and choose a plan
While 2-serving plans cost less per week, 4-serving plans are a better value per serving
Skip optional breakfasts and lunches
At checkout notice the box that says, "Apply a discount or gift code"
Enter today's featured coupon code for $30-35+ off your first box
If you enjoy Purple Carrot, you'll earn a free box to share after your fourth delivery!
Follow the steps above for the best deal when signing up for Purple Carrot. It's not cheap, so if you don't love it, cancel anytime!
---
How to Use a Coupon or Gift Code:
How do you get a discount at PurpleCarrot.com? There are two ways to get a discount at PurpleCarrot.com: clicking a promotional link or by using a promo code. Here's how each method for saving works:
1. Promotional Link / Banner:
Purple Carrot is doing a lot of advertising lately, and a lot of the ads feature coupons for $20-25 off. And, while browsing on their site, you might also notice a pop-up coupon like this: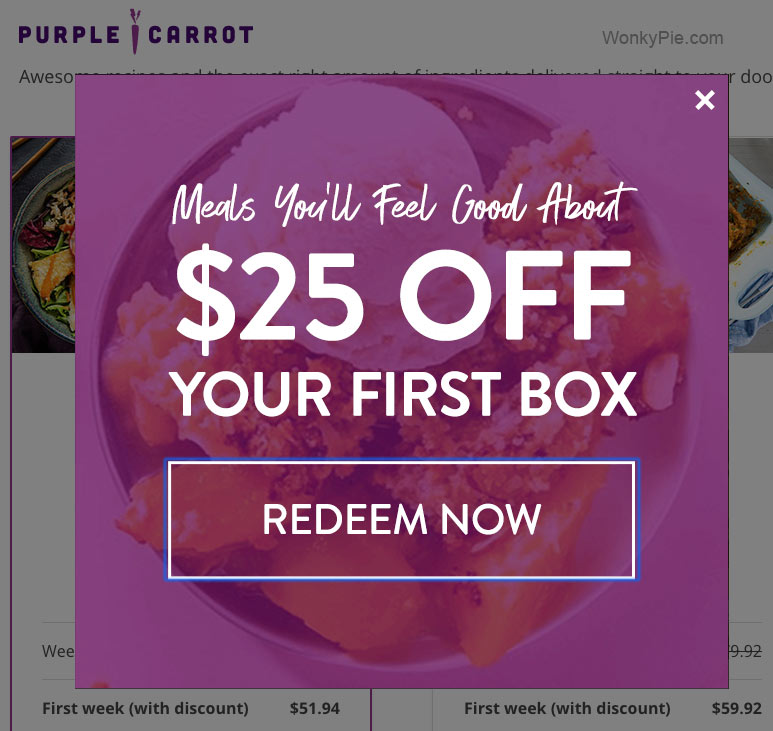 Just clicking either of these links or banners will apply the advertised coupon to your shopping cart. After you click through, you'll come to a landing page that shows the discount like this: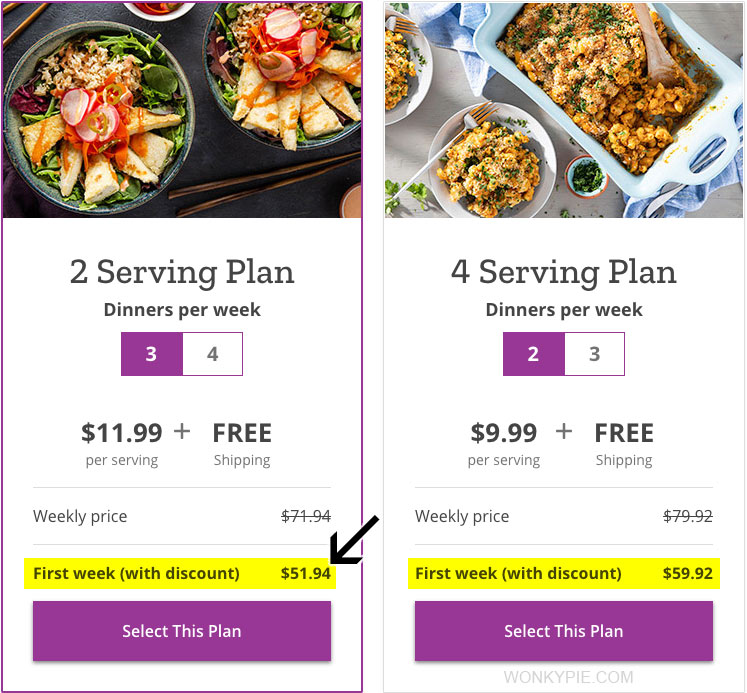 You'll also notice the discount itemized on the payment screen of checkout. The second method of getting a discount is by using a promo code.
2. Promo code:
You may have gotten a code from the radio, a podcast, Tom Brady's TB12, (he partnered with Purple Carrot) or from a site like Wonky Pie. If so, you can enter it on the payment screen of checkout. Here's how:
Just find where it says, "Apply a discount or gift code" under your order total and enter the code there. Click apply, and you should see your savings listed next to, "Your first box discount" like this: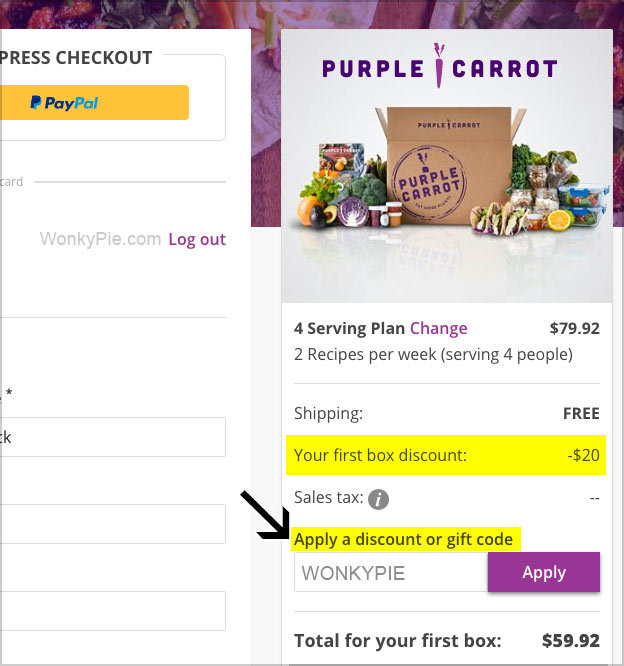 Discount code not working? I test all of the codes I post on this page, and I notice that a few of the ones I found on coupon sites don't work! I also notice that codes for $30-off like PETA30 say, "This discount coupon is not applicable for this plan." Hmmm… there must be a minimum order requirement.
Want wine with that meal? Winc Wine Club ships exciting wines from small, sustainable vineyards to your door for $13 per bottle. We also have a $25 coupon!
---
Free Box:
Does Purple Carrot have a promotion for free boxes? Yes! After every fourth delivery, you will earn a free box to send to a friend. Just log in to your account and click, "share a box," and you'll see how many deliveries until your next free box: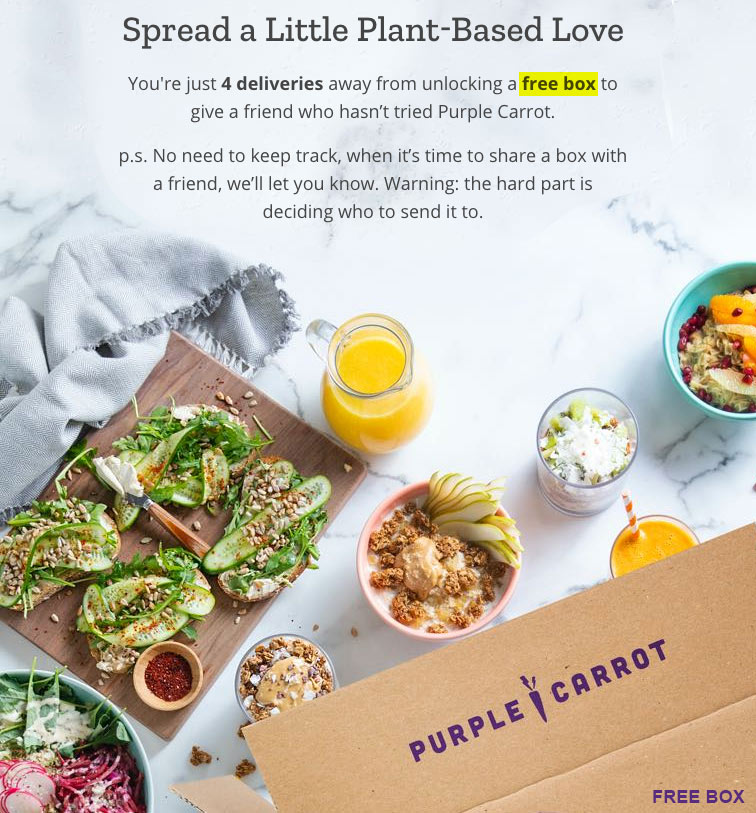 That's a pretty fun promotion, right?
---
Student Discount?
There is currently no Purple Carrot discount available specifically for students. In fact, the best student discount that I've previously seen was for $30 off, which is the same or less than our current featured promo code here.
---
Conclusion: Why Try Purple Carrot?
There's a revolution happening, and people are going vegetarian and vegan for myriad reasons. If you've been thinking about trying Purple Carrot, there's never been a better time! When you use one of the coupons or discount codes above, you'll get up to $30 off your first order. That means you can try 2-3 of their plant-based meals yourself for around $50.
We signed up for Purple Carrot, so definitely check out our review. Curious about other meal delivery services? We also have coupons for Home Chef, BistroMD, Adam & Eve, and Diet-to-Go, plus wellness programs like Noom, which you can try for free this month!
*Related: Why You Should Avoid Nutrisystem for Vegetarians & Vegans
Thanks for stopping by Wonky Pie!