What's the cheapest way to signup for Nutrisystem? So, if you're looking to join Nutrisystem, you may have noticed that the pricing is different based on what promotion you clicked to get to their site.
Plus, you'll always want to use a promo code to get an extra discount on at signup. So, which promotion gives you the best price long-term? Here's how to get the cheapest monthly price on Nutrisystem so that you don't pay a dollar too much.
Looks like the $100 promotion isn't running right now so here's the best deal:
No coupons found.
---
The "$100 Promotion" Is the Cheapest for First 3 Months Only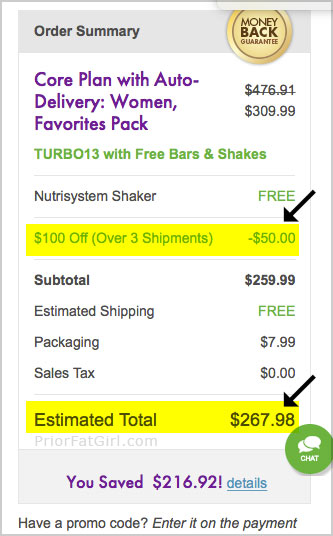 Some health websites out there promote a special 50% off promotion. While this results in the cheapest price for your initial signup, know that this "100 off" is over the first three months only, and on month four it's no longer the cheapest deal.
Assuming you want to stick with Nutrisystem for more than 3 months, you'll want to avoid this confusing offer in favor of the "40% promotion" which does not increase in price after a short promotional period

---
The 50% Off (or 40% Off) Promotion is Cheaper Long-Term!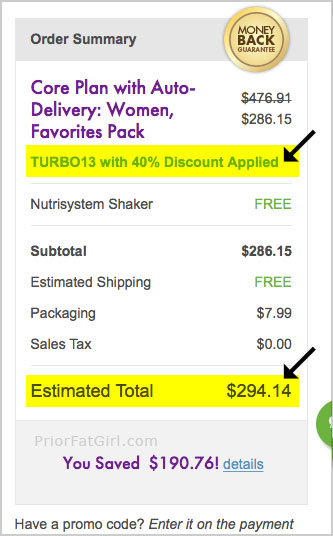 So, why would you pay more for the same thing at signup? In this case it's because of confusing pricing at nutrisystem.com, but hear me out. The 50% off promotion doesn't look like the cheapest price because your first order will actually cost more than the $100 off promotion, but it locks in the discounted rate for as long as you're on Nutrisystem!
That means that the $100 off promotion is cheapest over three months only, but if you stick with a Nutrisystem plan, you'll save big with the 40% off promotion. over the course of a year, your total will be over $100 less than the $100 off special.
Tip: When selecting a plan with the 50% off promo you can choose to pay for 2 months upfront to save an extra $20+ per month by clicking "Unlock 50% Off." This discount is also applied to your future monthly billing!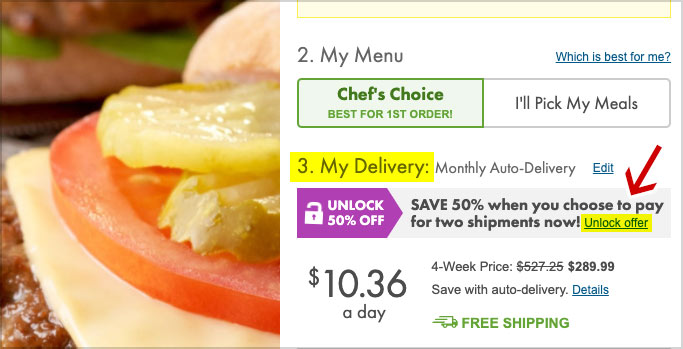 *Related: Best Nutrisystem promo code today?
---
Always Use a Promo Code at Signup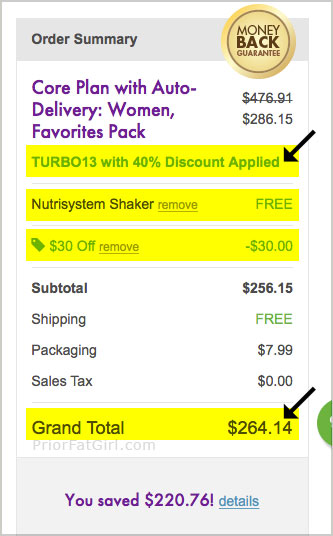 Hold, on don't signup yet! Always use a promotional code when you join, as there seems to always be a code available for up to an extra $20-30 off the discounted price. Plus, often there's a code available for a free shaker, too. ($10 value)
Note that if you use one of the two promotions above, you will be able to use a code for up to $30 off, but their $50 off code (SAVE50) won't work. That promo code works towards their offers with lesser discounts like the ones they offer from their homepage. That's ok because you'll be getting a better price with the 40% off + $30 off combination anyway!
*Related: 12 Things I Wish I Knew About Nutrisystem Before I Joined | How Much is Noom Coach per Month?
---
Are You a Costco Member? Buy Discounted Nutrisystem Gift Cards!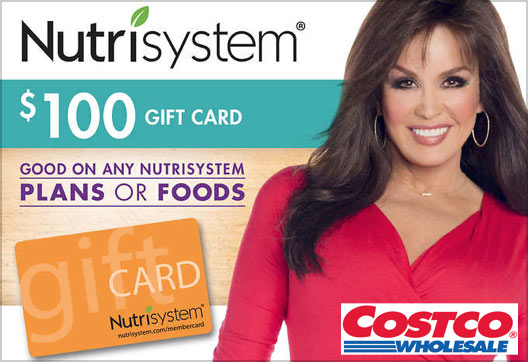 Want to get an even cheaper price on Nutrisystem? Most people don't know that you can buy discount Nutrisystem gift cards at costco.com. In fact, these $100 gift cards are usually available for $79 or even less during seasonal sales. You can check today's price here.
---
Conclusion: "50% Off" Sale Yields the Cheapest Price for Nutrisystem
So, there you have it. The cheapest way to buy Nutrisystem with Turbo 13 (now called, "Body Reboot Week") plan is by clicking the 50% off promotion, and then paying for 2-weeks upfront to get a better monthly rate.
Related: Up to 50% Off Weight Watchers Online!
If you aren't ready to commit to signing up for Nutrisystem and just want to try it out, you can find Nutrisystem boxes at Walmart (coupon?) with a week of food. While this isn't the cheapest price per meal, it's a good way to acquaint yourself with how it all works and whether the diet is for you!