You probably know Custom Ink for screen-printed t-shirts for groups, but did you know that they also make blank and custom-printed face masks? It's true, and they've become quite popular with groups, companies, and organizations. Plus, most styles are made in the USA and North America, which is a plus! So, are Custom Ink masks any good?
Let's look at mask designs, customer reviews, optional filters, and the cost to decide if you should buy them for your group. If you do, you can currently enjoy free shipping plus an EXTRA $5+ off your order! (*coupons here)
Custom Ink masks: About | Reviews | Cost | Delivery Time | Coupon

---
Custom Ink Masks
Before we get into customer reviews, I want to give you a quick overview of Custom Ink reusable masks. First, Custom Ink sells 2 kinds of masks:
Printed masks with dozens of designs at maskforit.com
Customized masks or blank masks in several styles here
There are 3 popular styles of customized masks including: Basic Cloth Face Masks, Finished-Edge Masks, and Triple-ply cotton face masks.
---
1. Pre-Printed Mask Designs: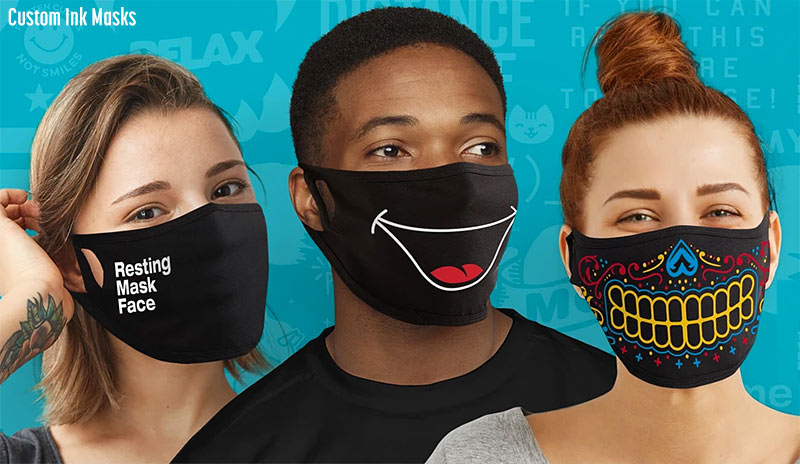 Custom Ink also offers masks printed with designs including Class of 2021, Black Lives Matter, and more for $9.99 each sold from MaskForIt.com. Buy 2 get 1 free !
*Tip: New customers will see a pop-up window with a 10% off coupon appear on the homepage after 20 seconds like this: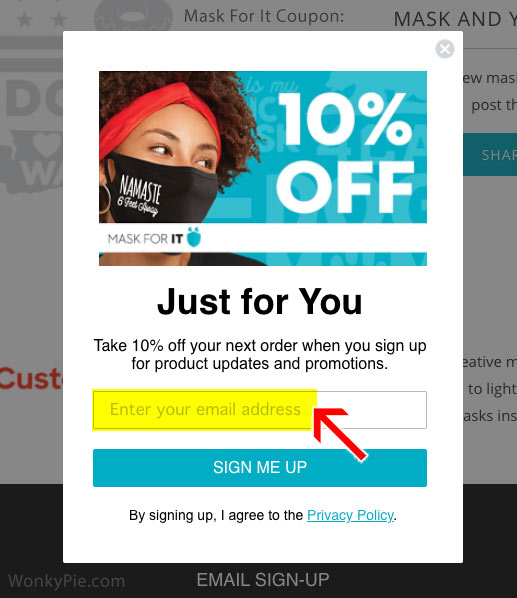 Just sign up and you'll get an email with a 10% off coupon for your next order!
---
2. Basic Cloth Face Masks: (Custom or Blank)
Custom Ink Basic cloth masks are their cheapest mask option. Essentially they are made of t-shirt material and have slits cut for your ears. You can buy blank masks, masks with a design, or customize your own: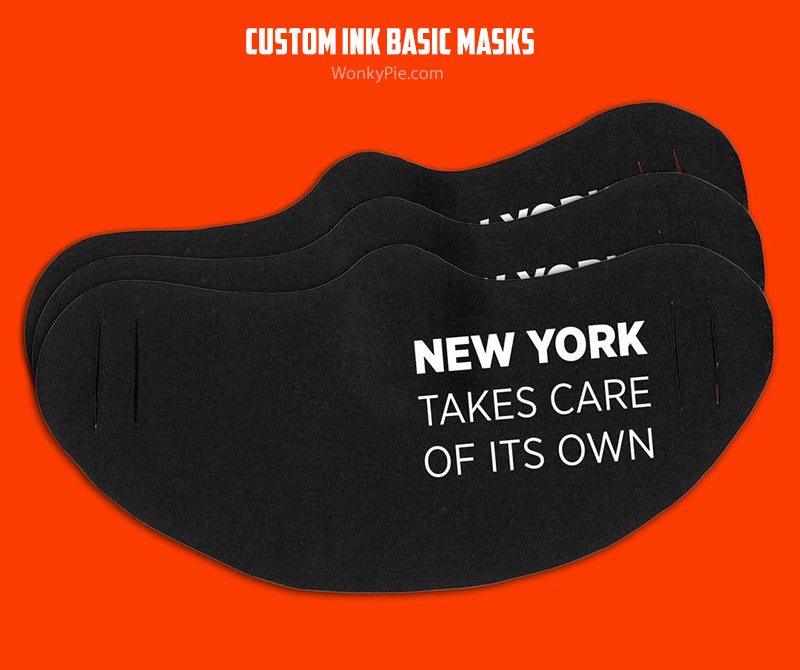 Here are photos of Custom Ink Basic masks from customer reviews: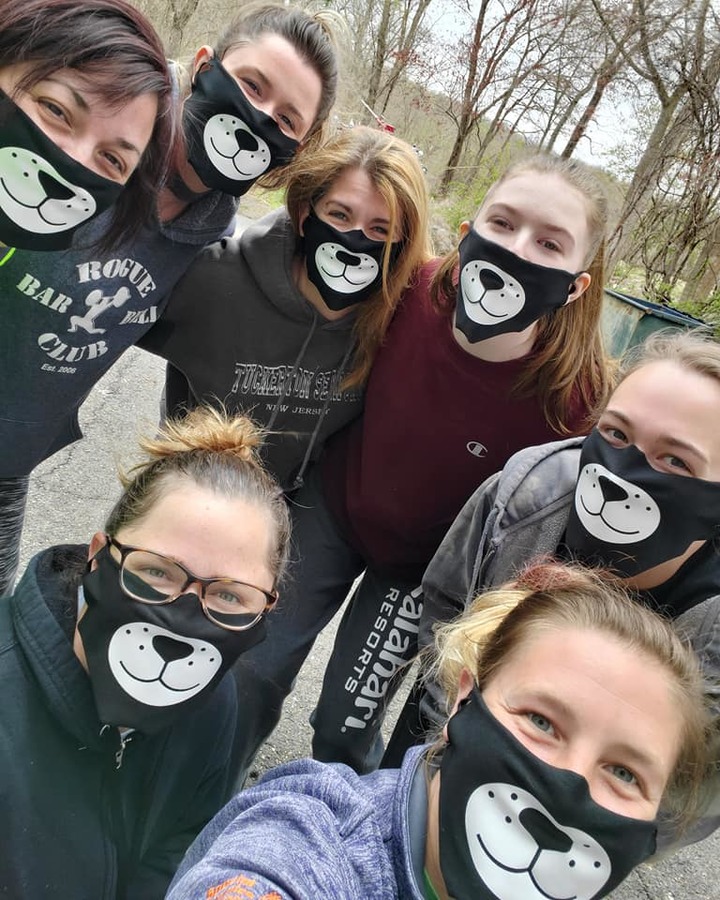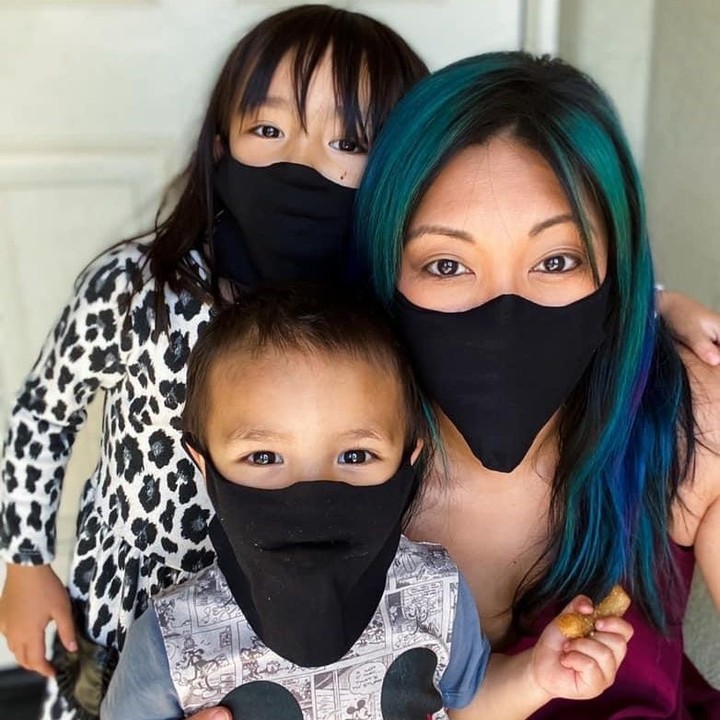 Customer reviews for the Basic masks have a number of complaints. While it's tempting to consider these cloth face masks because of their low price, I think they also look and feel cheap.
As you can see from this photo from a customer's bad review, the Custom Ink Basic masks are really just a strip of t-shirt material with no elastic for your ears and no wire around the nose to help the masks fit tightly.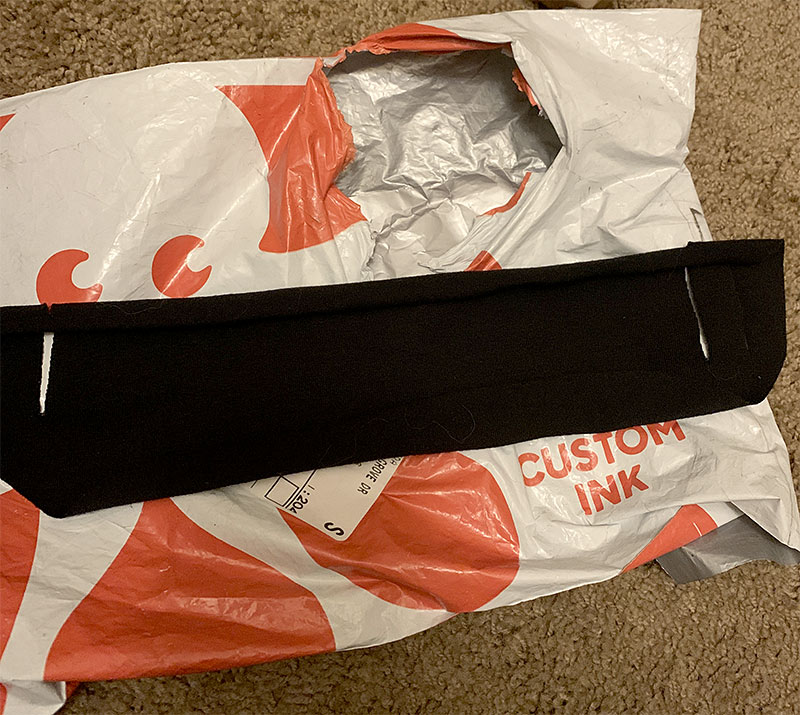 I would not recommend buying the Basic masks in most cases, and the only thing good about them is that they are made in the USA. However, I still wouldn't buy them and would spend more for a better mask!
Basic Masks are really cheap! You can buy blank masks in one of 4 colors, 12 for $19.99. Or, customize these Basic masks for about $6 each!
---
3. Finished Edge Masks
If you want a step up in quality from the no-frills, cheap "Basic" face masks, try the Finished Edge Masks that add a stitched edge. Add your own design, or choose from one of Custom Ink's many designs: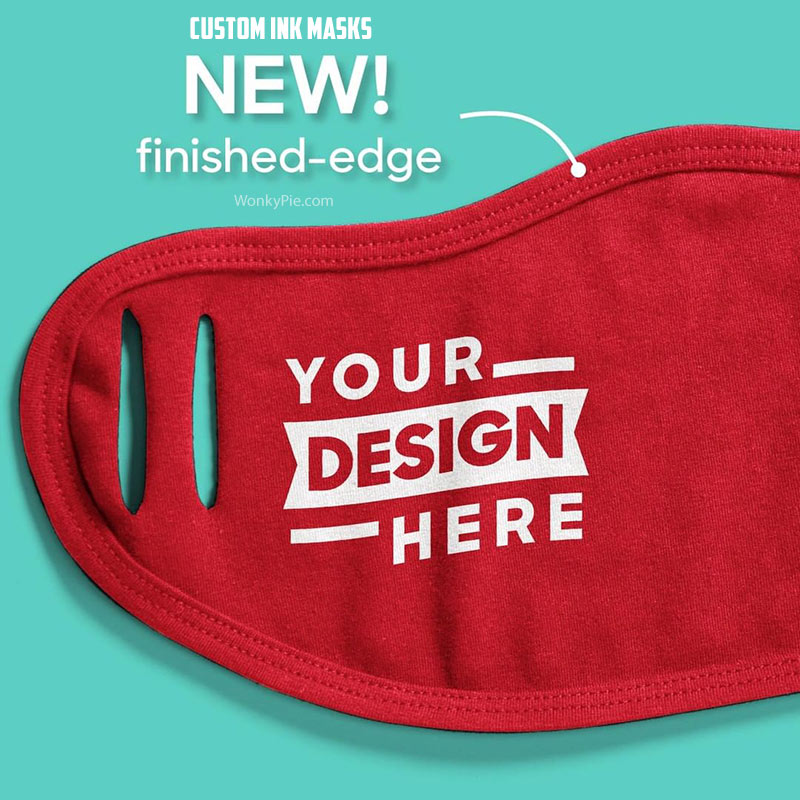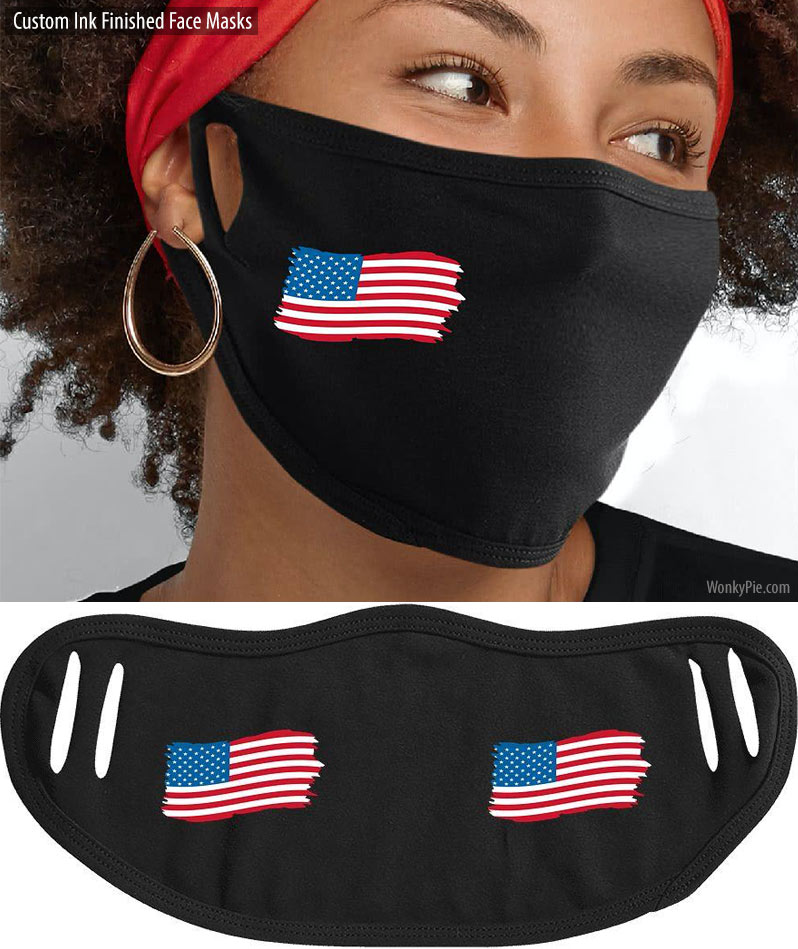 Finished Edge masks are a step up from Basic, but not as highly rated as Custom Ink Triple-Ply cotton masks:
---
4. Triple-Ply Cotton Face Masks
Triple-Ply masks are Custom Ink's most popular style of face mask, and they are the highest-rated in custom reviews.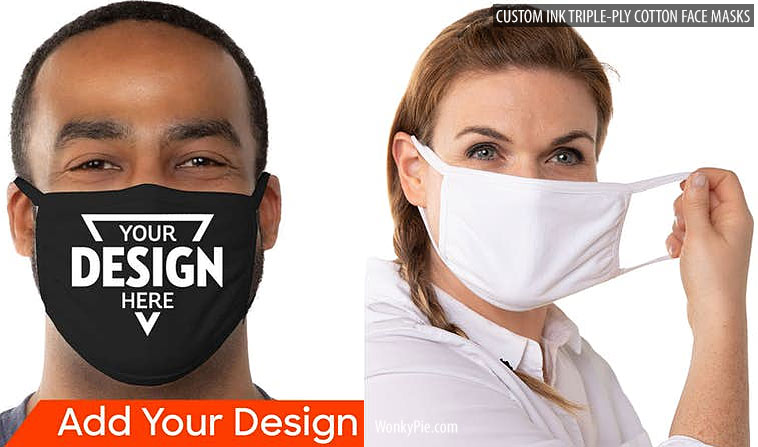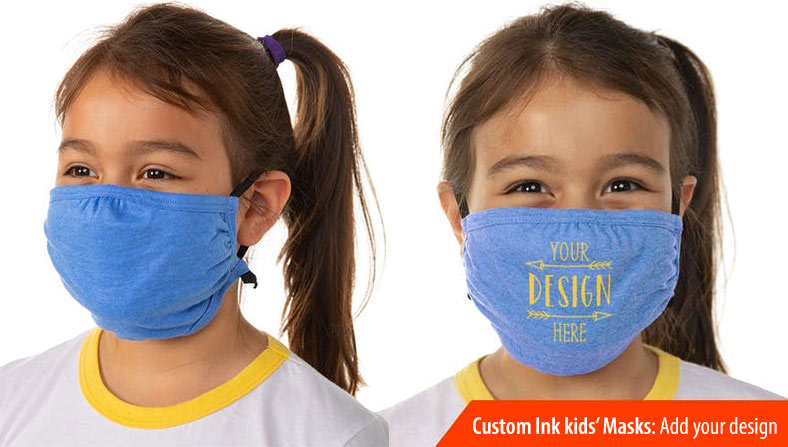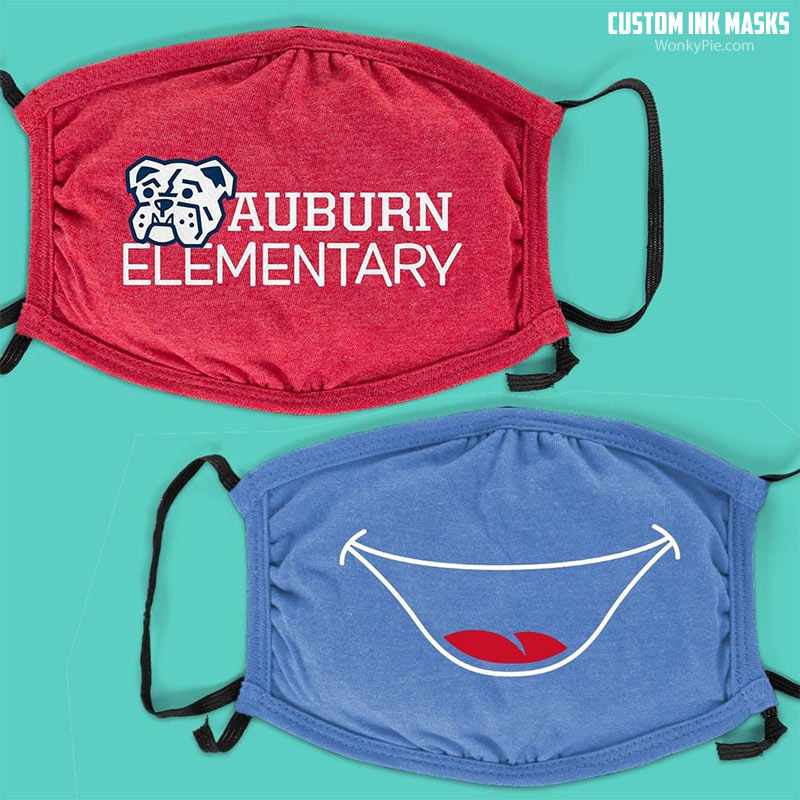 As you can see, the Triple-Ply masks include elastic ear loops instead of just having slits cut in the fabric like the Basic masks. They also look more substantial.
View adult and kid's Triple-Ply masks here. Do you just want blank masks in bulk? You can buy 100 for $350!
Tip: Try to use only 1-2 colors in your design or logo. All custom masks are screen-printed by hand, so the price goes up significantly for every color you add!
None of Custom Ink's masks have filters or are considered to be PPE (Personal Protective Equipment). but the fabric does have silver and copper for their antimicrobial properties. So, while they are appropriate for most public use they obviously are not intended to be used in hospital or clinical settings where significant Coronavirus exposure may occur!
5. Face Masks With Filter:
Filtered face masks are available in packs of 1 or 10. Each mask comes with 10 disposable filters.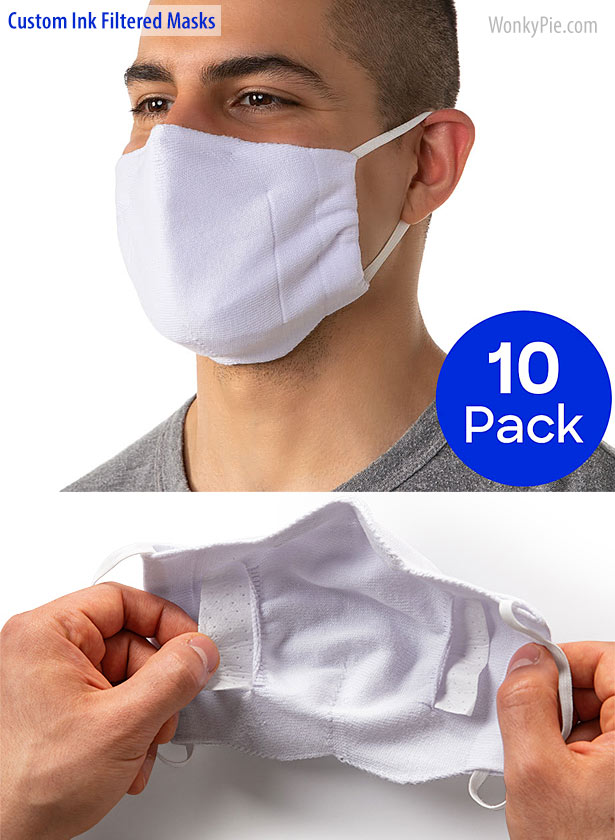 Filtered masks are 100% cotton with an adjustable nose bridge, elastic ear loops, and antimicrobial finish. You can also buy filter refills in packs of 30. View all masks
---
Customer Reviews:
Want to read Custom Ink mask reviews from verified customers? Reviews are available for each style of mask. Just click the link under the product name to read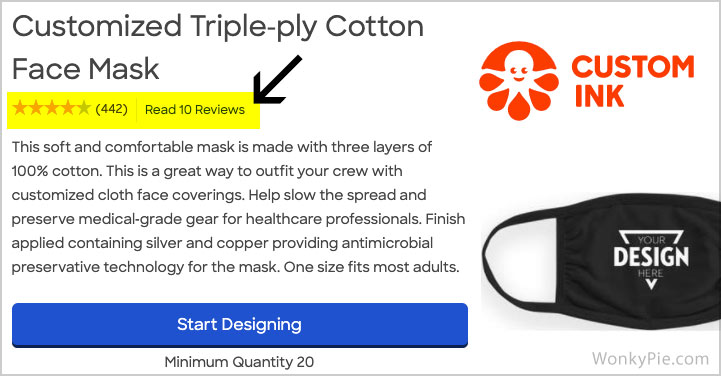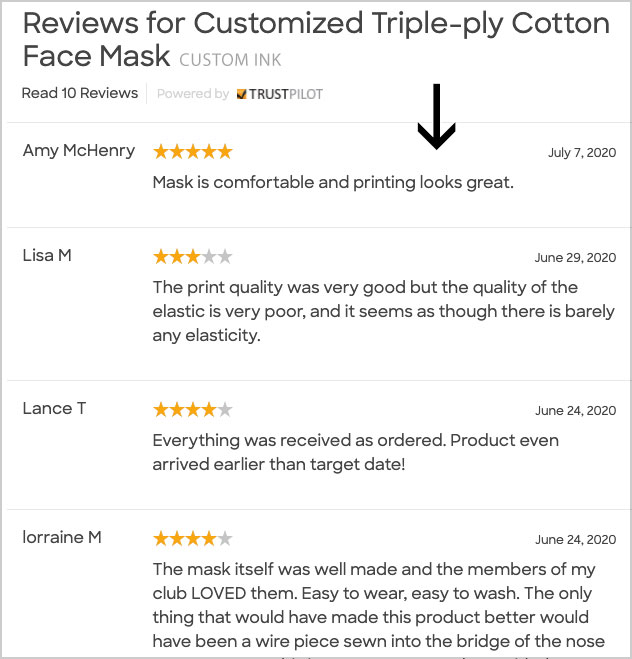 Are custom Ink masks any good? I don't recommend their cheapest option called, Basic. However, customer reviews are mostly positive and the other styles are worth considering for your group or organization.
---
Mask Pricing:
The cost of Custom ink masks depends on:
Mask style
Quantity (20 mask minimum for screen-printing)
Number of ink colors
There is a minimum number of masks required depending on style, starting at 20 pieces. (Custom Ink also has a number of pre-printed face masks for $9.99 each here.) You can get a quote at any time by clicking get a quick quote under the product description: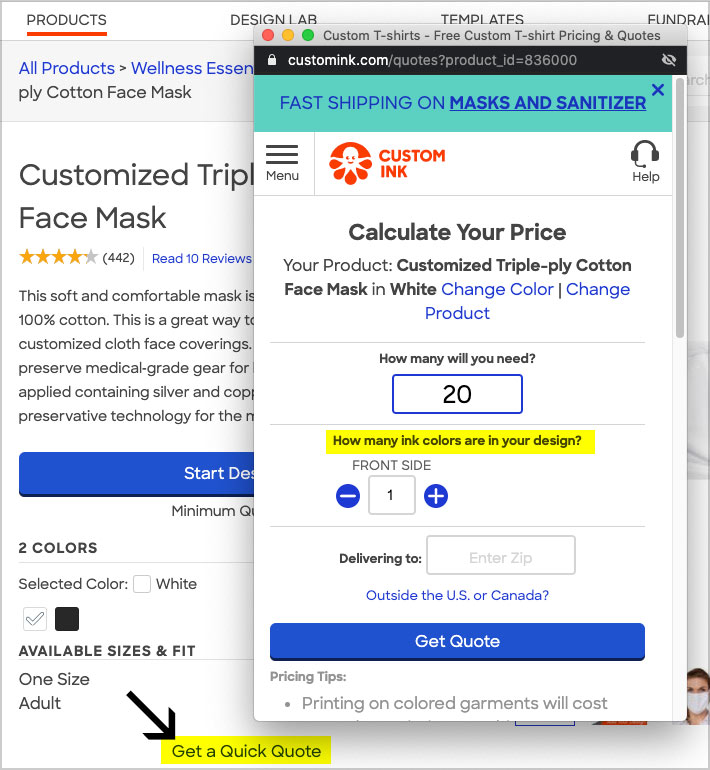 Blank masks are much cheaper than those with one or more screen-printed colors. Here is the pricing for their most popular face masks; the customized Triple-Ply cotton face masks:
20 masks, blank: $4.38 ea.
20 masks, 1-color: $10.42 ea.
20 masks, 2-colors: $12.93 ea.
Buying face masks in bulk will reduce the price per mask with their volume discount: here's how much 50 custom Triple-Ply Masks cost:
50 masks, blank: $3.60 ea.
50 masks, 1-color: $7.71 ea.
50 masks, 2-color: $9.51 ea.
*How much will your order cost? Get a fast free quote!
---
Mask Delivery Time:
Custom Ink face mask production + shipping time:
Standard shipping: 2 weeks (Free!)
RUSH delivery: 10 days
Blank masks: Delivery in 2-3 business days
---
Mask Coupon:

You can get free shipping plus $5 off your order of custom face masks at customink.com. Click here to see today's featured coupon: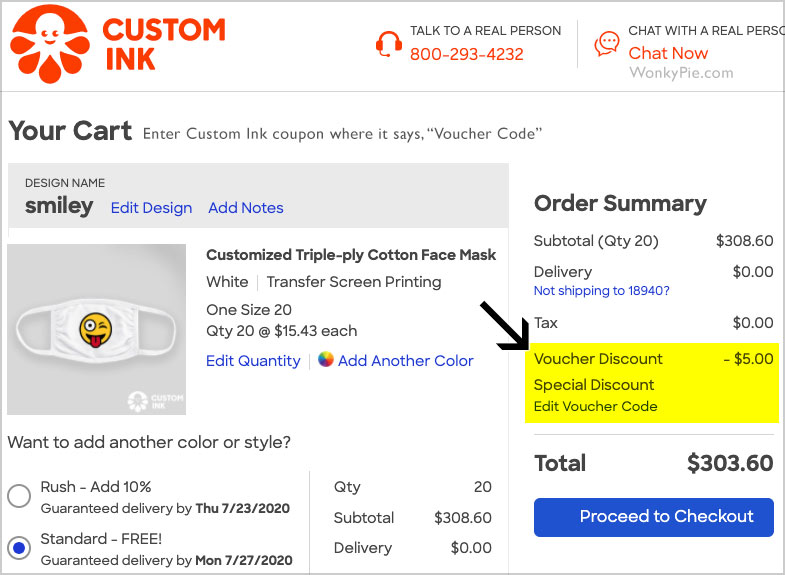 ---
Face Mask FAQs:
Where are Custom Ink masks made? ??
That depends on style: Basic masks are made in the USA, Finished masks are made in Mexico, and Triple-Ply face masks are made in Guatemala. All masks are then customized in the USA.
Washing Instructions:
Machine wash warm and tumble dry. (Cloth masks are 100% cotton)
How much do Custom Ink masks cost?
Custom-printed masks start at about $6 each. Price depends on the style, number of colors, and quantity. View pricing:
Custom Ink face mask coupon?
Yes, you can get FREE shipping on custom masks plus $5 off with coupon
---
Conclusion:
Custom ink sells several styles of blank and custom-printed masks. While I would not recommend Basic, the cheapest style, the others are worth considering. Customer reviews are generally positive, but there are some complaints like the masks' lack of an adjustable wire for snug fit around the nose. I recommend that you read customer reviews on CustomInk.com to see if their masks meet your needs.
If you do buy face masks, be sure to use a voucher code for an extra discount!
Want to see other reviews and coupons for other face masks? Check out our reviews for Pro sports masks and filtered masks!
We also have more custom printing coupons for Snapfish and Easy Canvas Prints.
Thanks for stopping by Wonky Pie!