It didn't take agile companies like Vistaprint long to adapt to the changing world of the Covid-19 pandemic. While small businesses remain mostly shut down and conferences are canceled, the demand for business cards and brochures has surely dried up. However, every crisis presents an opportunity. In this case, those searches for custom-printed marketing materials have shifted elsewhere; specifically to filtered face masks.
I now see ads for face masks everywhere online, making me skeptical of the fly-by-night companies making these masks. Are they really safe, or were they made in China in a rush of opportunism? Because I'd prefer to buy my wife and kids face masks or custom masks from a reputable company, I decided to consider Vistaprint. I've used them for years and have been very happy with their products, and I really like the look of their new filtered face masks.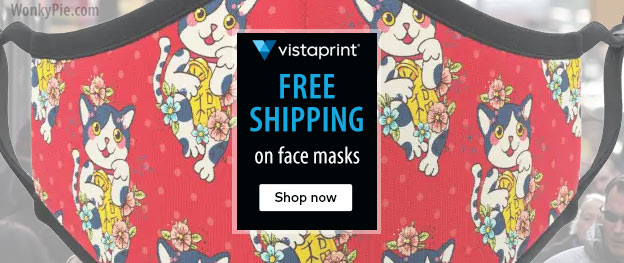 Vistaprint masks: Designs | For Kids | Custom | Features | Review
But, who am I to evaluate and recommend PPE or safety equipment like face masks to others? That's when I got the idea to ask a doctor some important questions before I buy Vistaprint face masks. Here's my Vistaprint masks review along with a family practice physician's answers to my questions.
---
Vistaprint Mask Designs:
While during the first phase of this Covid-19 nonsense had people scrambling to buy overpriced n95 surgical masks there's no reason to dress like a dental assistant anymore. You and your kids can look stylish while being safe, so let's look at some Vistaprint reusable mask design options: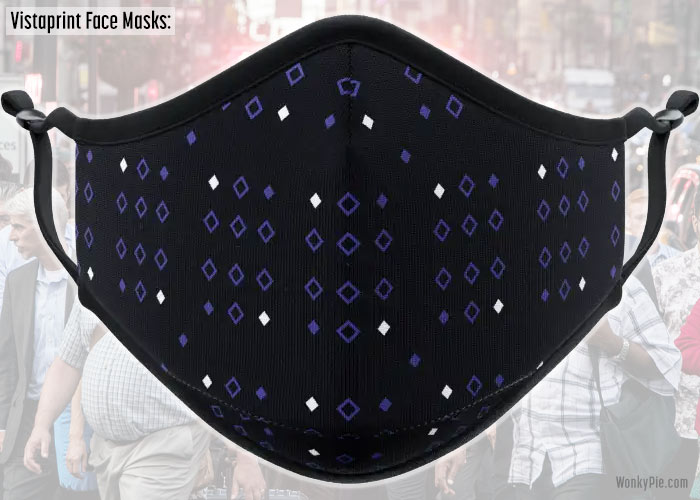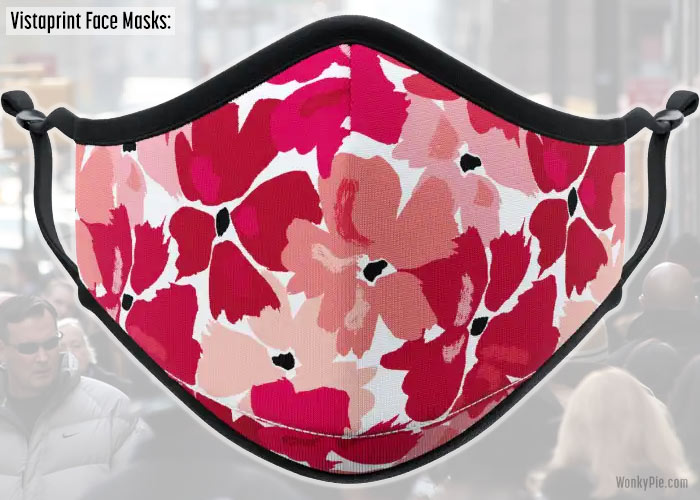 *See all mask designs at vistaprint.com or more coupons here
Kids' Face Mask Designs:
Vistaprint also has some cute and stylish reusable face mask designs for kids age 5-16 (zombies not included)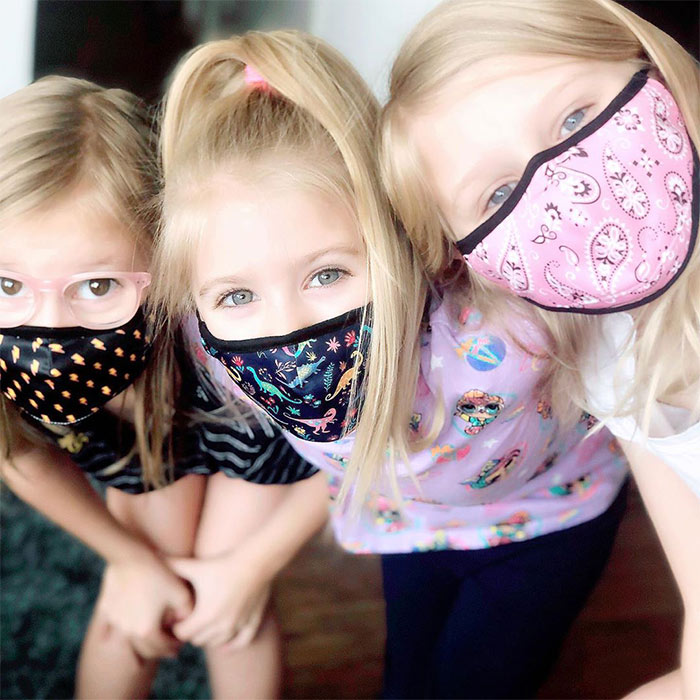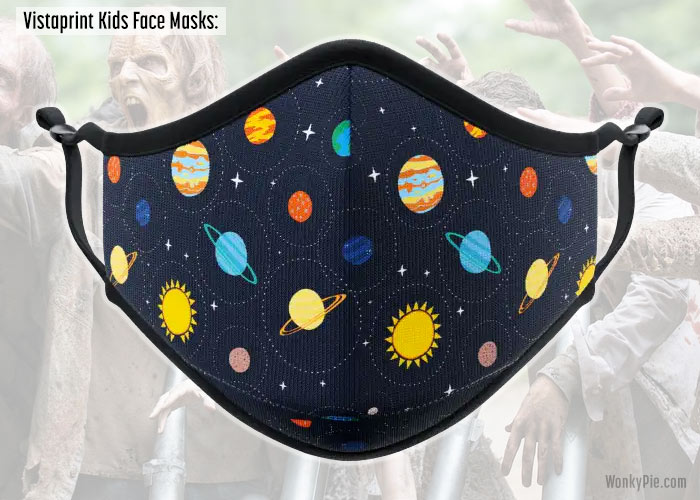 *See all kids mask designs at vistaprint.com
Vistaprint kids masks have adjustable straps, so in theory, they should fit kids age 3+. They also have other designs including the green and pink solid color face masks similar to the adult designs.
OK, the masks look good, so let's look at some key features that help distinguish Vistaprint masks from the other, cheaper options.
---
Custom Masks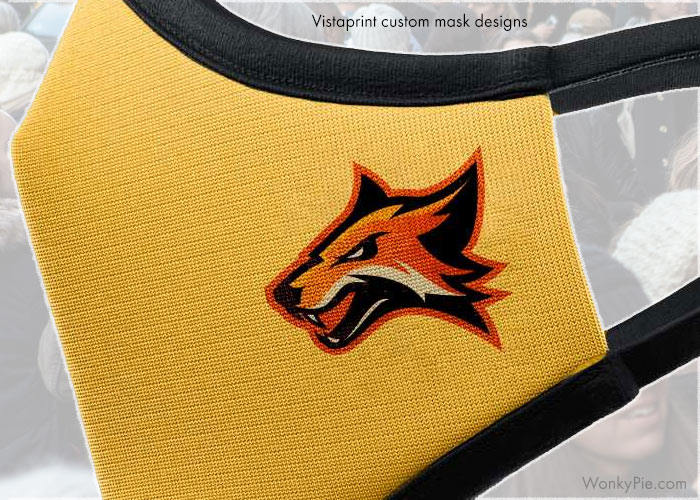 You can now order Vistaprint filtered masks with your own custom design! If you want to customize their masks, you have 3 options:
Let Vistaprint design it: Not a graphic designer? No problem. Upload your design or logo and Vistaprint can handle the design process for you including several design options
Design masks yourself: Choose a mask color and add your own custom design for the side of the mask. Learn more
Design w/ Mask Template: If you are comfortable in Photoshop or Illustrator you can make your own full-bleed custom mask design. Just download the template to get started, design it, and then your own print-ready file. Learn more
Tip: Vistaprint custom masks cost less per unit if you order more. For example, a single custom mask costs $20, while buying 250 will drop the price to $16 per mask
*View Vistaprint custom masks
---
Filtered Face Mask Features: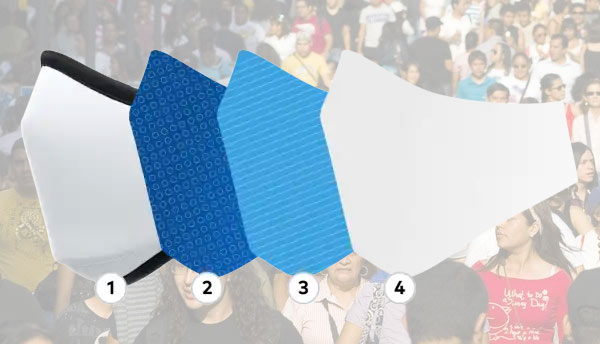 Vistaprint face masks are made with 4 layers of protection:
Durable outward-facing textile
Replaceable fiber filter
Electrostatic absorption cloth
Hypoallergenic inner-layer made from 100% cotton
Here are some of the key features that distinguish Vistaprint masks from most of cheaper masks out there: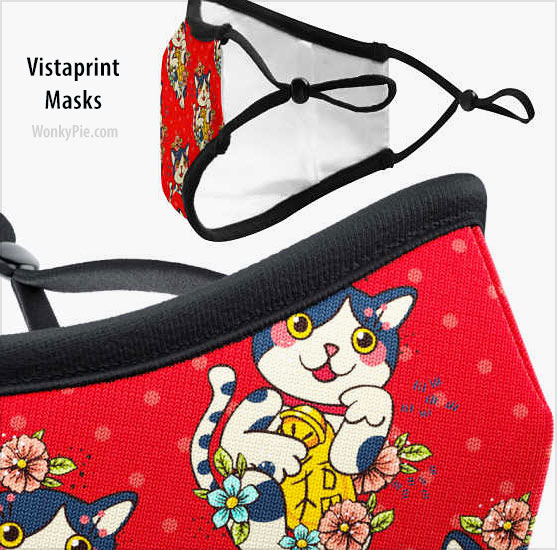 Adult masks cost $18 each, and kids' masks cost $13 each with free shipping
These reusable masks have an RFS replaceable filtration system
Nose bridge is bendable to fit your face
Replaceable fiber filter: Vistaprint masks come with one filter, and you can buy additional filters in packs of 10 for $10
Certified latex-free materials including electrostatic absorption cloth with reinforced stitching
100% cotton anti-allergenic inner layer and polyester outer layer
Custom masks printed with your design are now available.
Ok, once again this sounds good. What initially drew me to Vistaprint masks is the adjustable nose bridge because I really don't like floppy masks that look and fit like a pair of my grandmother's underwear.
OK, now let's get serious and get a review of Vistaprint masks from a doctor.
*Read our review of Easy Canvas Prints here!
---
A Doctor's Review of Vistaprint Masks:
There are a lot of unqualified people out there recommending face masks, so we thought we'd get a doctor's opinion on Vistaprint masks. So, we came up with some questions and got answers from Dr. Charles, a family practice physician outside of Philadelphia. Doctor Charles has 20+ years of experience, used to write the popular, "Examining Room" blog, and has been on the frontlines since the Coronavirus started.
Q. I see that these masks are not considered PPE (personal protective equipment). Does that concern you?
A. PPE refers to protective equipment used in healthcare settings like hospitals and clinical labs. Vistaprint masks and most of the masks sold online are intended for public use, but not designed specifically as PPE in healthcare settings where the risk of exposure is greater.
Q. In what situations would you consider these masks to be adequate protection?
A. These types of facemasks have been proven to slow the spread of Covid-19. You should wear a face mask in public settings like the grocery store, or anywhere you might come in contact with another person outside of your home. You should also wear a mask when answering the door or receiving a delivery. However, I would still recommend an n-95 mask for crowd situations or airports as the Achilles heel of most masks is that they don't have a tight silicone seal.
Q. Are these filtered masks better than cheaper cloth masks, like the ones at Old Navy?
A. The filter (RFS) adds another layer of protection, so yes, Vistaprint masks should be more effective than the cheaper cloth ones.
Q. Do you think the cost of these Vistaprint masks is fair?
A. I don't know what it costs Vistaprint to make one of these masks, but I see that they donate 10% to help small businesses affected by Covid-19 which is good. I've seen a lot of masks online, so I'd say the price is not cheap but reasonable.
Q. Would you buy Vistaprint masks for your own family?
A. Actually I did buy masks from Vistaprint for my family. We also bought more effective pricier PPE face masks that include eye-coverage for public use.
Q. Can you give us one other tip for staying safe during the Covid-19 pandemic?
A. You should use sanitizer on your hands every time you handle a face mask that has been worn, as there could be a virus on the actual mask. You should also replace the disposable filter regularly.
---
Customer Reviews of Vistaprint Masks:
VIstaprint face masks can be pre-ordered now and begin shipping June 1st. Because masks are so new, reviews from customers are not available yet. In fact, our own order is still in progress, so we'll be happy to post photos and share our own more detailed review as soon as possible.
More: WSJ Print Subscription 50% Off
---
Conclusion:
Vistaprint masks seem to be a good combination of protection, style, and comfort. We actually pre-ordered Vistaprint masks for our 3 kids, so we'll update this review as soon as they arrive.
Tip: If you are thinking of pre-ordering or buying masks, know that Vistaprint coupon codes don't work towards face masks. However, right now all Vistaprint masks ship free with this promotion:
We also have a number of other wellness coupons including WW, Purple Carrot, and Byte. You can also check out custom face masks from Zazzle and pro sports designs.
Thanks for stopping by Wonky Pie!