Like a lot of people, we have literally thousands of photos just sitting on our phones. While a lot of these deserve to be a 4×6 print in an album, others are truly special.
So, when my wife's birthday was approaching, I decided to choose one of my favorite recent photos to print as a framed canvas for her present.
We had printed a small framed canvas from Easy Canvas Prints in the past and were very happy with it, so I decided to go with them again. I also decided that I would write a review of my order, so I added another unframed canvas to the order for comparison. Here's my honest Easy Canvas Prints review.
Easy Canvas Prints: Use a coupon | Canvas Design | Framed Canvas Review | Unframed Canvas Review | Customer Reviews | #1 Complaint?
---
1. First, Use a Coupon:
My first tip is to use the best possible coupon available for Easy Canvas Prints when you visit the site. While sometimes promo codes are available, the coupon is usually applied as soon as you click a promotion, so you'll see the discount applied to the pricing at easycanvasprints.com.
Here's today's best sale, and you can find today's best promo codes here.

If you're not sure which coupon is best, you can compare codes at checkout to ensure that you get the best price on your specific order.
---
2. Design Process (So Easy!)
As I mentioned, Easy Canvas Prints prides itself on being the easiest place online to design and print a canvas. It's quite enjoyable to do so, and you can import photos from Instagram, Facebook, or upload (phone, computer, or device)
Tip: Make sure your photo is high-resolution! It probably is if it's directly from your phone, but Facebook or Instagram photos may be compressed and look pixelated or blurry when blown up on canvas. If the file size is less than 1MB, it's probably not high-resolution.
Here's what their minimalist design screen looks like: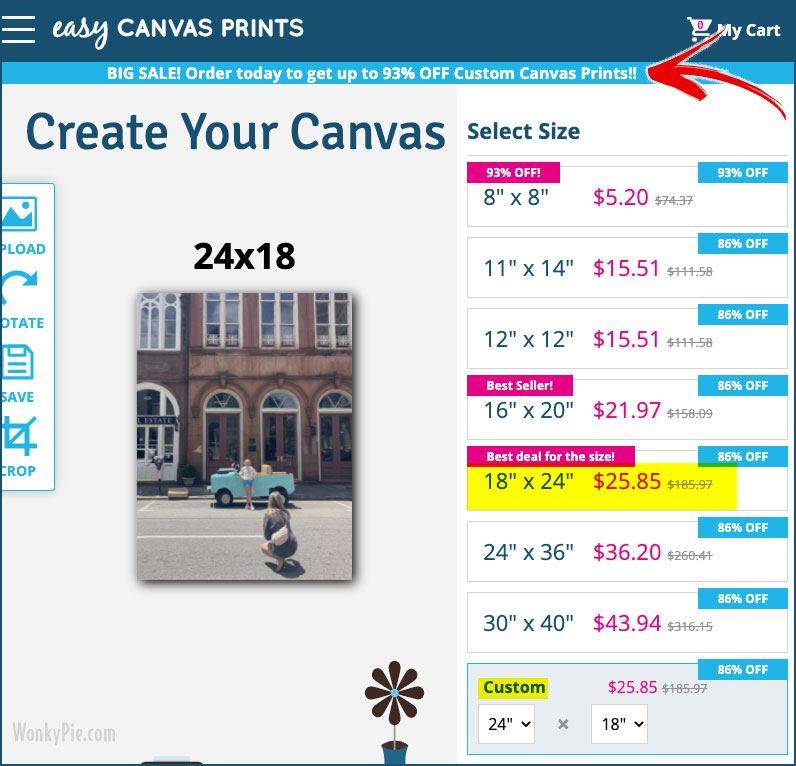 As you can see, I clicked on the "Up to 93% Off" sale (here) and then chose the 18×24″ canvas size.
Tip: If you don't see the exact size you want, don't crop your photo! Just choose custom under canvas size and set your height and width.
I then chose to frame my canvas Although there are 7 framing options including rustic barnwood, I chose classic black wood for a much more refined and impressive look: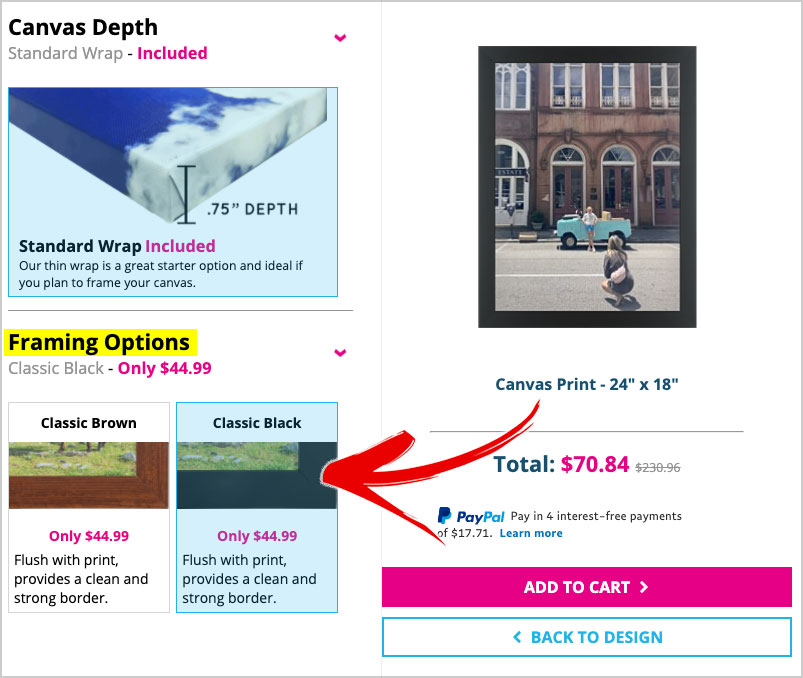 Select hanging option: I did not upgrade the hanging option (extra $1.99-4.99) as the framed canvases come with a nice metal wire across the back (see below)
I then added an 11×14″ unframed canvas for my daughter which I'll also show you below.
That's it!
Such an easy design process; I doubt I spent more than 5 minutes total on both canvases.
At this point, I entered a promo code and got a shipping upgrade for faster delivery at the same $14 cost, and then placed my order.
---
3. Easy Canvas Prints: My Framed Canvas Review:
About 9 business days later a big cardboard box arrived with my two canvases that were well-packaged inside. Here's the framed canvas first: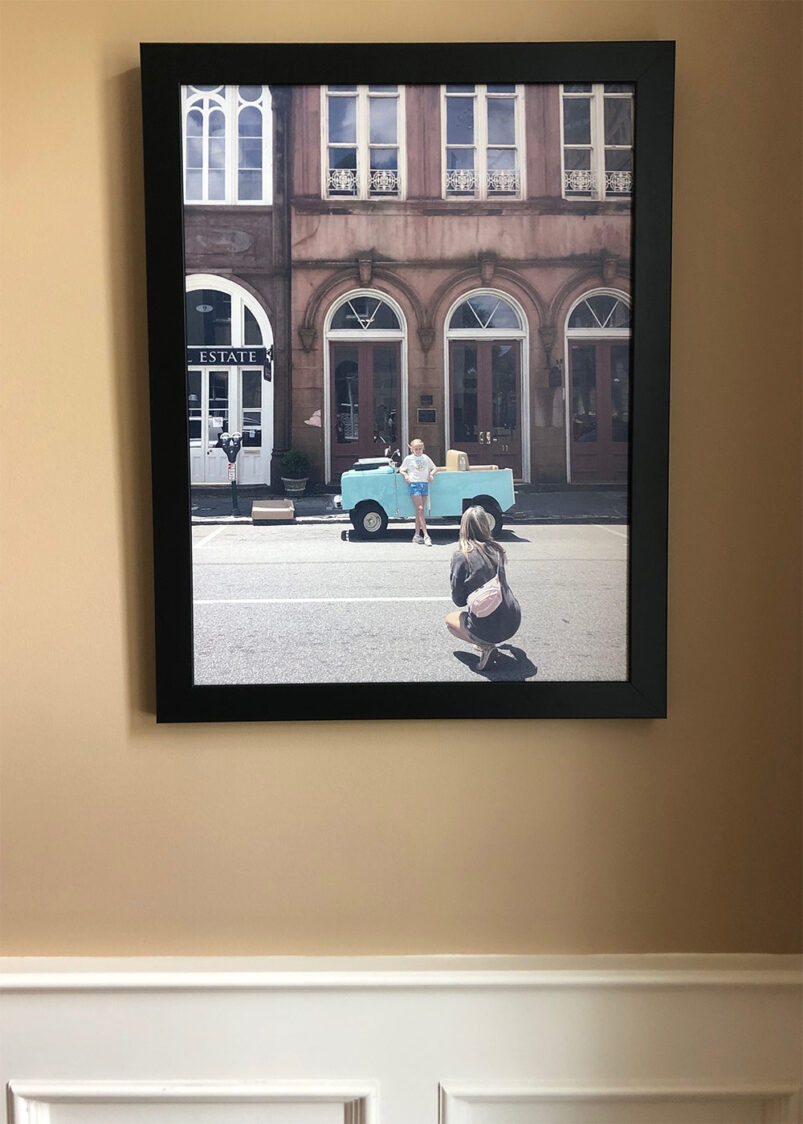 Just stunning!
Super-sharp colors and photo
High-quality materials and wood frame
Hanging hardware included (already on the back)
The photo from my iPhone looked like it could be in a gallery, and I loved the black frame! Here's a close-up: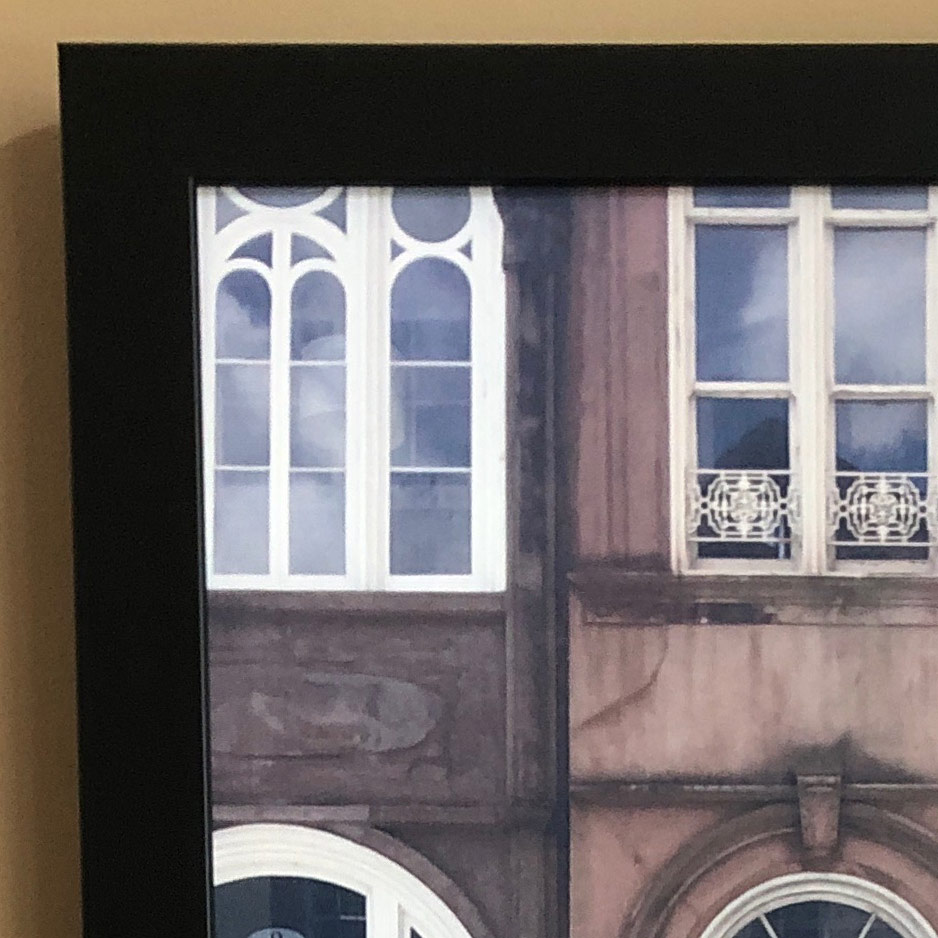 Here's what the back looks like for hanging.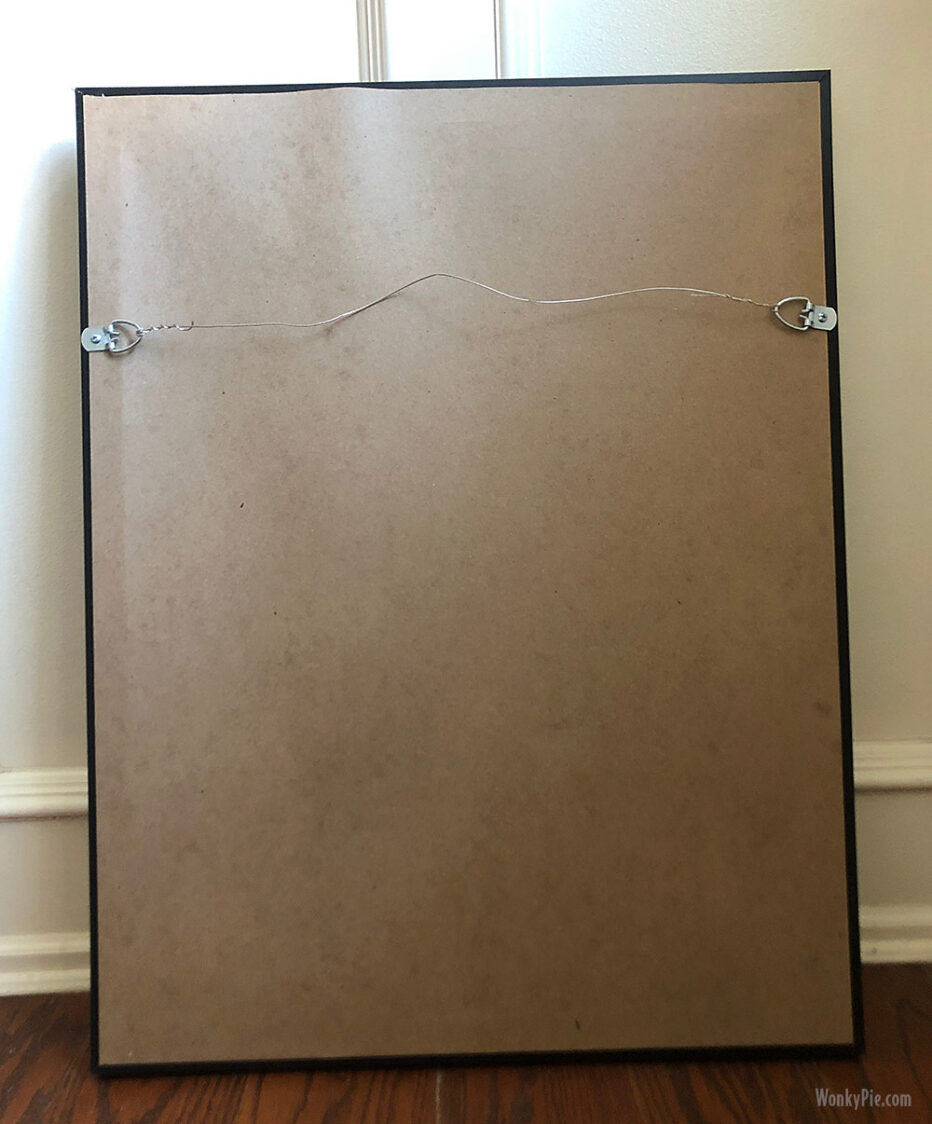 Beautiful! I'm so happy with how my framed canvas turned out, and my wife LOVED it! Now let's look at the unframed canvas.
---
4. Easy Canvas Prints: My Unframed Canvas Review
I added an 11×14″ unframed canvas with standard wrap to my order for only $15.51, and it only increased the total shipping cost by about $2.
Tip: Consider adding a second canvas to your order as it won't increase the cost of shipping much!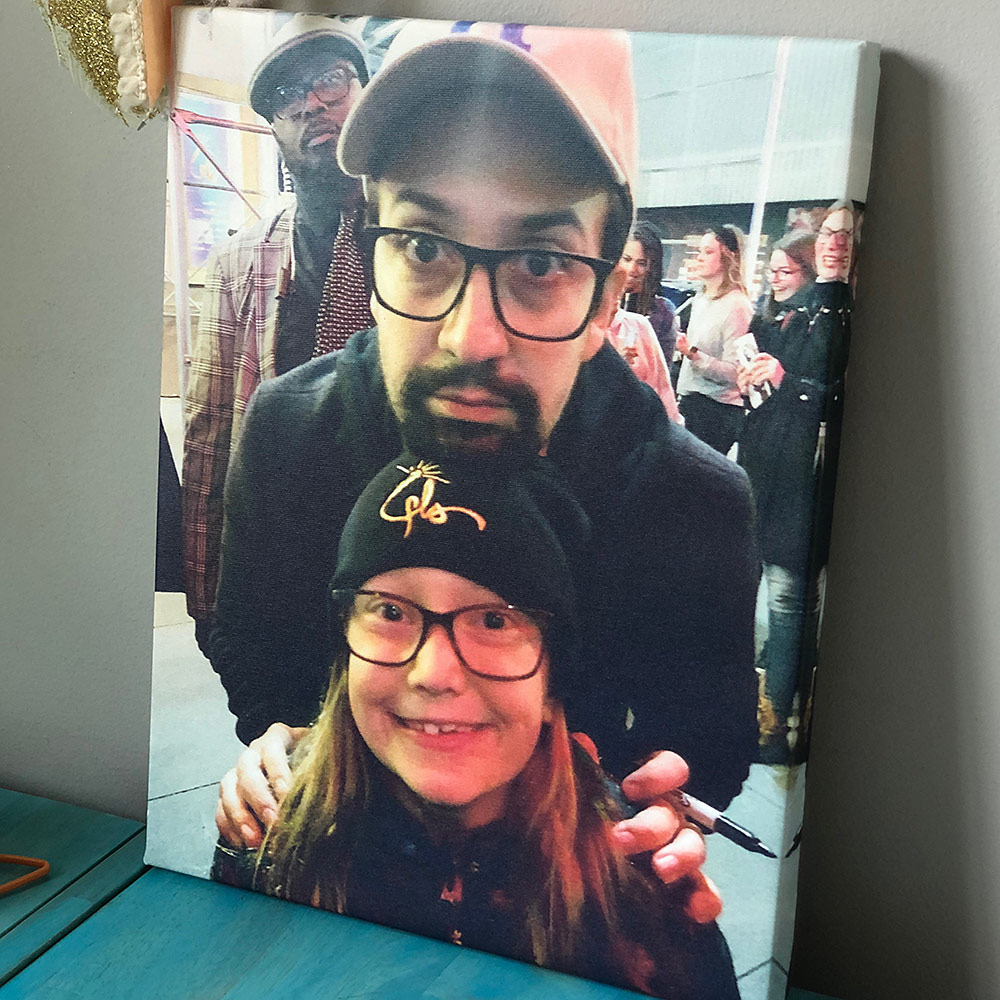 Here's what their unframed canvas looks like. It prints your photo to the edge and then mirrors it on the sides like this: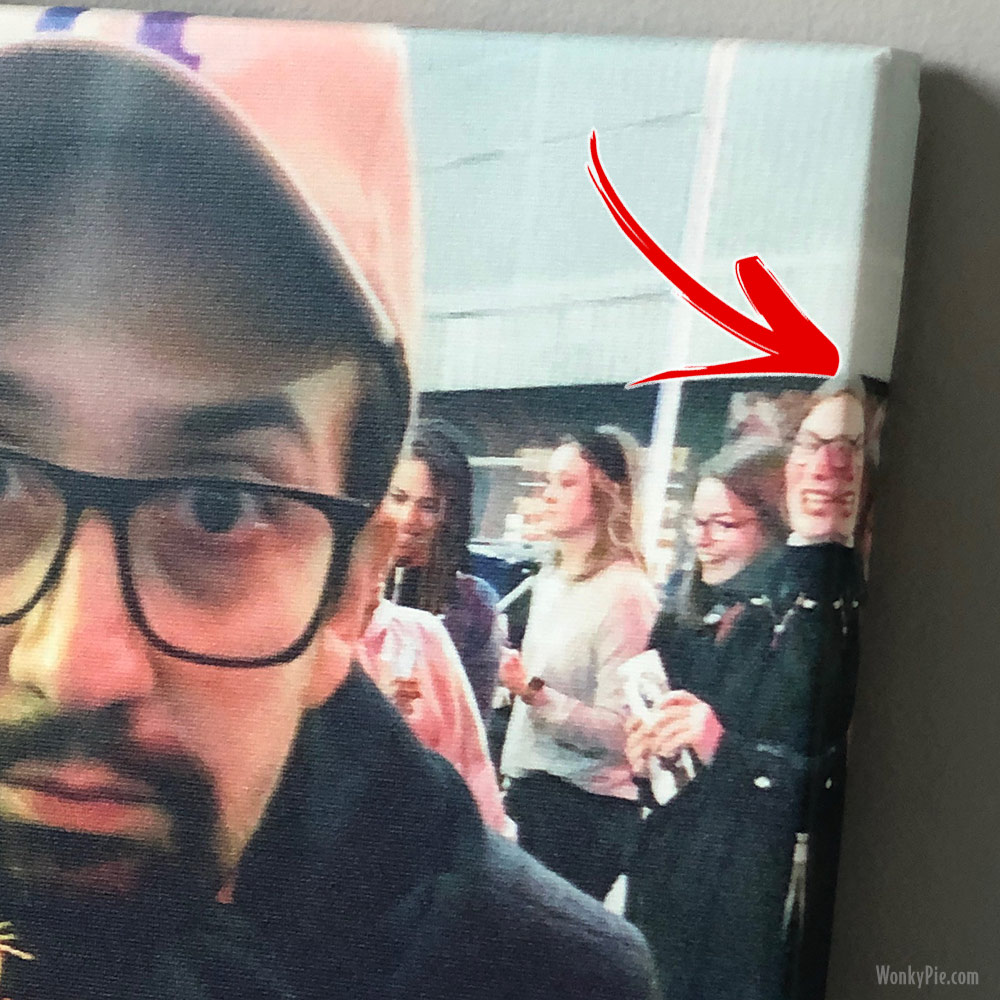 While standard wrap usually looks good on the edges, you might get some funky stuff going on if peoples' faces are at the edge!
Here's a super-zoom of the printing quality that shows the canvas texture.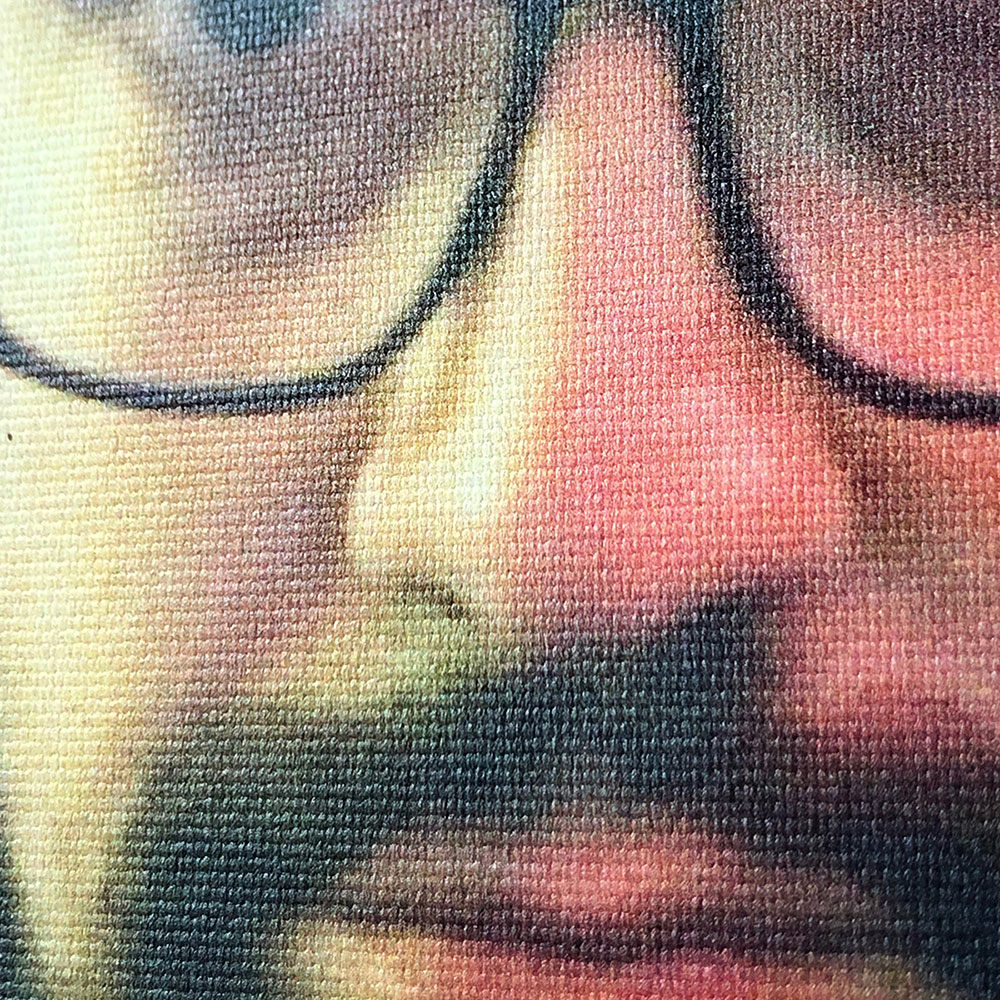 Once again I didn't upgrade the hanging hardware and was happy with the default wall mount that is included.
Here's what the back of the canvas looks like with (.75″ depth) standard wrap.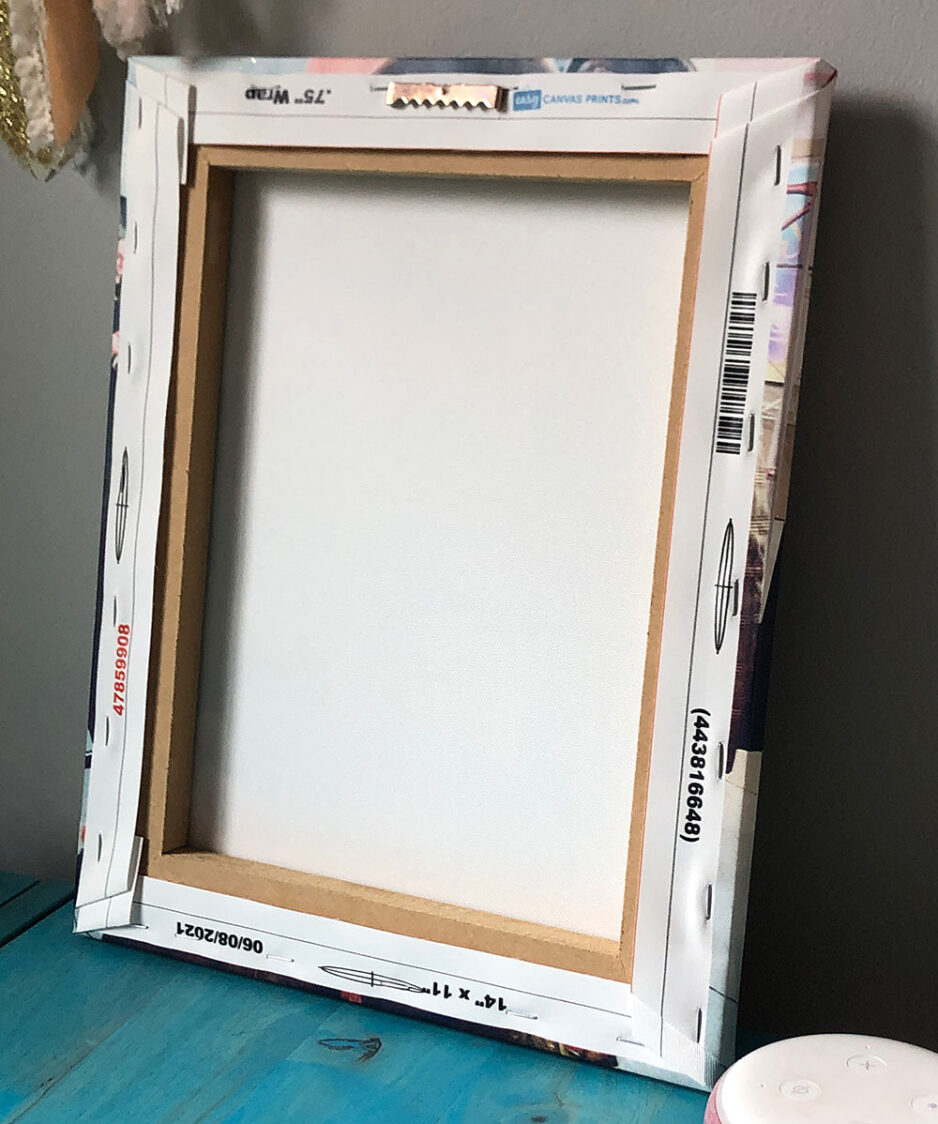 This unframed canvas was obviously not as stunning as the framed one, but I didn't expect it to be. It wasn't the best photo, and I chose the cheapest possible options for printing it.
Perfect as a little under-$20 gift for my daughter!
I was thrilled with both of my canvas prints from Easy Canvas Prints which seems to be the theme if you read Easy Canvas Prints reviews online.
*Did you know that Easy Canvas Prints is owned by Vistaprint? (coupons here) We also have exclusive coupons for companies like Noom Coach and TurboTax here.
---
Easy Canvas Prints Customer Reviews:
Online reviews for Easy Canvas Prints are overwhelmingly positive, and out of the 750k verified customer reviews on their website they average an impressive 4.7/5 stars.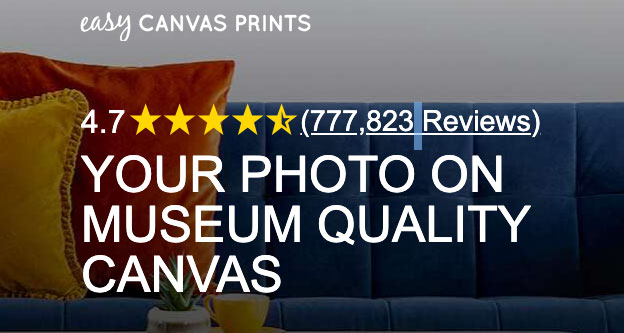 I recommend reading customer reviews which you can access from the top of their homepage at EasyCanvasPrints.com.
Easy Canvas Prints also boast about a quarter-million Facebook fans with over 1200 Facebook reviews as well. I assume that, like me, many of these people are repeat customers and Easy Canvas Prints is their favorite place to print photos on canvas.
Easy Canvas Prints Reviews BBB: Easy Canvas Prints has a "B" rating from the Better Business Bureau. You can read BBB reviews and complaints at bbb.org here.
Reviews on Reddit? I haven't found any legit or worthwhile Easy Canvas Prints Reviews on Reddit. If you are looking for verified reviews, the best source is actually their own website here.
---
Biggest complaint?
After reading through bad reviews and complaints it seems that the biggest problem that people have is due to photo quality. I have to believe that in most cases it isn't the printing process, but that the customer used a low-resolution photo; probably from Instagram or Facebook which compresses the files down to small sizes appropriate for online viewing and not printing.
It's hard to tell how large a photo is on your phone, so check the file size. I recommend uploading photos directly from your phone or computer that should be 3 MB or larger for a large canvas. If your photo has text in it, it's crucial that you use a high-resolution image or you could be the next customer writing a bad Easy Canvas Prints review!
---
I Highly Recommend Easy Canvas Prints!
I've gotten three canvases printed at Easy Canvas Prints and each one is beautiful with sharp resolution and vibrant colors, and much nicer than a canvas that I had printed at Snapfish. I'm most impressed with their framed canvas, but that obviously adds significantly to the price.
Their shipping speed and cost are reasonable, and the canvases I received were well-packaged and secure. Just be sure to use a coupon to get the best price!

So, the next time you're looking to give a thoughtful, personalized gift, consider a canvas from Easy Canvas Prints.
Thanks for stopping by Wonky Pie!
Last Updated on March 3, 2023 by kevin