If you send out Holiday or Christmas cards every year you know that it's hard to get the perfect photo(s) and then find the perfect cards. Then, sometimes when you do find a great holiday card design you realize it just isn't in your budget.
I'm not even going to go into the whole "Merry Christmas vs. Happy Holidays" thing, but it's an important consideration for every family to consider before looking at holiday photo cards! Of course, you can also sort designs specifically for Hannukah and New Year's as well. (View all designs)
Anyway, Snapfish is one of a handful of companies that print custom holiday photo cards combining reasonable pricing, quality printing, and good design selection. We have a few tips for choosing and designing Snapfish holiday cards below.
Plus, we looked through the Snapfish Holiday card designs for 2020 and made a list of our favorites which are also some of their most popular designs. We also have some amazing Snapfish coupons to help you get the best price and even free delivery!
---
Snapfish Holiday Cards Review: Tips for Designing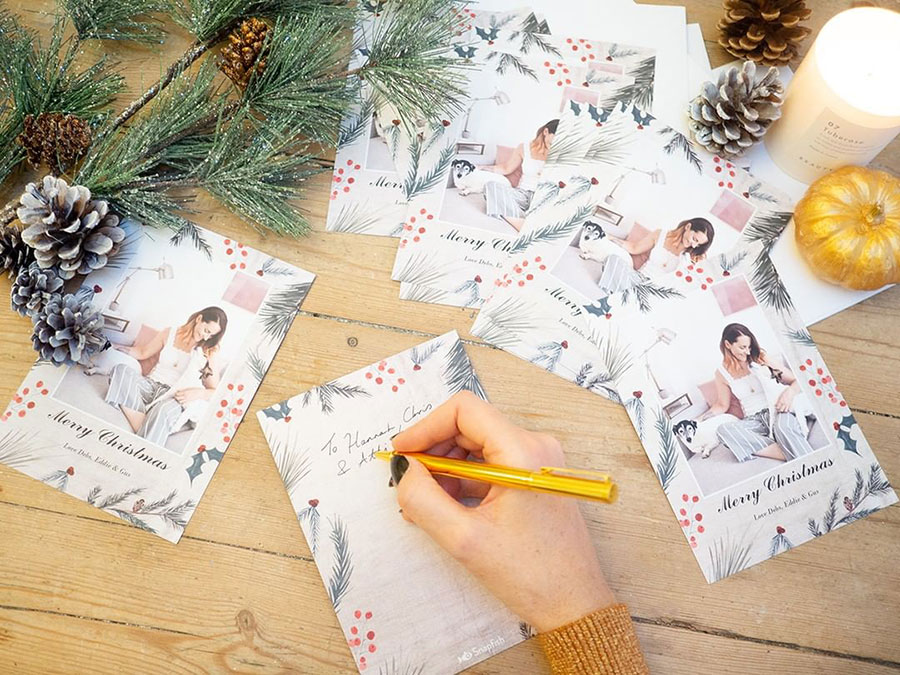 If you are thinking of ordering holiday cards from Snapfish, here are a few things to know when choosing a design:
1. Sort Designs:
It can be intimidating to look at 500+ photo card designs, but Snapfish makes it simple to sort through them. Narrow your search with filters like: Christmas photo cards, holiday photo cards, Christmas Thank You Cards, Funny Christmas Cards, or Pet Christmas Cards.
2. Number of Photos
Do you have one great photo, or are you looking to include multiple photos or a photo collage in your holiday cards? You can sort holiday card designs by number of photos to narrow the options.
Tip: Use very high resolution photos; at least 200+ dpi, 300 if possible. Phones now take pictures at a high resolution, but make sure you are using the original or high-res edited pics and not something that's been resaved smaller. Don't use photos from Facebook or Instagram as they have likely been optimized and compressed to post online!
3. Color Scheme: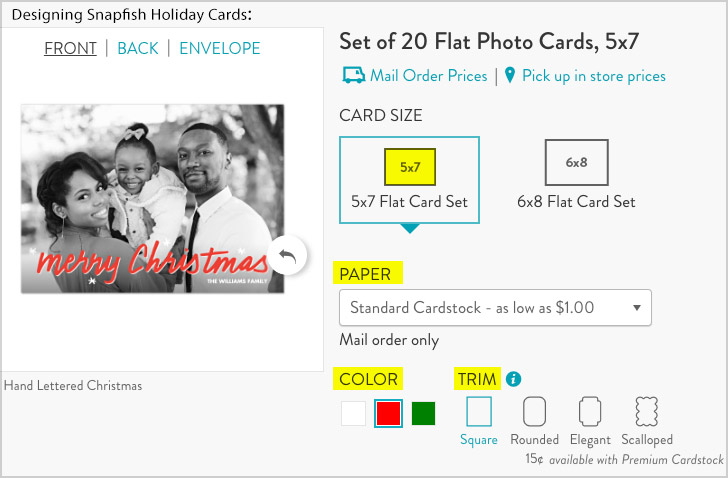 Many of the designs have multiple color scheme options. Click the thumbnails and see which looks best for your photo(s).
4. Card Size Options:
Most designs are available in standard 5×7 size, or large 6×8. Many designs also allow for a horizontal or vertical layout, and can feature a single photo or photo collage.
5. Cardstock:
When you find a holiday card design, then choose the paper cardstock. Standard is 110 lb, and Premium is 120 lb. weight. If price isn't a concern, I recommend Premium Cardstock, as it feels heavier and better quality in your hand.
Tip: I'm not a fan of the Glossy paper option. I think it looks like a photo print, and may even curl slightly over time. While Premium cardstock might not be in your budget, I recommend not choosing anything cheaper than Standard!
6. Trim:
Most designs have 4 trip options. Square is the default choice, but you can pay to upgrade to Rounded, Elegant, or Scalloped. You may have to upgrade to Premium cardstock to choose some trims.
7. Envelopes (Return Address?)
By default most Snapfish holiday cards come with blank envelopes. However, for about 30 more you can have your return address printed on the back which gives it a nice look, and is more convenient than buying matching address labels: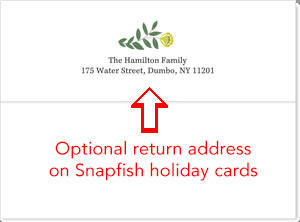 The printed return address looks pretty good!
Snapfish then walks you through a short and simple design process, and voila! Your Snapfish holiday cards are ready to order! One more piece of advice: find the best coupon, preferably with free shipping!
8. Snapfish Holiday Cards Cost
The cost of your holiday cards depends on a few variables such as the size, cardstock, and trim plus optional upgrades like trim and return address printing. That means the retail price of Snapfish photo cards can be $0.45 to $3.50 each! (Sold in packs of 20)
The good news is that you can usually cut the quoted price by 50% or more when you use a coupon.
---
Snapfish Holiday Cards: Customer Reviews?
Unlike some photo sites, Snapfish doesn't have customer reviews on its product pages. So, what is a trusted source for an honest review of Snapfish? They do get a good review from PCMag which gives them a 4-star Editor's Choice rating.
Their review says, "Snapfish offers good image quality in its very affordable prints, plus a slick, modern website and a wide array of gift options for your photos." WSJ
In my own experience, I'd say they are better than Vistaprint and cheaper but not quite as good as Shutterfly.
Essentially they are a good option for holiday photo cards as they combine good quality with great prices; especially if you use a coupon.
---
Best Snapfish Holiday Cards Coupon?
Snapfish has an on-site deals page that lists most of their coupon codes. Check that page for the best available coupon for holiday cards, but also check our list of their best coupons now.
Tip: Don't procrastinate! If possible, order your holiday cards with plenty of time to spare. The best coupons include free shipping which is the slowest of their shipping speeds, so don't get stuck having to pay for expedited shipping!
Having trouble choosing a Snapfish holiday card design? You can find the latest designs here and sort them. Here are some of our favorites:
---
Best Snapfish Christmas & Holiday Card Designs:
Here are some of our favorite Snapfish Holiday and Christmas card designs. Many are available in either vertical or horizontal layouts, and you can choose one or more photos or even a photo collage:
1. Holiday Cards: Joyful Hearts Chalk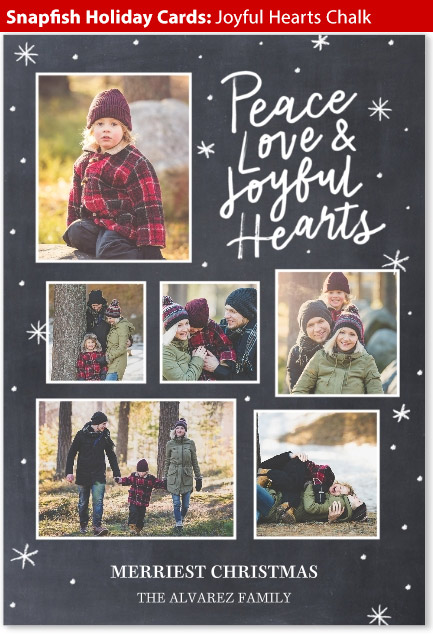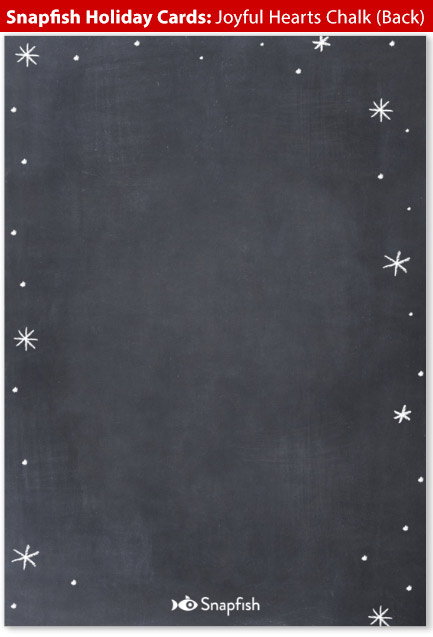 ---
2. Snapfish Holiday Cards: Happy Holidays Script Overlay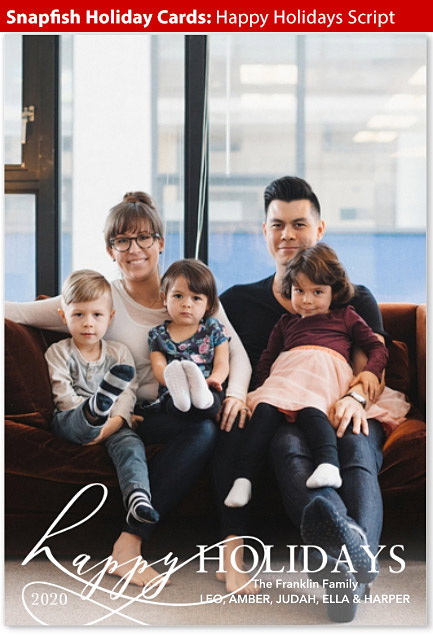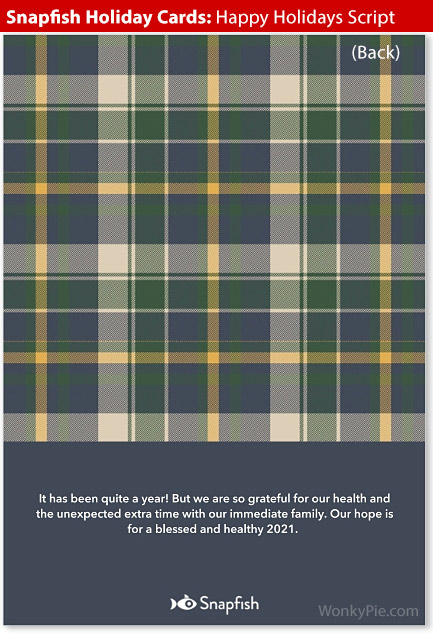 ---
3. Snapfish Christmas Cards: Christmas Simple Script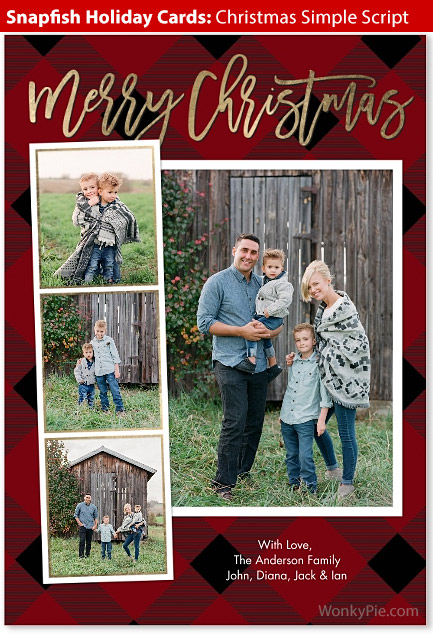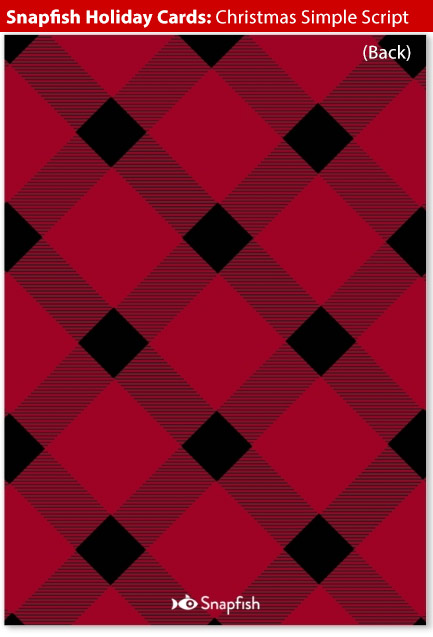 *Related: Get 93% off or Free Shipping from Easy Canvas Prints
---
3. Holiday Cards: Snow Sparkles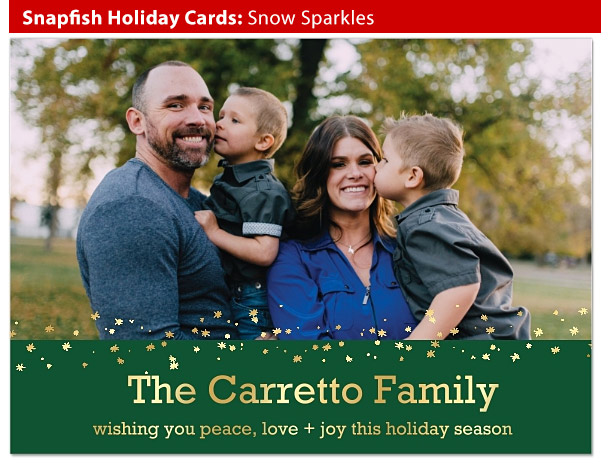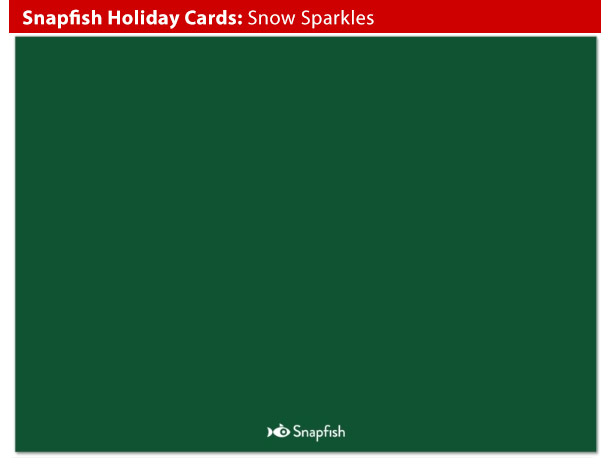 ---
4. Christmas Happy New Year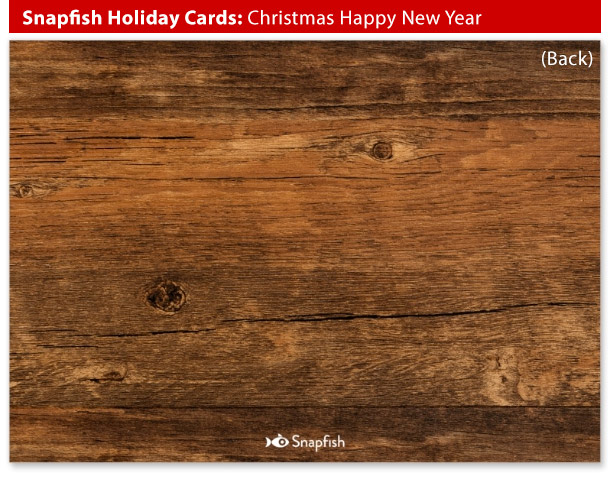 ---
5. Christmas / New Year Cards: Christmas New Year Snowflakes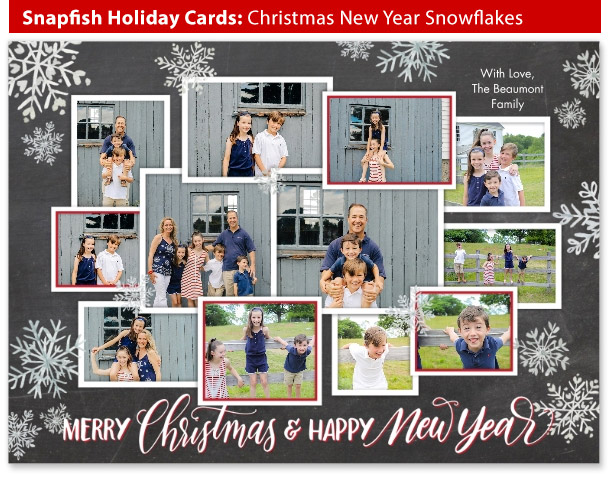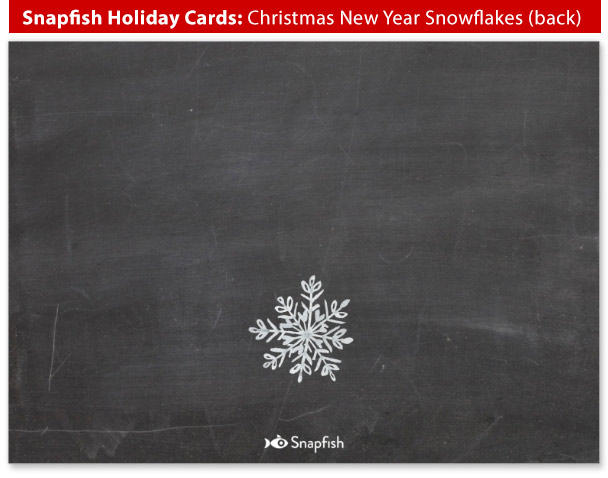 ---
6. Happy Holidays: Rustic Holiday Collage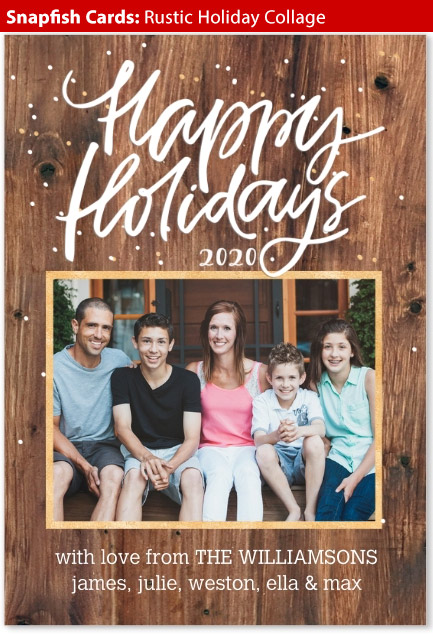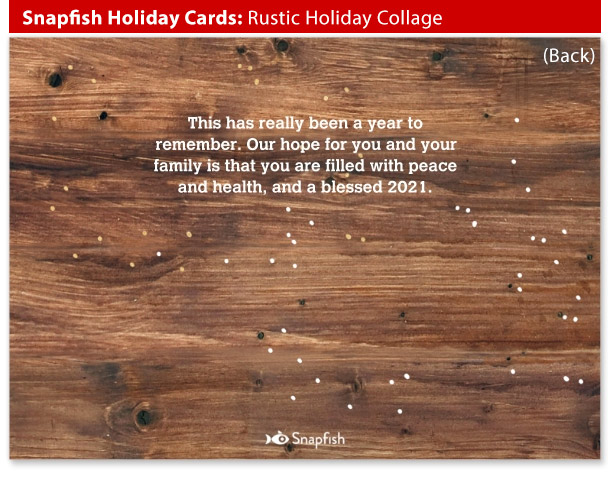 ---
7. Snapfish Happy Holidays Cards: Holiday Festive Stars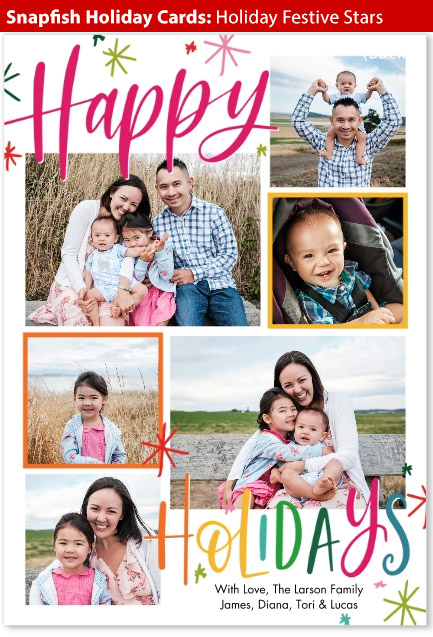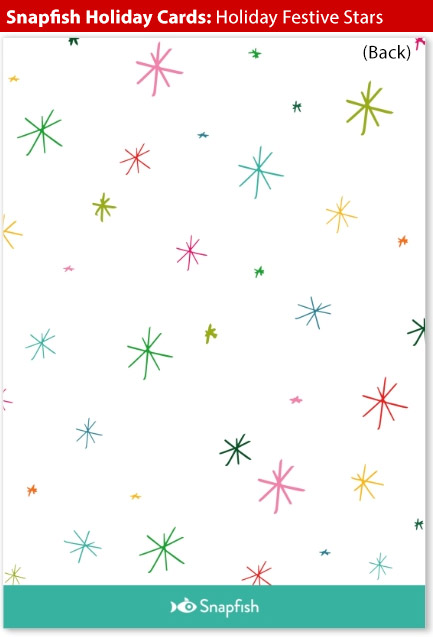 ---
8. Christmas Cards: Christmas Red Merry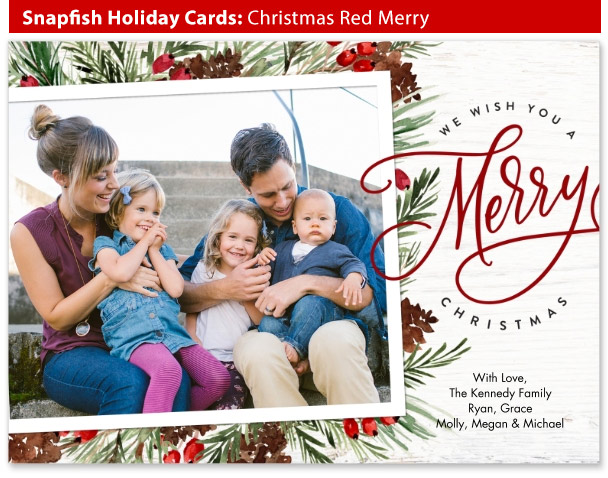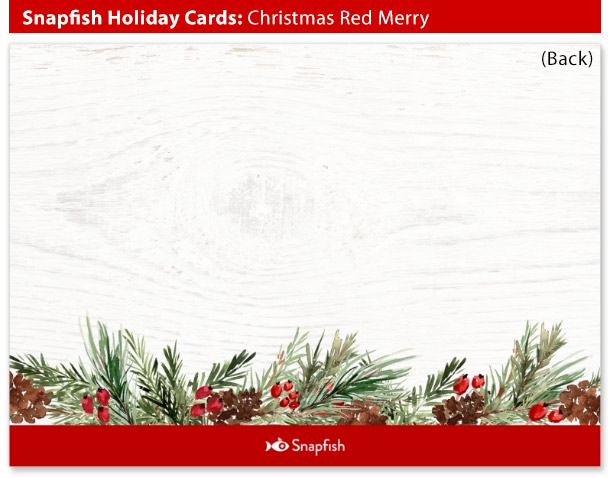 ---
9. Christmas Cards: Christmas Gold Wreath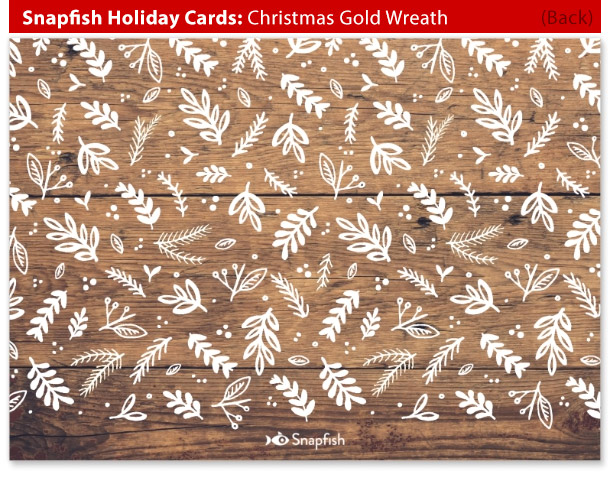 ---
10. Holiday Cards: Peace Love Joy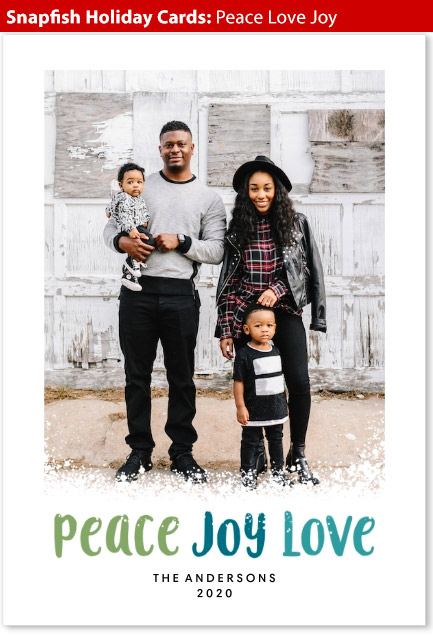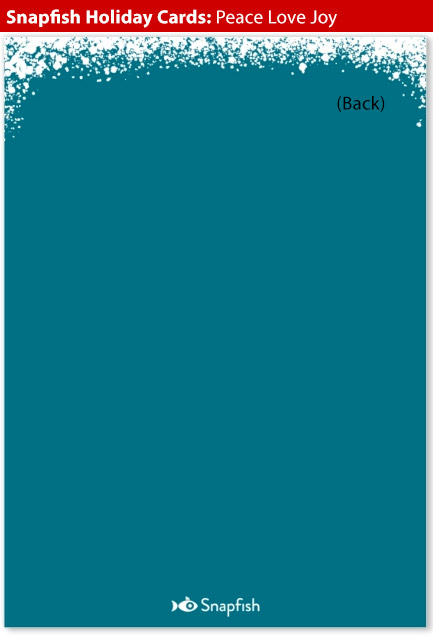 ---
11. Christmas Cards: Christmas Woodgrain Foliage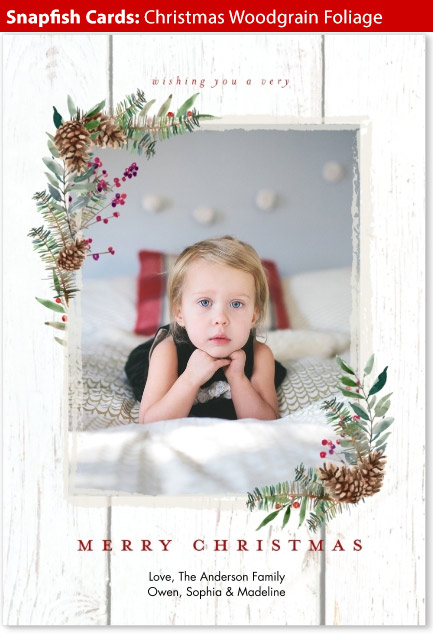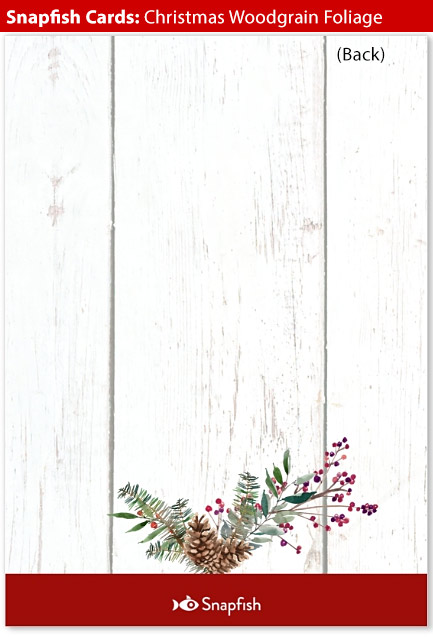 ---
12. Snapfish Holiday Cards: Vintage Floral Peace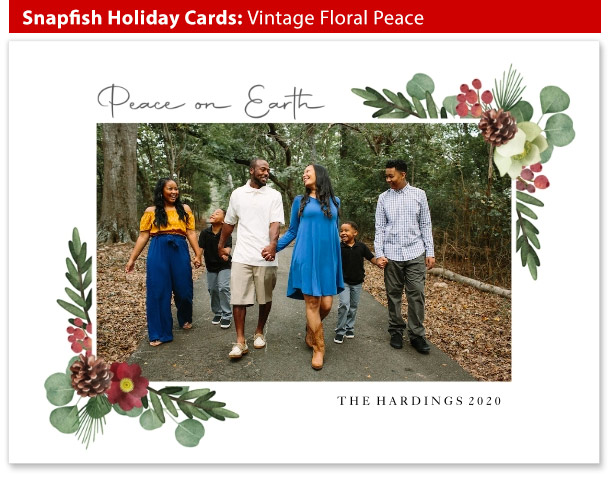 ---
13. Holiday Cards: Christmas Gold Wreath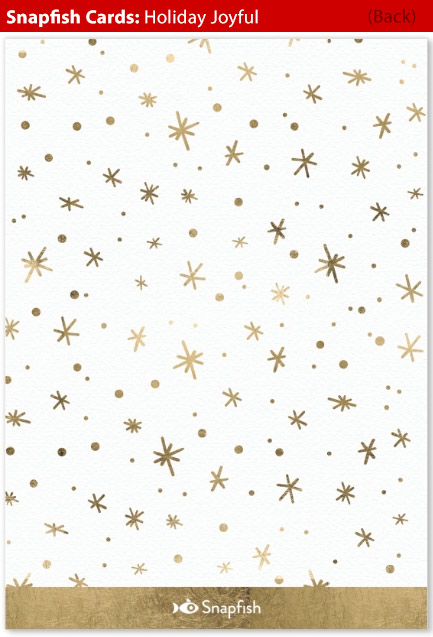 ---
Snapfish Prints Good Holiday Cards at a Discount Price!
Every holiday season we usually choose between Snapfish and Shutterfly to print our family holiday cards. The funny thing is that Shutterfly and Snapfish are owned by the same company, (wsj) so I don't know why they are still two different brands?
Anyway, I hope this Snapfish holiday cards review helps you with your order, and that our coupons get you the best price. Thanks for stopping by Wonky Pie!