Meal kits have been all the rage during Covid-19, as they are a convenient alternative to eating out or cooking. Meal-delivery diets have also become more popular recently. While you already know names like South Beach and Nutrisystem, have you ever heard of Freshology?
They are an under-the-radar meal delivery diet that delivers healthy, calorie-controlled meals for weight loss, and a number of celebrities have chosen them to lose or maintain weight. Here are some famous A-list celebrities who have used Freshology (coupons) to lose weight.
Celebrities who have recently used Freshology:
---
1. Adele
You probably have seen all the headlines about Adele's eye-popping weight loss, but might not have known that it was with the help of Freshology. Adele's former personal trainer said that her motivation to be healthy was her son.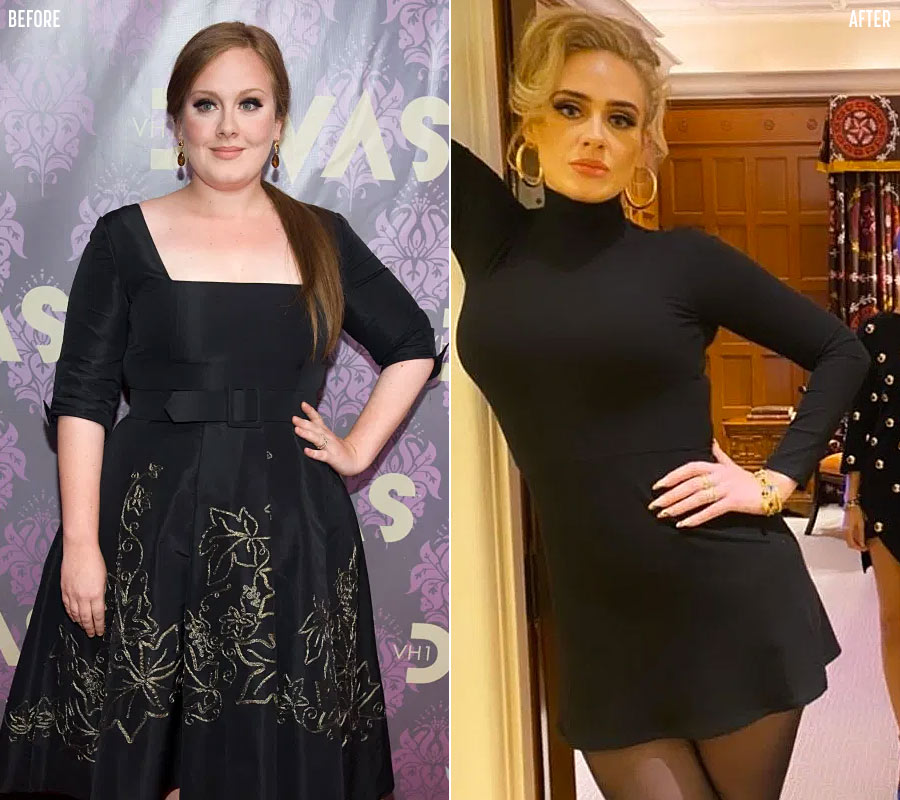 Well, her weight loss is nothing less than impressive, and quite shocking, really. Take a look at the before and after photos of Adele above.
Not only is her weight loss obvious, but look at the difference in her self-confidence! You can see it in the way she poses for the camera. Congrats to Adele for adopting a healthier lifestyle that includes exercise and Freshology meals. (source)
---
2. Sofia Vergara
Sofia Vergara likes Freshology, (source) but she doesn't have dramatic before and after photos like Adele. That's because she uses Freshology more to maintain her ideal weight (125 pounds) than for dramatic weight loss. When asked about Freshology, here's what Sofia said:
"The food is good and I don't have to think about it," she says. "But I don't ever want to get super skinny. I think when women reach a certain age, they look better with a little fat in their face. I'm lucky I'm Latin because people expect me to be a bit more plump."
Another of Sofia Vergara's tips for staying healthy includes not denying yourself those guilty pleasures that you occasionally crave. That makes sense, as wellness programs like Noom and WW both emphasize that there are no foods truly off-limits.
*New: Get $80 Off Freshology with this week's featured promotion!
---
3. Katy Perry
Now that Katy Perry has a daughter and is in her mid-30s, it's not easy to maintain her ideal weight without some effort. For Katy that includes high-intensity workouts, yoga, and meditation. As far as eating healthy, Katy Perry has reportedly used Freshology. (source)
Katy Perry also loves apple cider vinegar and adds 2 tablespoons of it to 8 ounces of water to drink. Katy says, "My mother made me drink it every day, but now it's a staple for me."
Tip: The price of Freshology is not much of a consideration for celebrities like Katy Perry, but at $20+ per day, it might not be in your budget.
*Related: Celebrity spokespersons for WW Weight Watchers
---
4. Pink
I'm not sure what it is about Divas and singers, but they seem to be drawn to Freshology. I have to assume being on tour and traveling makes consistency hard. I know I gain a couple of pounds every time I travel through airports.
Anyway, After gaining 55 lbs. during her pregnancy, Pink wanted to lose the baby weight slowly and sustainably.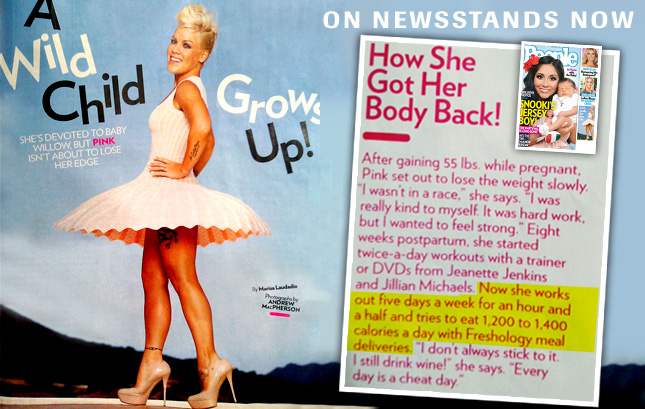 "I wasn't in a race. I was really kind to myself. It was hard work, but I wanted to feel strong." According to her People Magazine interview, Pink worked out 5 times a week for 90 minutes and tries to eat 1200-1400 calories per day with the help of Freshology from Diet-to-Go.
Pink added, "I don't always stick to it. I still drink wine!"
*Noom 14-Day Free Trial This Month!
---
5. Jennifer Lopez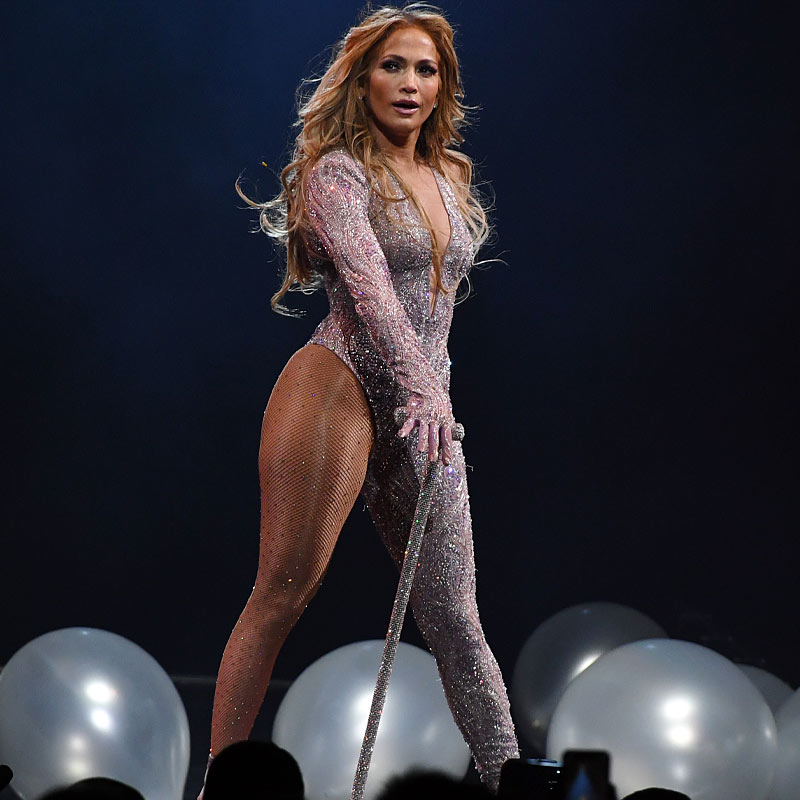 Speaking of baby weight, Jennifer Lopez reportedly gained about 50 pounds during her 2008 pregnancy with twins Emme and Max. After doing do she wanted to take control of her weight and eating again, and reportedly used Freshology's healthy, calorie-controlled meals to help do so.
Being so busy she probably enjoyed the convenience of a meal-delivery diet like Freshology which saves you the time of meal planning, portioning and preparation.
Well, Jennifer Lopez always looks amazing, so it looks like she succeeded in keeping the weight off long-term.
*Celebrities Who Used the Nutrisystem Diet
---
6. Mel B. (aka Melanie Brown, aka Scary Spice)
Mel B. gained 60 pounds during her pregnancy but lost the baby weight with the help of a food-delivery service, Freshology.
Why Freshology? It's all about portion control. Mel B told Us magazine, "I wanted healthy food I could bring with me every day."
---
Why Do Celebrities Love Freshology?
Meal delivery diets offer a convenient way to eat healthy pre-portioned meals without spending time on meal planning and prep. If there's one thing that A-list celebrities have in common it's that they are very busy!
Are any other celebrities on Freshology? Other Celebrities on the Freshology program currently and in the past reportedly include Ellen DeGeneres, Mario Lopez, Lil' Kim, Denise Richards, Chaz Bono, and Debi Mazar. (source)
I'm not usually that impressed when I hear about celebrities endorsing or being a spokesperson for a diet or other product. However, when they do so without compensation I definitely pay attention.
It doesn't look like Freshology has ever paid Adele or any of these other celebrities to endorse or be a spokesperson for them, so it's a credit to their brand that so many celebs are choosing to sign up for Freshology plans.
Is Freshology the best diet for your weight loss goals? Maybe, but no single diet is best for everyone. To learn more about Freshology, check out their website and current new customer promotion for the best price.
*Related: South Beach Diet Celebrities