Nutrisystem celebrity spokespeople: Thinking about trying Nutrisystem? You're not alone! Every year, thousands of people give this diet a go and it can really work wonders. Even high-profile celebrities have followed Nutrisystem, and often they end up as spokespersons for the diet.
You already know Marie Osmond as the face of Nutrisystem, (some people even think it's called the "Marie Osmond Diet") but here are 5 more celebrities who have lost weight with the program and then endorsed the diet or become a spokesperson.


We listed all Nutrisystem coupons on this page.
---
1. Janet Jackson lost 50 pounds w/ Nutrisystem: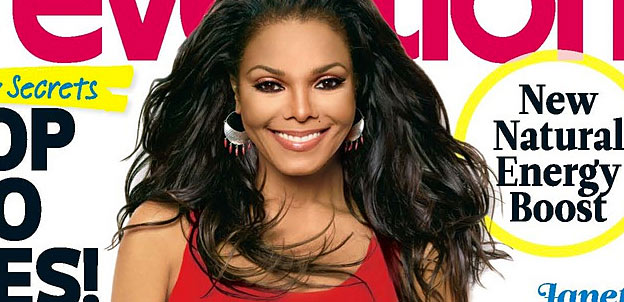 Over the years, Janet Jackson has struggled greatly with emotional eating. This is actually a common problem that affects a wealth of people around the world. Some people find that, when things get a little stressful, their only retort is to eat, eat, and eat some more.
For Jackson, the worry was that she would become diabetic if she continued to lead a somewhat unhealthy lifestyle. Doctors warned her that she was on the brink of contracting the illness and she was concerned for her own health. It was then that she decided to become one of the Nutrisystem celebrity spokespeople.
"It's a matter of maintenance and keeping the weight off," she recently told Shape. "My success plan was to feel good about myself and be healthy."
The outcome was rather spectacular and Nutrisystem D worked wonders for this celeb. Jackson is now a healthy weight and has hopefully warded off the threat of diabetes once and for all.
---
2. Celebrity Spokeswoman: Melissa Joan Hart lost 40 pounds
Let's face it, sometimes ladies measure their weight loss in clothes sizes, rather than pounds. For Melissa Joan Hart, it was all about fitting into that perfect pair of jeans.
When she became a mother for the third time, she was a little heavier than her goal weight, carrying an extra 30 pounds. Since she works hard and is a full-time mommy too, she found it hard to get to the gym. The answer had to be eating right.
One of the most famous celebrities who use Nutrisystem, she claims that its simplicity was what made it work. "With Nutrisystem, it's so easy because all the counting's done for you; all the guesswork is taken out of it," she told Nutrisystem.
"The meals are in my cabinet at home, but I can also bring them to work. Or I can throw the bars in my purse. It's just easy, convenient and I'm not starving."
Well, happy to hear that Nutrisystem worked for Melissa, and now she's happy to endorse their program.
*Related: 11 South Beach Diet Celebrity Endorsers
---
3. Spokesperson Dan Marino lost 22 pounds w/ Nutrisystem:
Dan Marino appears on Dan Patrick show.
Dan Patrick – "You look good! How do you do it where you look better every year?"
Dan Marino – "It's Nutrisystem!"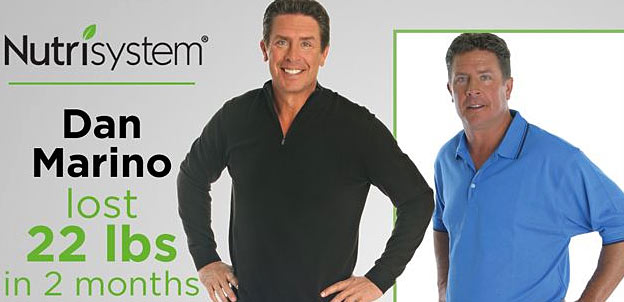 After retiring, Dan Marino started to gain weight. While he tried his hardest to keep fit, nothing seemed to work. His metabolism had caught up with him and the pounds piled on and on. Then, everything changed. As one of the celebrities who lost weight on Nutrisystem for Men, he speaks loudly and proudly about the results.
"I saw the success my buddy Jim Stuckey had on the program, so I gave Nutrisystem a call. Boy, am I glad I did. I lost 22 lbs on the program and I feel great," he told Nutrisystem.
"I haven't been this weight since I started playing pro football back in 1983. I got a variety of delicious foods to eat, and they were super easy to prepare. It was an easy, convenient and delicious way to feel satisfied."
That's a nice endorsement coming from an NFL player!
---
4. Soleil Moonfrye Lost 26 Pounds w/ Nutrisystem:
Soleil Moonfrye (Punky Brewster) and Melissa Joan Hart (Sabrina the Teenage Witch) talk about both losing weight with Nutrisystem. Soleil couldn't lose stubborn weight after baby number three, and Melissa Joan Hart lost 40 pounds after her last baby.
---
5. Jade Roper Tolbert, Celebrity: Bachelor in Paradise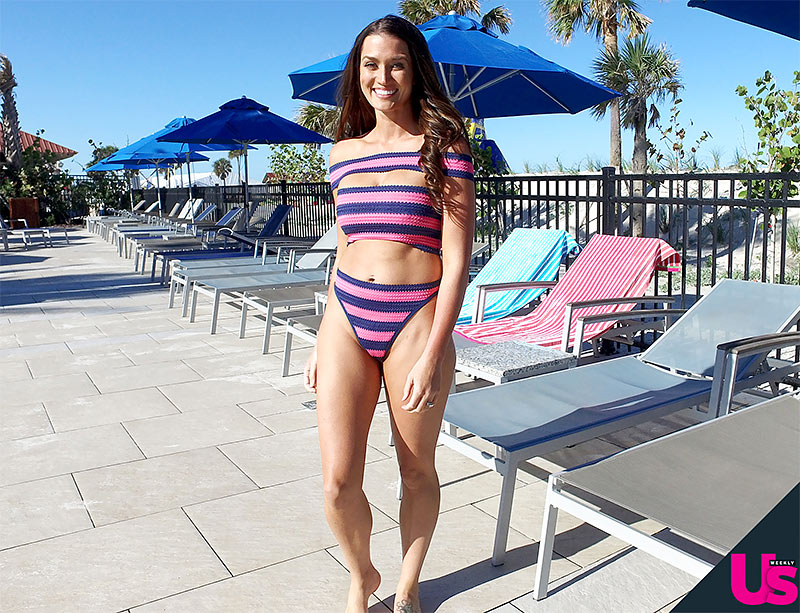 Bachelor in Paradise star, Jade Roper, proudly endorses Nutrisystem.
"As women, our bodies change so much when we're pregnant. I wanted to lose that last 10 pounds and get my body back in swimsuit shape. Thanks to Nutrisystem, I was able to do that and it feels great."
"With a new baby, we are so busy and don't have the time to meal prep or count calories. Losing weight doesn't have to be hard. We love that with Nutrisystem, everything is easily laid out for us. It gave us time to be a family and focus on our daughter while still getting healthy."
Jade picked bachelor, Tanner, who also lost weight following Nutrisystem!
---
6. Tanner Tolbert, Reality TV Celebrity Lost 20 Pounds
You might remember Tanner Tolbert from The Bachelorette Season 11 or Bachelor in Paradise 2, when he made Jade Roper. Tanner is happy to endorse Nutrisystem, posting the following on Instagram:
"Down from 225 to 200 lbs… I was really proud of losing my #dadbod with Nutrisystem. Still feeling great a year later!"
When asked about following Nutrisystem with his wife, Jade, Tanner said, "It's very motivating to be able to do Nutrisystem together. We can both have our Nutrisystem pizza for dinner while we feed our daughter her dinner. It's nice that we don't have to miss out on mealtime together because that's something we value in our house."
---
7. Julie Chrisley, Reality TV Celebrity
You might recognize Julie Chrisley from the reality TV series, Chrisley Knows Best. Julie recently lost 20 pounds on Nutrisystem and is happy to endorse the diet as a Nutrisystem ambassador: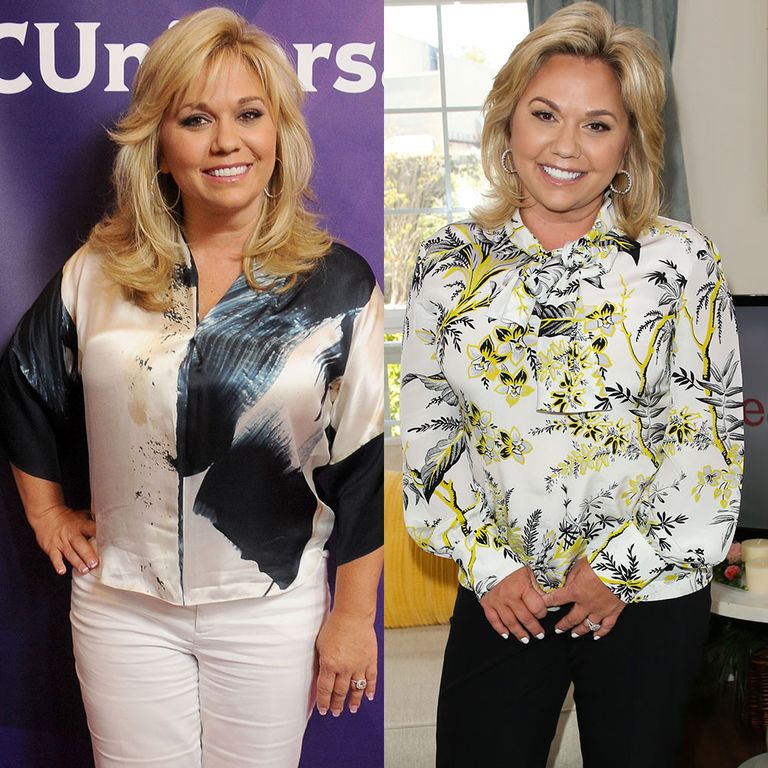 "Overeating was a struggle, no matter what I was eating," she said. "Now I don't have to think about it."
"If we're being completely honest, everyone can say it's not about the weight, per se, or how you look, but I'm a 45-year-old woman. Dropping some weight makes me feel better about myself because I know that I look better, and I'm being more healthy. It's just good all the way around."
---
8. Nutrisystem Spokesperson Marie Osmond lost 45 pounds:
Being overweight isn't just about carrying a few extra pounds here and there. It's about how you feel in yourself. Marie Osmond admits that her weight issues had started to take a toll on her physical health.
She was achy, her joints hurt, and she lacked energy. All of the above with signs that related to her size. The Marie Osmond diet turns out to be nothing but Nutrisystem.
"My first goal was to be healthy. But as a woman, I love having a small waistline and an even smaller backside. And I have to admit, thanks to Nutrisystem, I have both. I have so much energy now, too," Marie told Nutrisystem.
The diet completely changed the way that Osmond feels and has made a real difference to her life. Like her Mormon religion, the diet also emphasizes clean living and discourages drinking alcohol.
"I haven't had this kind of energy in at least 10 years. I feel like getting out and rock climbing and biking, and doing things I love doing but didn't because I was overweight. I feel better, and I feel younger, too. They say you can't turn back time. Well, look at me and say that!"
Her marketing efforts were so successful that a significant number of people think Nutrisystem is actually called the "Marie Osmond Diet."
*Related: WW Celebrity Spokespersons, Ambassadors
9. Genie Francis lost 40 pounds w/ Nutrisystem:
Sometimes, it's the very idea of having to diet that can be the biggest stumbling block. Many people find it hard to cope with the notion of losing weight and it can so often become an all-consuming problem. For Genie Francis, star of ABC's soap opera General Hospital, it was just that. Then she tried the Nutrisystem diet plan.
"I've finally conquered my dieting demons. Dieting began for me at such a young age. When I was 14, they put my character Laura on a diet. It set off a whole pattern for me with crazy starvation dieting," Francis told ABC.
"I'm more at peace with food than I have ever been in my lifetime," she said. "The fact that I can eat foods that I love on Nutrisystem helps satisfy my cravings making me less vulnerable to trigger foods."
You can watch Genie's testimonial above, and see before and after pics here.
---
Nutrisystem's Celebrity Spokespeople
Celebrities who use Nutrisystem: Paying a celebrity to lose weight with your diet could seriously backfire if they don't lose weight. That's probably why Nutrisystem encourages celebrities to come to them with testimonials about successful weight loss with the Nutrisystem plan.
It looks like they've had no problem finding celebrities to endorse their product! If you are considering trying Nutrisystem, check out our review here. Or, take advantage of the current promotion for new customers, and lock in a 50% discount for as long as you stay on the diet:

*The low rate in the promotion above locks-in with this promotion, while many coupons only offer you savings for the first 2-3 months.
Your Un-Celebrity Review?
We wrote a review of Nutrisystem here, and would be happy to hear your comments. We also compare Nutrisystem to the South Beach Diet.
New coupons for Adam & Eve and Noom Coach!