Advance Auto Parts is the #1 destination for automotive parts and car batteries online from brands like DieHard, Optima, and AutoCraft.
You can get free store pickup, free installation, or same-day home delivery for $8.99. They've got some great promotions out there, but batteries are usually excluded from promo codes and coupons.
However, there are several ways to save on a battery now like joining SpeedPerks, their free rewards program. Here's how to get the best possible deal on a battery at Advance Auto Parts.
Advance Auto Batteries: How to get discount | Best Coupons | $5 Off Coupon | Free installation | DieHard | Batteries not included
---
1. How to Get a Discount on Batteries:

Here are the potential ways to get a discount on your Advance Auto Parts battery purchase:
join their free SpeedPerks rewards program for a $5 coupon good on batteries
View their on-site coupons or in-store flyer to look for battery specials
Get free installation on your new battery
The Advance Auto military discount works toward batteries
Here are the best Advance Auto coupons and sales now.
---
2. Best AAP Online Coupons Now:
Advance Auto has new on-site coupons every week, plus new SpeedPerks members get $5 off batteries and sitewide. Here are the best coupons now:
*View all Advance Auto coupons listed here or today's online battery sale.
If you buy a battery online you can pick it up the same day at your local store. Advance Auto also offers free services like battery testing and installation on most models.
---
3. SpeedPerks $5 Battery Coupon: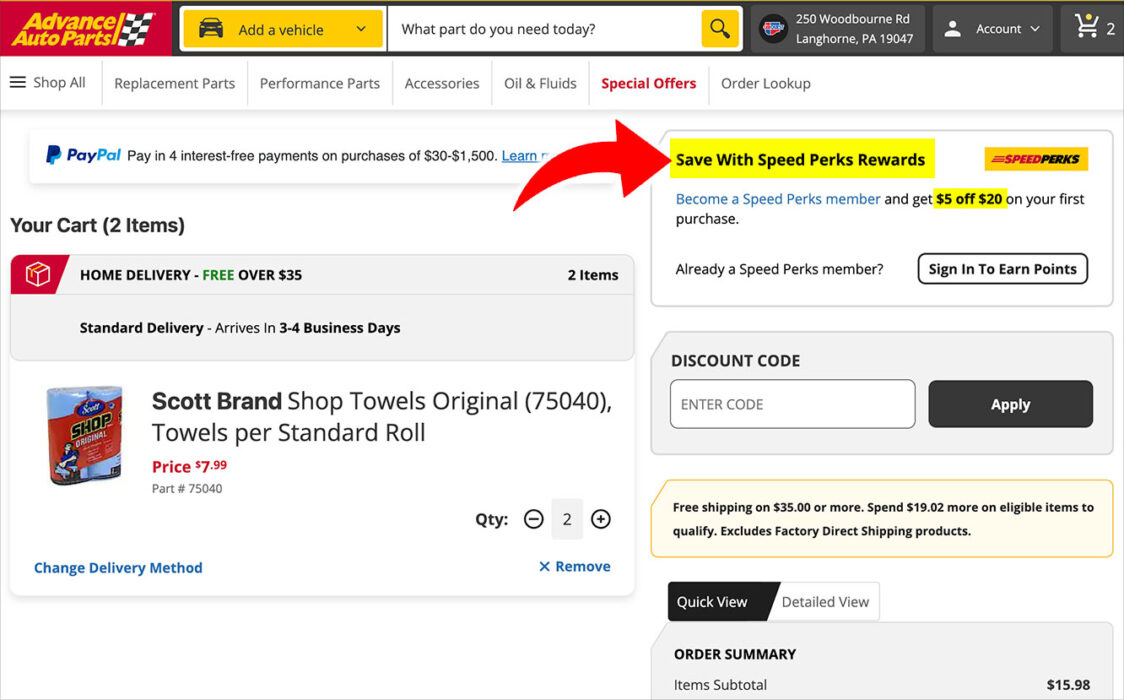 There is one sure way to get a $5 coupon for batteries right now.
Join Advance Auto's free rewards program, SpeedPerks!
It just takes a minute to join, and after entering your email address you'll get a $5 off $20 coupon which includes batteries from brands like DieHard!
So, the $5 coupon is great, but you'll also get SpeedPerks points and gas rewards when you buy the battery or anything else at AdvanceAutoParts.com. Because you get $5 for every $50 you spend, you might earn an extra $20 or more to use toward your next online order!
As you can see, you can save a lot of money by joining SpeedPerks. It's the only sure way to get a coupon that works towards batteries at AdvanceAutoParts.com!
Every month Advance Auto has a new sale, and certain batteries are usually included. Here's how to save when you buy a battery online or in-store.
---
4. Advance Auto Parts Battery Sale (Online or In-Store)
Advance Auto Parts usually has battery coupons and specials online and in-store, and sometimes includes DieHard batteries. You can check their website to see if they currently have a battery sale, plus you'll find coupons for your local store in the monthly in-store circular.
---
5. Free Battery Installation:

Get free battery, alternator, and starter testing at your local Advance Auto Parts store. If you do buy a battery, they will install it for free. Plus, get up to $10 back when you recycle your old battery. (Ask a team member for details) That's not exactly a battery coupon, but pretty sweet!
---
6. DieHard Battery Coupon:
"Bulletproof, I die harder than Bruse Willis" – Ice T, New Jack Hustler
DieHard car batteries are like the unsung heroes of your vehicle's electrical system. They're known for their reliability and long-lasting power. Whether you're in extreme temperatures or facing challenging driving conditions, DieHard batteries are designed to deliver a strong and steady flow of energy to start your engine without a hitch.
While DieHard is excluded from discounts at Advance Auto, you can use a $5 SpeedPerks coupon or rewards towards your next DieHard battery purchase.
View all DieHard batteries at advanceautoparts.com
---
7. Why Most Coupons Don't Work Towards Batteries:
Batteries have a thin profit margin and are excluded from virtually every Advance Auto Parts promotion and coupon code.
In fact, you'll notice it says, "excluded from discounts" online next to all batteries like this:
Advance Auto also mentions the following in their terms and coupon exclusions:
"Promotion codes and in store coupons exclude select items and categories including commercial tools and equipment, motor oil and batteries."

advanceautoparts.com
Consequently, you'll find that most promo codes found on coupon websites including $40 or $50 off won't work toward batteries, which is why we recommend joining SpeedPerks.
*More coupons: HR Block | Adam & Eve | Easy Canvas | WSJ Digital
---
I Hope We saved You Money on a Battery from Advance Auto
Having a good car battery is important for the reliable performance of the vehicle, preventing breakdowns, and ensuring the longevity of the car's electrical system. It is essential to choose a high-quality battery and ensure that it is properly maintained to maximize its lifespan and performance.
Most Advance Auto coupons don't work toward batteries, so you have to get a little creative. That's no problem because America was founded on grit and determination. In this case, all you have to do is join their free rewards program or check out the in-store specials.
Thanks a lot for stopping by Wonky Pie!