Bistro MD costs: The price of Bistro MD is relatively expensive, with your weekly cost determined by the plan you choose. At signup, you have the option of 5 or 7 days of meals each week and either 2 or 3 meals per day.
BistroMD costs $130-190 per week. That equals $520-760 per month or $27 per day. The price per meal averages about $9, with dinners costing about $2 more per meal than optional breakfasts. The first week is less when you use their featured 35% off coupon. (Use code: 35off)
To decide whether BistroMD fits into your budget, let's look at the plan pricing.
---
BistroMD Cost Per Day, Week, & Month:
Here are the plan options with prices: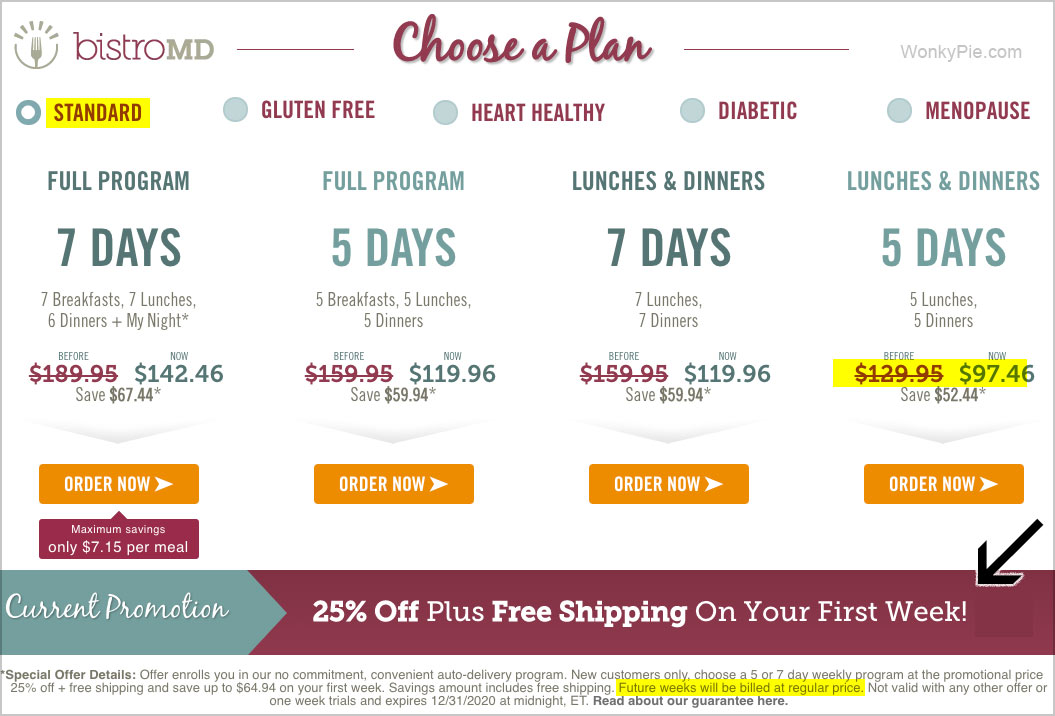 As you can see, when you choose the 7-day full program the average cost per meal is less than the plans with fewer meals.
At about $9 per meal, an initial comparison shows that that Bistro MD costs more than other popular diets. In fact, BistroMD costs more than Nutrisystem and South Beach Diet, but less than Jenny Craig. Diets like WW and Noom do not include any food at the monthly price. While this is true, you should consider the following:
Bistro MD meals are "complete," and there is no additional food required
Prices are the same for women and men and for special plans like Diabetic and Gluten-Free
Every Bistro MD meal is a fresh frozen entree, and unlike other programs, there are no shakes, bars, or packets of food called "meals"
Still sounds expensive? Here are 3 ways to reduce the weekly and monthly cost of BistroMD:
---
1.) Reduce the Cost w/ a Coupon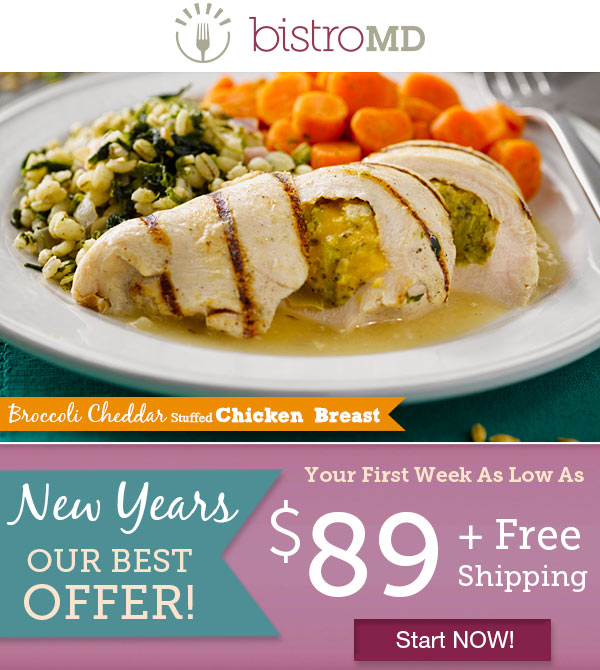 Besides opting to have 5 days of meals per week delivered (instead of 7), the best way to save on BistroMD is to use their 30% off coupon (get code here) which includes free shipping for your first week. They also have a 25% off promotion below. (click to apply)
---
2.) Skipping Breakfast Drops the Price
Looking for another way to drop the cost of BistroMD? Personally, I would choose one of the plans that do not include breakfast.
Breakfast is optional with their plans, so if you do include it, it will cost you more. You'll also pay more for shipping each month than many other diets, as meals are sent weekly, not monthly.
Since the price tag of Bistro MD is high, consider passing on breakfast, and make yourself a smoothie instead. A lot of the time I opt to just eat a protein bar and an apple which is a healthy and low-cost alternative to the expense of having 3 prepared meals a day.
---
3.) Opt for 5 Days of Meals per Week, Not 7
Personally, I think in most cases 5 days of prepared meals is enough, especially if you are out and about on the weekends. You'll save a good 20% on your weekly and monthly costs if you choose a 5-day plan instead of 7. Plus, you can always upgrade your plan later if you want more meals and don't mind the price.
Ok, so to summarize, here are 3 ways to save on a costly BistroMD subscription:
Use a coupon for up to 30% off & free shipping on your first week
Skip breakfast and have a smoothie or protein bar w/ fruit
Choose a 5-day meal plan, not 7
Related: Diet to Go Cost? | How much does Byte cost?
In Summary:
Did you know that the average American spends over $300 per month at the grocery store? While Bistro MD is relatively expensive, the good news is that Bistro MD replaces most of that expense, and unlike other popular meal-delivery diets, Bistro MD doesn't ask you to supplement their meals with fresh fruits and vegetables from the store.