Our review of BistroMD: Bistro MD describes their weight loss program as "the #1 doctor-designed, chef-prepared weight loss program." That may be true, but let's learn more about how Bistro MD works and decide whether it's a good meal-delivery diet option for your specific needs.
We did our homework, contacted the company, and scoured through scores of customer reviews. (We also got an exclusive 30% off coupon in the process!) Here's our review of BistroMD:
BistroMD: How it Works | Unboxing | Reviews | Sample Menu | Healthy?
---
First, How BistroMD Works:
"We reject the fat idea that healthy weight loss food must be bland and boring… Bistro MD diet delivery is weight loss without the sacrifice."
BistroMD was developed by board-certified physician, Dr. Caroline Cederquist, who has over 20 years experience in the field of weight management.
Working with a team of nutritionists and chefs, Dr. Cederquist combined proven weight loss principles with nutritional science to create a gourmet food delivery diet based on the formula of: 40-50% protein, 30-35% good carbs, and 20-25% healthy fats.
With Bistro MD healthy frozen meals made from high-quality ingredients are delivered to your door every week. BistroMD is the only home delivery diet program proven to treat metabolic dysfunction using a nutritionally complete and balanced blend of macro nutrients.
Dr. Cederquist recognized that the biggest complaint with most meal-delivery diets was the taste of the food, so they set out to create a better program.
Remember the Papa John's slogan, "Better ingredients. Better Pizza?" That's pretty much what Bistro MD is going for here in the meal-delivery diet categ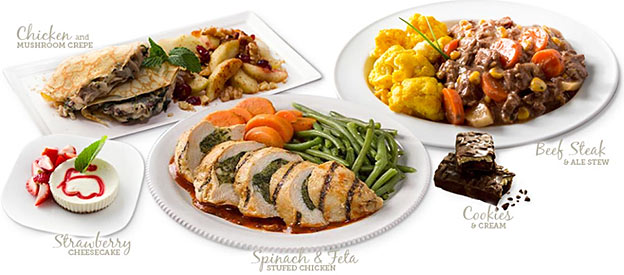 BistroMD also distinguishes themselves from their competitors by providing complete frozen meals prepared with fresh ingredients delivered weekly.
BistroMD believes that freeze-dried food is for astronauts, and shakes aren't really meals. All of their meals are real, healthy food and you don't need to supplement them with anything from the grocery store other your choice of beverage.
Although their meals are not technically certified as organic, they use top-quality ingredients resulting in USDA-certified entrees that have no artificial flavors, colors, preservatives, trans fats, msg, or nitrates.
The Bistro MD "recipe for success" centers around building a custom weight loss plan and tasty menu based on science that fits your lifestyle and unique nutritional needs. They also provide members the support and encouragement of: professional dietitians, fitness experts, text messages, and their private Facebook group.
---
BistroMD Unboxing: Here's What You Get
Turn down your volume (bad music!) and check out what you get with your first order of BistroMD. Here's a video unboxing:
---
What Customer Reviews Say:
Here's what we learned from reading all of the customer reviews on BistroMD's Facebook page as well as popular sites like consumeraffairs.com: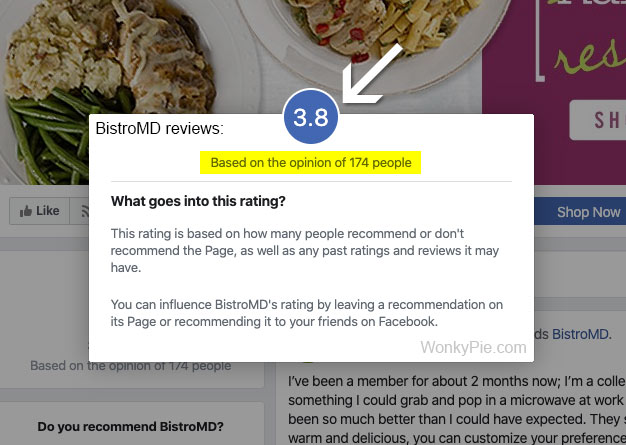 Positive Reviews:
• "I would highly recommend this program. The food is great, and the results are proof it works. I am losing weight, a pound or two a week. Better than that, my strength and energy are high and motivating. Eating normal food, under portion control gives me hope that I can maintain my goal weight with what the knowledge I have gained. Thank you BistroMd!" – Lori Pepper
• "So far so good. I can't believe that the pork in the meals isn't dry!!!!! I am also surprised that real potatoes are used to make the mashed potatoes! Definitely better than the frozen meals you get in the super market but they should be given the difference in price. You are paying more hence you would expect better quality. I love how how the meal plans are done for me. I would spend so much time meal planning on WW and meal prepping that I didn't have much down time on the weekends. I also tried Jenny Craig… this is far better!" – Paula Jean
• "The meals all taste like they were prepared by a good chef… There are basics like Meatloaf and Turkey with Gravy, diverse tastes like Jambalaya and Chicken Tikka Masala, and even classier meals like Beef Bourguignon and Barramundi Seabass with Sweet Coconut Pineapple Sauce. If you are considering trying a meal plan, try this one. You won't be disappointed." – Laura of Jacksonville, FL
Ok, that's a helpful review! Generally customers seem to agree that the food tastes good, and is generally better than Nutrisystem, South Beach Diet, or Diet-To-Go. Also, unlike other meal-delivery diets, I encountered few reviews that complained about billing or an unfair cancellation policy.
Here's a very positive testimonial from a customer:
They also post other customer reviews and testimonials on their site at bistromd.com.
Negative Reviews / Complaints:
"I would argue that the meal plans, the most exclusive of which reach over $150 per week, are quite expensive even for a full delivery service. It should be noted that while the meals taste quite good for a meal plan, they are not quite as good as comparably priced restaurant food in terms of taste alone."

Robert of Marietta, GA
"I signed up and the first week of food was within my budget. The second week cost more, plus you have to pay almost $20 for shipping. The good thing is that you can quit whenever you want without a cancellation fee. I'm a teacher and this diet cost too much for my budget."

– Kelly Straub of Selinsgrove PA
The biggest complaint in reviews is that Bistro MD is expensive, but usually customers were willing to pay more for better food. At about $9 per meal, the cost is comparable to the price you might pay for a meal at a quick-serve restaurant, but much healthier. The price of weekly shipping is another complaint, but like orders from Winc or Home Chef, the expense of shipping frozen and perishable food packed with dry ice seems to be unavoidable.
The good news is that, unlike other meal-delivery diets, I came across very few people who complained about the food or the simple cancellation policy!
---
Several Plan Options:
BistroMD offers plans that provide either 5 or 7 days of meals with optional breakfasts and "EATS" (Essential and tasty snacks) delivered weekly. You can choose their "Standard" plan, or a number of other plan options for specific dietary needs.
Here are the Bistro MD plan options for Women or Men:
Standard Plan: Physician-designed and chef-prepared entrees that taste great and target fat. Just because it's "Standard" doesn't mean it isn't special, as their registered dietitians build a customized program just for you
Diabetic Plan: Do you have diabetes or pre-diabetes? Bistro MD has a Diabetic Plan that's low in carbs and high in lean protein to regulate your blood sugar levels
Gluten-Free Plan: If you have been diagnosed with celiac disease, you'll be happy to know that they have a plan with all meals meeting the FDA's gluten free standard
Menopause Plan: (Sorry guys, women only! ha, ha) BistroMD offers a plan designed specifically for the nutritional needs of menopausal women
Silver Plan: This plan was created for the special needs of seniors to address common challenges as we age such as weight gain, diabetes, high blood pressure, and more. This plan is popular with AARP members and seniors who prefer not to cook daily
Want to customize the menu? No problem, you can do so at any time from your online dashboard. Learn more…
---
BistroMD Sample Menu:

Day 1 Menu:
Breakfast: Ham, egg and Swiss cheese bagel
Lunch: Chicken w/ Greek Lentils
Dinner: Asian Sweet & Sour Chicken
Day 2 Menu:

Breakfast: Southwestern Omelet
Lunch: Grilled Spinach-Stuffed Chicken Breast
Dinner: Chicken Paprikash
Day 3 Menu:
Breakfast: Sausage & Cheddar Muffin
Lunch: Salmon Picatta
Dinner: Shrimp Curry
Yum! Looks pretty good for a diet, right?
---
Nutritional Info: Is BistroMD Healthy?
Did you know that 96% of chain restaurant meals exceed the recommended portion size, fat, and sodium?
It's hard to accurately count calories and portion meals correctly even when you do your own cooking, so most people consume too many calories and bad carbs even when on a popular DIY diet. With a meal delivery diet like BistroMD there's no guesswork, and all of the nutrition, portioning, and calories are already calculated for you.
So, how much protein, carbs, and sodium is in BistroMD? Here's this diet stacks up for recommended daily nutrition:
| | BISTRO MD: | DAILY RECOMMENDED: |
| --- | --- | --- |
| Calories: | 1000-1400 | 1200-1600 (source) |
| Carbs: | 75-130g | 135-195g |
| Protein: | 100-160g | 46+ g |
| Sodium: | 2000-2200 mg | 2300 mg |
| Sat. Fat: | 6-9g | 9-12g |
*Recommendations for a woman trying to lose weight
As you can see, BistroMD is high in protein, low in carbs, and compares favorably against the recommended daily amounts of these nutrients.
---
How Much Does It Cost?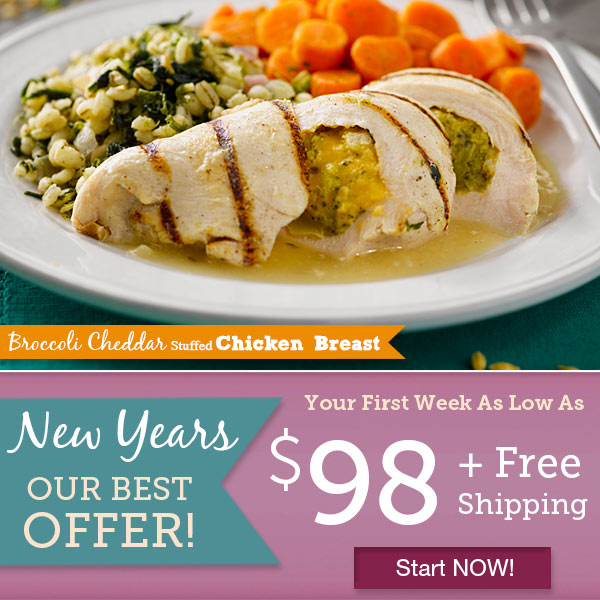 The short answer is "about $9 per meal," which means that the price depends on which weekly plan you choose. We wrote an article all about the cost of Bistro MD. You can also get the best price online with their best coupons here updated daily!
---
Does BistroMD Work?
Bistro MD can be an effective diet because it structures your eating with pre-portioned, nutritious meals that are high in protein and low in carbs. There's no portioning or counting points or calories so whether it works comes down to math.
Most people consume more than the recommended 2000 calories per day, and with BistroMD you'll be consuming under 1400 calories per day. Consider that there are 3500 calories in a pound of fat, and now you see how the fat will start to burn off if you don't stray from the diet.
At that rate you should experience a sustainable 1-2 pounds of weight loss per week. Add more exercise to your routine and you could lose even more weight. While no diet will work for everyone, most reviews of Bistro MD infer that BistroMD usually works if you follow the program.
---
BistroMD is Not a "One Size Fits All" Program
"So much more than calories, and we offer more than just low-calorie diet food. Eating less can be important, but just as important is eating better." – BistroMD
Bistro MD is a lot like its rivals Nutrisystem and South Beach Diet in the sense that its nutritious pre-portioned meals delivered to your door. However, there are a few key differences including the fact that:
Their food generally tastes better
Bistro MD costs more per month, but meals are complete; no need to supplement with groceries
Their plans are more personalized
Their menu is easier to customize
Their meals are all fresh frozen and delivered weekly (not monthly)
No contract and no cancellation fees! Choosing a diet shouldn't feel like buying a used car; you can stop delivery at any time!
Also, unlike most of their competition BistroMD offers several specialized plans. You won't find a "gluten-free" plan from Nutrisystem or Weight Watchers, but you will with Bistro MD. Here's how their plans work.
---
In Summary:
The BistroMD diet is the result of years of research and development by Dr. Caroline Cederquist and a team of dietitians. They've studied the science, and done the math, so if you eat their meals you should lose a sustainable 1-2 pounds per week. Like other meal delivery diets, the best feature is convenience, and this diet works best for busy people who don't like to cook/
Bistro MD is a relatively expensive meal delivery diet, but most of their customers agree that they are willing to pay more for better food.
If meal delivery doesn't sound appealing, consider top-rated Noom, Factor Meals, or Weight Watchers for more of a DIY approach that relies on a point system with no foods off-limits.
If you're considering this diet, you can check out today's promotions here. If you've already tried the BistroMD diet, please share your own review with us below!