The South Beach Diet is a high protein, keto-friendly, lower-carb diet based on the monthly delivery of nutritious prepared, pre-portioned meals. The program is endorsed by celebrities like Jessie James Decker and Audrina Patridge, and is now keto-friendly!
Thinking of joining? If so, check out our featured South Beach Diet sale, plus coupons, promo codes, and signup deals below for up to a 50% discount this month plus free food!
South Beach Diet: Coupons | Best Sale? | How Codes Work | 50% Off | Referral Coupon
South Beach Diet Coupons, Promo Codes 2020:

South Beach Diet sale: Locks-in discount + 7 free shakes!

This sale ends soon. Click to apply 50% discount:

Free bars with signup. Get promo code:

Stack this promo code at checkout!

New customers. *Can't combine with 40-50% off deal. 

$9 value. Click for promo code:

*Doesn't combine with the 50% off sale. Get promo code:
---
Best Signup Deal or Coupon?
Did you know that the person sitting next to you on an airplane probably paid a different price than you for their ticket? That's also true with The South Beach Diet, as they tend to run several promotions concurrently that yield different costs per month.
So, which coupon or promotion is best? It's always going to be a sale that locks-in the initial promotional rate, and the best sale is for 50% off.
Tip: Know whether your coupon locks-in the sale price! Some promotions end after 1-3 months, and then the price may go up unexpectedly!
How do you know if your coupon locks-in the promotional rate? Just click a coupon, and then click "details" at the top of the page: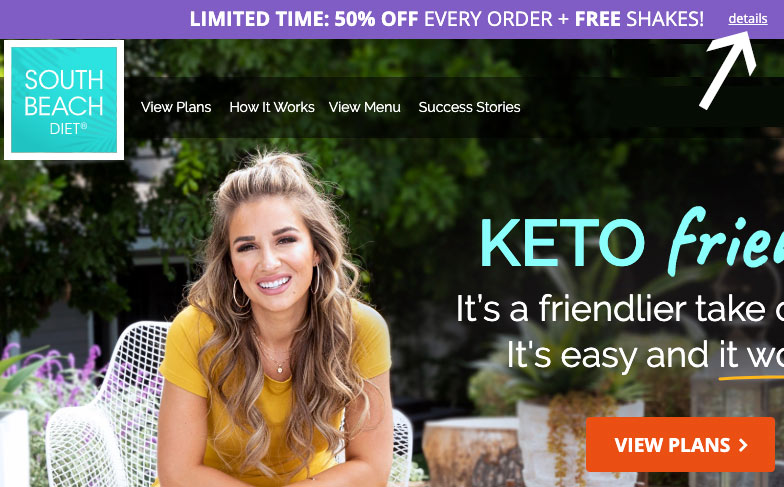 After you do, you'll get a popup window that explains the terms of the sale like this: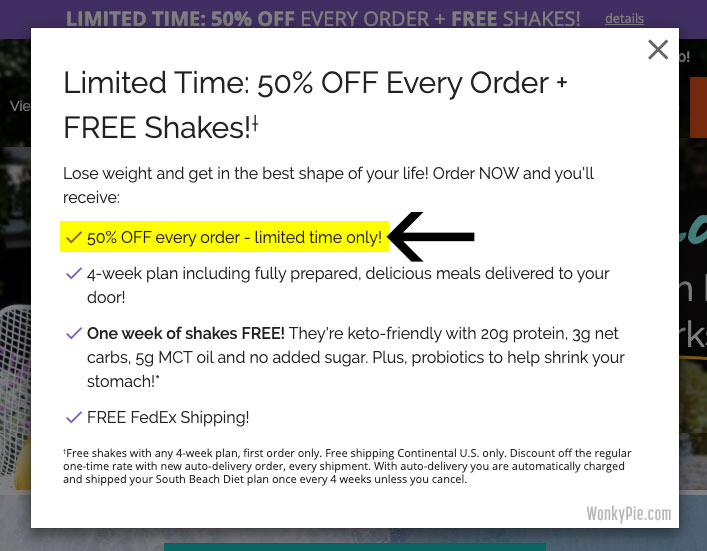 Look for a line that says, "40% off every order."
If you don't see that, then it's probably a limited-time deal. That means the sale might end after only a couple of months. If that's the case, then find a better coupon!
OK, so which coupon is best to join with? It's usually their "50% off sale" that runs during diet season. Oh, and you'll want to use a couple of promo codes at checkout, but more on that in a minute.
Here's how the South Beach Diet 50% off sale works:
---
South Beach 40% or 50% Off Sale: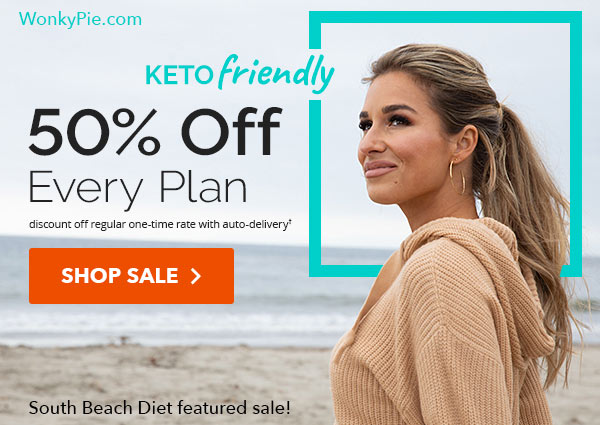 As mentioned, the 50 off sale should lock-in the promotional rate. This is crucial because it means you pay the same low price every month, and you won't be surprised by an unexpected price increase on your credit card bill.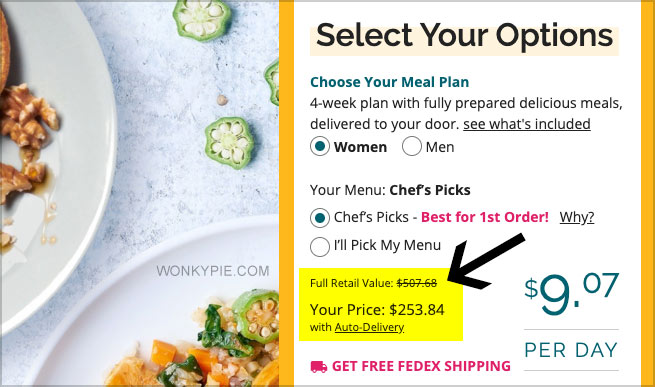 The popular 50% off sale includes:
50 percent off the retail price every month
A free week of keto-friendly shakes
Free FedEx shipping (Delivery in 1-7 days)
So, what if the 50% off sale isn't running?
If it's not diet season, you can still lock-in a 40% discount with their "40% off" featured sale. It's still a good price, and both sales allow you to stack 2+ promo codes for free food. Here's how:
---
How to Use a Promo Code:
Where do I enter a code? In all of the excitement of signing up with The South Beach Diet 50% off sale, you may not have even noticed that you can enter promo codes at checkout for extra savings. Yes, promo codes, plural! Here's how: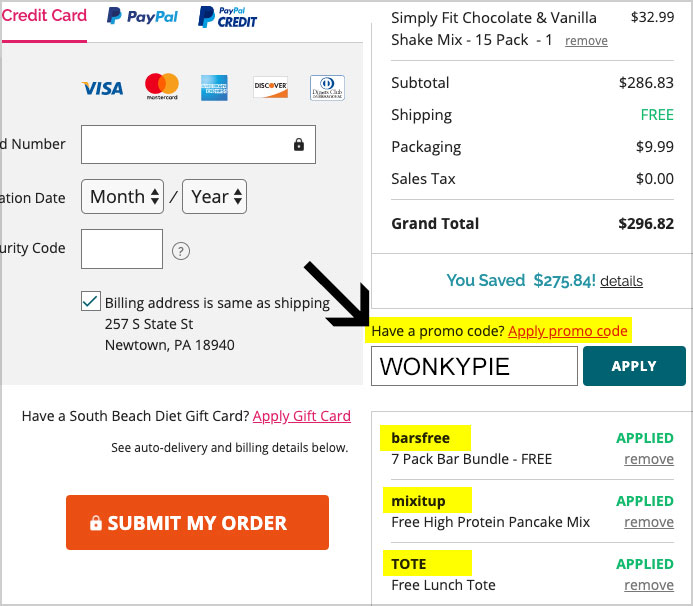 Login or create an account on SouthBeachDiet.com
Add any plan to your cart
Proceed to the payment screen
Under your itemized total there is a text link that reads, "have a promo code?"
Click that link and a text field will appear
Enter one promo code at a time and click "apply"
You can use up to 3+ promo codes at once
Every valid promo code will be itemized below w/ details of your savings
Pretty simple, right?
So, you get a great discount with their featured 40-50% off sale, then extra savings or freebies at checkout when you use multiple promo codes.
Plus, after you join, there may also be promo codes available for a la carte food as well. So, before you place any order on SouthBeachDiet.com, do a quick search for a promo code or two!
Tip: All sales and sign up coupons are valid towards "auto-delivery" only. This means that after signup you will be sent food every month until you cancel. You should know their cancellation policy before signing up.
---
Coupon Page on SouthBeachDiet.com:
Most people don't know that South Beach Diet posts coupons directly to their website at https://www.southbeachdiet.com/coupons-and-deals/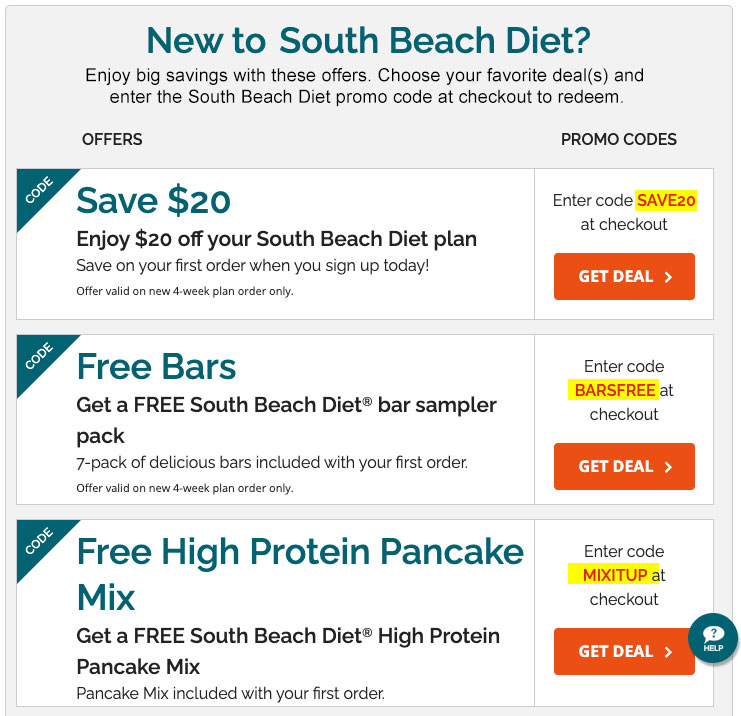 Tip: I notice that the "dollar-off" promo codes don't combine with the (best) "40% Off Sale." For this reason, you are better off going with the featured sale and skipping the $20-50 off codes.
---
Refer a Friend, Get a $50 Coupon
There are no coupons for existing customers available, you can get a discount on your second order another way. Notice the "Save $50" link on southbeachdiet.com homepage: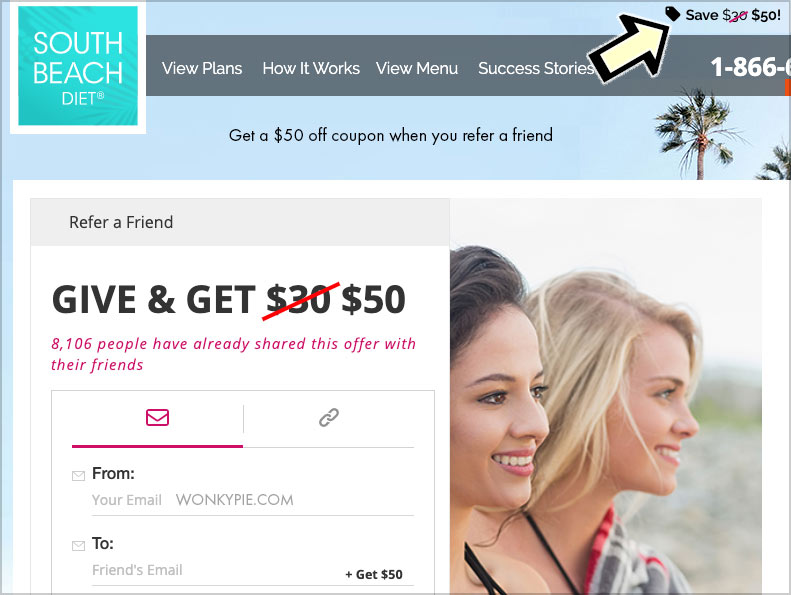 Click it and enter friends' email addresses. You'll get a $50 coupon for anyone you refer who signs up.
---
FAQs:
What is the best South Beach Diet sign-up deal? 🌴
Join with their 50% off sale and use promo codes at for free food at checkout.
Can you use more than one promo code?
Yes, you can stack 2+ codes at checkout on top of sale pricing!
Where do I enter a promo code?
Enter codes on the payment screen under your subtotal where it says, "Have a promo code?" Show me
---
Joining? Good Luck!
If you are thinking of joining South Beach, or any other diet, do your homework. Then, speak with your doctor or healthcare provider. If you agree that South Beach is a good fit for your personality, lifestyle, and weight loss goals, then it might be worth trying.
If you do signup, use our 40-50% off sale and a couple of promo codes to ensure you get the best deal. If you aren't sold on South Beach Diet, then check out our coupons for WW, Medifast, Diet-to-Go, BistroMD, and Noom.
Thanks for stopping by Wonky Pie!