The Wall Street Journal (aka WSJ) is one of the most trusted names in finance and reporting. If you are thinking of signing up for a subscription to the WSJ, we can help get you the best possible deal!
Thinking of trying WSJ Digital for a couple of months? Don't just go to WSJ.com and ion, as you won't get the best price. There's always a short-term introductory deal to try it for as little as $1 for 2 months! Do you also want Print delivery? The biggest savings will come from their 50% off deal.
Here are the best promotions and deals for Wall Street Journal Print and/or Digital subscriptions now:
WSJ Deals: Best Now | $1 for 2 Months | $12 for 12 Weeks | $99 Offer | 50% Off
---
Top WSJ Subscription Discounts & Deals Now:

Great way to try Wall Street Journal + Print; almost free!

WSJ Digital: WSJ.com or All-Access w/ App. Apply discount:

6-12 months. BEST long-term deal! Saves an extra $100 over 12 months.

Wall Street Journal Print delivery. 50% off 6 or 12 months.
*At the end of the introductory term, your subscription will automatically renew each month at the standard price for your package. You may cancel anytime.
Does WSJ subscription include Barron's? No, even though the Wall Street Journal and Barron's are both part of the Dow Jones Company, they are a separate subscription. However, they offer the same 50% discount for Digital and/or Print!
---
Best WSJ Subscription Deal?
If you are thinking of subscribing to the WSJ Print or Digital, you'll want to choose the best promotion for your needs. So, which deal is best? That depends on two main factors:
Do you want WSJ Print, Online (wsj.com), App, or all three?
Do you plan to keep your subscription long-term or just a short trial period?
Generally, the best deal for a short-term subscription is one of their trial promotions like 12 weeks for $12, or $1 for 2 months.
If you plan to keep your subscription for 6 months or more, then the 50% off promotion is likely best deal as it saves the most money long-term. Here's all about their most popular promotions.
---
1. "$1 for 2 Months" for WSJ Digital Only:
The Wall Street Journal often runs a promotion for 2 months for $1 or "one dollar per month." for All-Access Digital (WSJ.com + WSJ App) or WSJ.com Only (No WSJ app) This is a great way to try out the WSJ without making a financial commitment: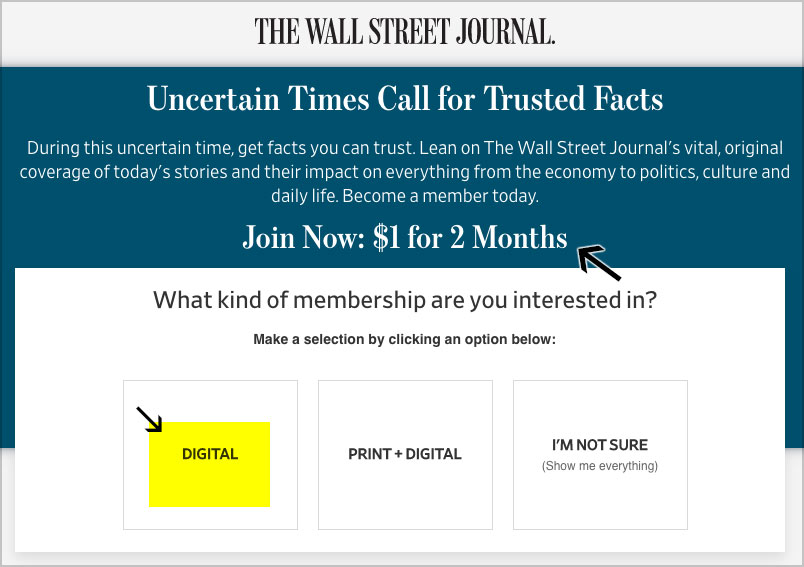 Tip: They don't do a good job explaining that the $1 per month subscription is for WSJ All-Access Digital only. If you choose "Print + Digital" it seems to bounce you to the "50% off" or "$12 for 12 weeks" promotion.
I would say that this is the best WSJ Subscription for those who wish to try out All-Access Digital and are unsure whether they will cancel after 2 months.
---
2. "$1 Per Week" Deal: WSJ Print + Digital

OK, so if the Wall Street Journal isn't advertising the $1 for 2 months special, then the $1 per week deal (12 week for $12) is likely available.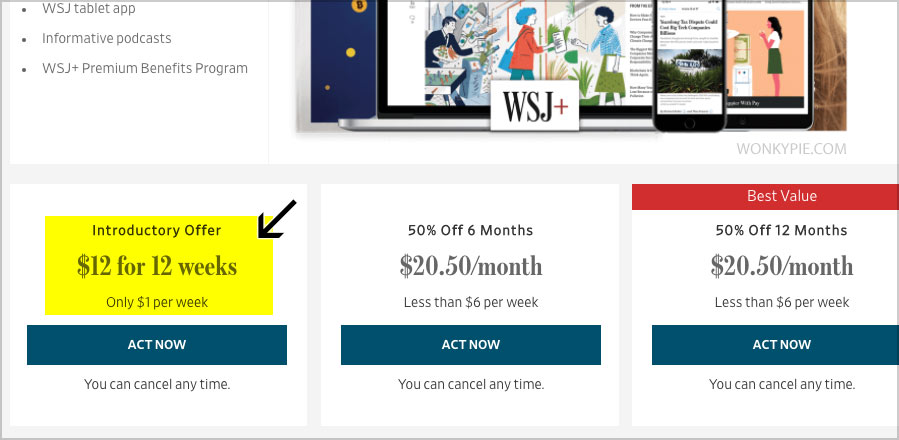 This is another excellent option for anyone who wants to try out the Wall Street Journal at an amazing $1 per week for 12 weeks. Also, you'll have the option to include WSJ Print delivery with this promotion, making it the best short-term deal for a WSJ Print subscription!
Tip: You can choose print delivery on Saturday-only (weekend edition), Monday-Friday, or Monday-Saturday. Surprisingly the cost difference is only about $4 per month for Saturday-only versus Monday-Friday!
---
3. "50% Off 6 or 12 Months" Deal for WSJ Print and Digital: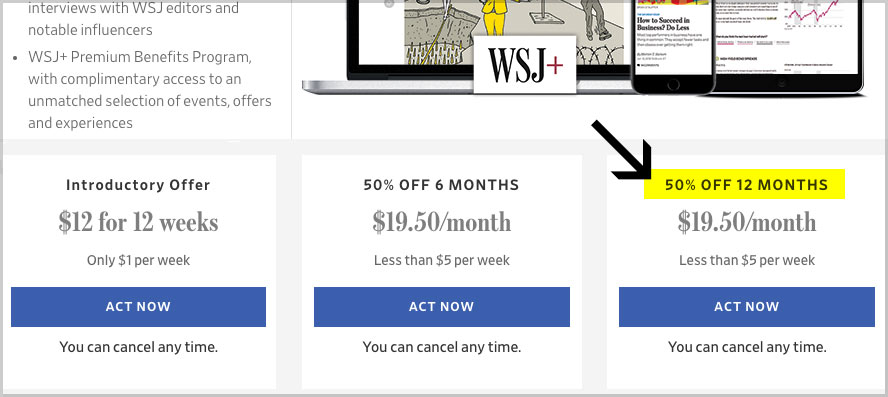 If you plan to cancel your WSJ subscription before the 6th month, then the shorter promotions above are your best bet. However, if you plan to subscribe for 6 months or more, then the "50% off deal is much better, as it locks-in the lower subscription rate for up to 12 months.
Tip: The 6 and 12 month WSJ subscriptions are a lower monthly price than the 1-3 month offers. Because the Wall Street Journal allows you to cancel at any time for a prorated refund, they are always the best deal long-term!
If you would like to add Print delivery, you can also choose to receive the Weekend Edition only.
---
4. $99 for 6 Months Offer (WSJ Online / Digital)
Occasionally the Wall Street Journal runs a subscription deal for, "6-months for $99." You might see this offer on Black Friday or before popular holidays: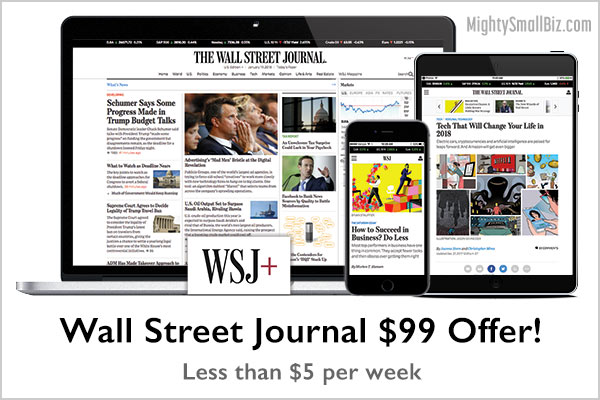 The WSJ $99 subscription promotion is a great option for 6 months. However, after that the $99 deal loses ground to the 50% off deal. Here's proof:
Wall Street Journal senior discount? Currently, there is no specific promotion just for seniors or AARP members. However, seniors are welcome to use the current discount for 50% off print delivery and Digital, or 12 weeks for $12!
---
Which Subscription Deal is Best? WSJ 12-Month Cost Comparison:
Want to see why 50% off is best long-term? Here's a comparison of signing up for WSJ All-Access Digital with the $12 for 12 weeks subscription deal vs. 50% off over 12 months:
12 Weeks for $12 = $362.91
$99 for 6 Months = $332.94
50% Off 12 Months = $233.88
Tip: While the shorter promotions look great for a few months, they lose their luster after about the 4th month. If you want to subscribe long-term, I recommend the 50% off deal! Even though 6-12 months sounds like a long commitment, you can cancel anytime.
*The Wall Street Journal also offers a discount for students
---
What Does a WSJ Subscription Include?
Founded in 1889, the WSJ is the world's leading business publication, read by more business leaders than any other media. WSJ.com is a 24/7 365 day a year guide to the top business news worldwide, giving you access to news as soon as it breaks.
A subscription to the Wall Street Journal print (paper delivery) edition puts the day's top stories in your hands every morning, offering the best reporting and business news in print; the reason why The Wall Street Journal has earned the appellation of being the #1 business publication worldwide.
All-Access Digital combines all of the features of WSJ.com Online with the WSJ App
WSJ Print offers 6-day a week newspaper delivery as well as full digital access
Online tools to track investments in your WSJ portfolio
Every subscription includes 11 issues of WSJ Magazine
Incredible exclusive video content
Unrivaled reporting with over 1800 journalists in 45 countries
More business leaders read the WSJ than any other media according to a recent study by Erdos & Morgan
---
FAQs:
What is the best WSJ subscription deal? 💵
Long term the 50% off special is best, saving you the most money over 6+ months. There is also a special offer for students.
Can you get a free Wall Street Journal subscription?
No, but there is often a WSJ Digital promotion giving you 2 months for $1!
Is the WSJ $99 subscription deal best?
The Wall Street Journal has not offered their $99 for 6-months deal for some time, replacing it with 12 weeks for $12.
Wall Street Journal Senior discount? There is no specific promotion for Seniors or AARP members. However, seniors can also get 50% off WSJ print delivery and Digital, or $1 per week.
When using a coupon or promotional link from above, you can save up to 60% on a Wall Street Journal subscription for up to 12 months. That's a pretty sweet deal!
We also have a review for Vistaprint face masks here.
Thanks for stopping by Wonky Pie!
More great discounts: TurboTax Discount Codes: $20 Off | Winc Wine Subscription | Purple Carrot Subscription | Noom Promo Codes