Did you know that over 700 million Currywursts are eaten in Germany every year?
It is true, and currywurst has been a favorite fast food and German institution since Herta Heuwer invented the tasty dish in 1949. So, how did Herta become the Ben Franklin of Bratwurst?
it's cut into pieces, contains 500 calories, and is still one of Germany's favorite fast foods. The currywurst or curry sausage was invented in Berlin in 1949 when cart-pushing vendors first sold the snack on street corners.
---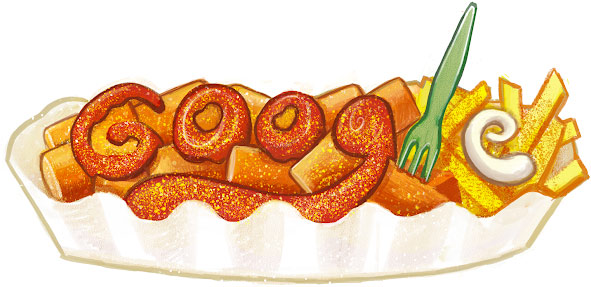 Herta Heuwer Was Credited for Inventing Currywurst in 1949
Herta lived in Berlin after WWII, and some British soldiers gave her some ketchup, curry powder, and Worcestershire sauce that they had brought to Berlin from home.
Like Thomas Edison, Herta went to work creating a sauce that would provide a welcome, spicy alternative to the uninspiring and bland post-war rations that many Germans were used to eating.
After many hours of experimentation and toiling, she perfected her recipe; creating a spicy and flavorful sauce that she poured over Bratwurst for a delicious dish. Herta set up a kiosk on the corner of Kaiser Friedrich and Kant streets in Berlin, and Her currywurst was an instant success! Construction workers who were rebuilding the city after WWII lined up by the hundred every day for her delicious currywurst.
Herta would patent the currywurst recipe two years later, and at her peak, she could sell as many as 10,000 currywurst in a single week!
A memorial plaque to this sausage entrepreneur has since been put up in Berlin's Charlottenburg district.
---
Currywurst Knows No Borders
Even in divided post-war Germany curry sausage knew no borders.
Berlin is celebrating the sausage's 60th anniversary this year. Whether in Berlin or Hamburg, Eastern or Western Germany, the curry sausage is one of Germany's favorite snacks selling 850 million.
Dani Reinhardt has been selling curry sausages 800-1000 currywurst a day and he knows the secret of a good sauce. He says curry sausage should be spicy, but not too spicy, a bit of paprika, and a shot of Worcester sauce.
---
Can You Make Your Own Currywurst?
Although you can buy curry ketchup online, it probably won't be as good as homemade Currywurst.
Bratwurst, onions, garlic, curry powder, paprika, and cinnamon? Mmm… Look for our currywurst recipe soon!