Medifast versus Nutrisystem – So, you did your homework and it's come down to choosing between two popular diets: Nutrisystem and Medifast. But which diet is better for you?
Both Nutrisystem and Medifast are built around memberships and the delivery of prepackaged foods supplemented with fresh food from the grocery store.
Because of this, both Nutrisystem and Medifast are potentially both good choices for people who don't like to cook.
Nutrisystem is ranked higher on the list of best diets with U.S. News & World Reports, while Medifast scores better with readers of Consumer Reports. We'll look at both weight loss programs and help you make a decision on which weight loss program to choose.
---
Ratings: Nutrisystem vs. Medifast
U.S. News asked a panel of diet and health experts to rate Nutrisystem and Medifast on a number of criteria. Here's how they compare: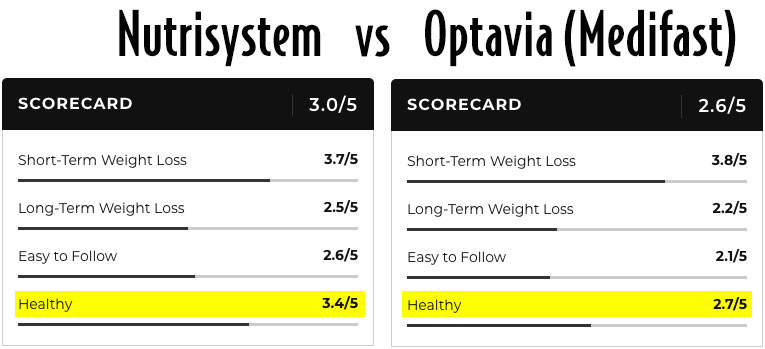 As you can see, Nutrisystem scored higher with the experts than Medifast, which scored low on "long-term weight loss." However, no one diet is best for everyone, so here's a more detailed comparison of both diets.
---
About Nutrisystem:
Ranked #20 in Best Diets Overall – by U.S. News & World Reports
Consumer Reports Diet Plan Ratings Score: 56
Summary: Very easy to follow, they send you packaged meals and you eat every 2-3 hours during the day. Supplement their meals with food from the grocery store
Consumer Reports summarizes Nutrisystem as being, "best diet for non-cooks who want to spend the least possible amount on packaged foods." They deliver preservative-free meals and snacks to your home every month, and tell you when to eat them.
Nutrisystem claims that you'll lose 13 pounds in your first month with their Turbo13 plan, and scores high as one of the easiest diets to follow according to U.S. News & World Report.
You may supplement their prepared food with your own grocery store foods, (they include a pamphlet to help with choices) and they claim that there are no limits on calories or food groups. (Although smart choices would obviously be fresh fruits and vegetables & lean proteins.)
Nutrisystem focuses on three main areas: portion control, balanced nutrition, and frequent meals:
Portion Control: You might be eating some really healthy foods, but maybe you don't realize how important portion size is. Did you know the average soft drink is about 50% bigger now than it was in 1977? The same goes for snacks like chips and pretzels. In fact, portion sizes keep growing in America which is a major factor in our obesity epidemic. Nutrisystem's pre-packaged meals and snacks are all optimal portion size
Balanced Nutrition: It's not only choosing the right foods, but the right mixture of nutrients to keep you healthy and lose extra weight. Nutrisystem has a team of dietitians who designed the diet to have: high protein, low-fat, low sodium, low-glycemic carbs, and 25-25g of fiber per day. (is Nutrisystem healthy?)
Frequent Meals: Not just the traditional breakfast, lunch, and dinner. Nutrisystem encourages you to eat six smaller meals (every 2-3 hours) each day for maximum energy and less hunger. These meals are a mix of their packaged foods and fresh foods from the grocery store
How Much Does Nutrisystem Cost?
Nutrisystem costs about $10-12 per day depending on which plan you choose, as you'll pay more for an increased variety of food. You can lock in the best price when you use their "40% off" new customer promotion:
Featured new customer promotion or, view all coupons
You can click above for the price, or read our post about the cost here.
*Tip: Not all coupons "lock in" your initial monthly rate, and they may go up after about 3 months. The promotion above does not increase at any time.
---
About Medifast (Optavia):
Ranked #28 in Best Diets Overall – by U.S. News & World Reports
Consumer Reports Diet Plan Ratings Score: 70
Medifast Cost
Medifast Diet Reviews
Summary: Monthly meal delivery of prepared meals, bars, and shakes that are high in protein and low in carbs. You'll eat 6 smaller meals a day consisting of their prepared meals, plus 1-2 "lean green" meals a day of your own.
Medifast doesn't have the name recognition of Nutrisystem and Weight Watchers, but it's effective and gaining popularity. It was developed by a doctor and has been well known in the medical community, having been recommended by 20,000+ doctors since 1980.
Medifast focuses on lower-calorie meal replacement with their vitamin-rich "meals" (mostly bars, powders, and shakes) delivered monthly with program enrollment. Generally you are eating half the calories (800-1000 calories per day) that you're used to, so you should notice results quickly.
Medifast scores better for fast weight loss, but gets lower score for maintaining the weight loss long-term.
2 Plan Options: "Go" or "Achieve"

When you signup for Medifast, you'll have the choice between two plan options: Go! or ACHIEVE. The main difference between the two is that Go! offers faster weight loss and has less "real" food, while ACHIEVE adds more flexibility with an extra "Lean and Green" meal of your own making.
After a few days on the Medifast diet your body will achieve a mild "fat-burning" state which will cause weight loss without muscle-loss. Each one of these meals is designed with low-fat protein together with fiber to keep you from feeling hungry.
When you do reach your goal weight, Medifast transitions you into a "maintence" phase which offers more food variety.
How Much Does It Cost?
We did some research into the cost of Medifast, and posted it here. Essentially it's about $12-15 per day, depending on which auto-delivery plan you choose. (that's a little more than Nutrisystem)
Also, note that you can save up to $150 on your first order when you use their new customer promo:
The GO plan costs more than FLEX, and it includes more prepared meals, and fewer home-cooked meals.
---
Nutrisystem vs. Medifast: Which Is Better for Weight Loss?
Both diets aim for about 2 pounds per week (8-10 pounds / month) of weight loss.
Here's how U.S. News ranked the two for "Best Weight Loss Diets"
Nutrisystem: #11 (better)
Medifast: #14
Even though Medifast offers "faster" weight loss, Nutrisystem outranks them on "long-term" weight loss, as Medifast customers were more likely to gain the weight back after 6 months.
Tip: Nutrisystem now offers a new Turbo13 Plan with the goal of losing 13 pounds in your first month. (up to 18 pounds for men)
---
Nutrisystem Versus Medifast: Which One Costs More?
Based on the current prices on their websites, both diets cost about $10 per day.
According to Consumer Reports, the first three months of Medifast costs more, averaging about $350 per month compared to Nutrisystem which averaged about $300 per month.
Keep in mind that you still have to buy some of your food from the grocery store, so your total cost of food per month will probably be higher than that number.
You can find coupons online to reduce the price of the first month here:
Nutrisystem coupons here – Up to $50 off + free shipping
Medifast coupons here – Up to $100 off the retail price of your first month
---
Diet Comparison – So, which is better, Medifast or Nutrisystem?
Like buying a car, it helps to do your homework, but ultimately the final decision depends on the individual. Here's a few important points to consider:
looking for a diet that's easy to follow? Point Nutrisystem
If you want to lose weight quickly, point Medifast
Taste? Both involve packaged food but point goes to Nutrisystem
Interested in sit-down easy meals? Point Nutrisystem
Do you like eating bars and shakes on the run? Point Medifast
Most interested in long-term weight loss, or you have a history of quitting diets? Point Nutrisystem
Oh, heck. What which one do the experts say is better?
Nutrisystem scores higher on the list of top diets from U.S. News and World Report, ranking at #18 to Medifast which is at #28.
Consumer Reports readers score Medifast higher with a 70 rating, while Nutrisystem gets a 56. (view full scoring of best diet plans)
---
In Conclusion: I Believe Nutrisystem Is the Better Diet!
Based on reading hundreds of customer and expert reviews and ratings, plus factoring in the cost, I'd say that Nutrisystem edges out Medifast.
A lot of people complained that Medifast wasn't "real" food, and customers had more issues with keeping the weight off.
If you are looking for the better meal-delivery diet, I recommend Nutrisytem:
*Note that both diets are outranked significantly by Weight Watchers (get coupon), which is ranked #4 overall.
Hmmm… how about Nutrisystem vs South Beach Diet, Medifast vs South Beach Diet, or Nutrisystem vs. Weight Watchers?