Barron's Magazine was founded in 1921 as a sister publication to the WSJ (coupons), and for a century they have been one of the most trusted names in finance and market news and insights.
Thinking of subscribing? Wonky Pie can help get you the best price on a Barron's subscription. Save up to 50% on Barron's Digital or Print subscription. You can even try Barron's for as little as $1 per week with the subscription coupons and specials below:
Best Barron's Subscription Discounts: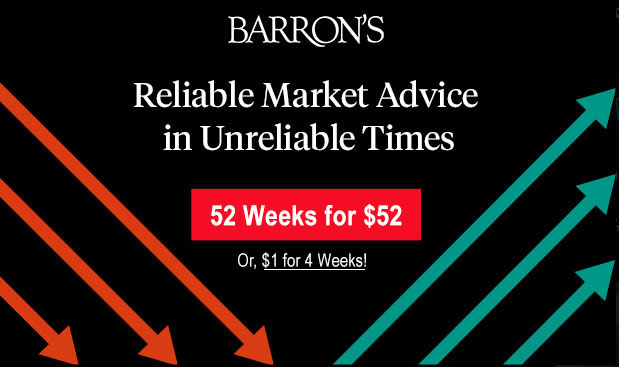 Digital or Print + Digital. 

Barron's Digital or Print + Digital subscription. Apply coupon:

$0.96/week. Save $379 on Barron's Digital only subscription. View deal:

Save $519 on Barron's print + Digital subscription. Cancel anytime:
How Barron's Specials & Coupons Work:
There's no need to use a promo code for a discount at Barrons.com. Just click one of the featured offers and you'll be taken to the corresponding offer on their site.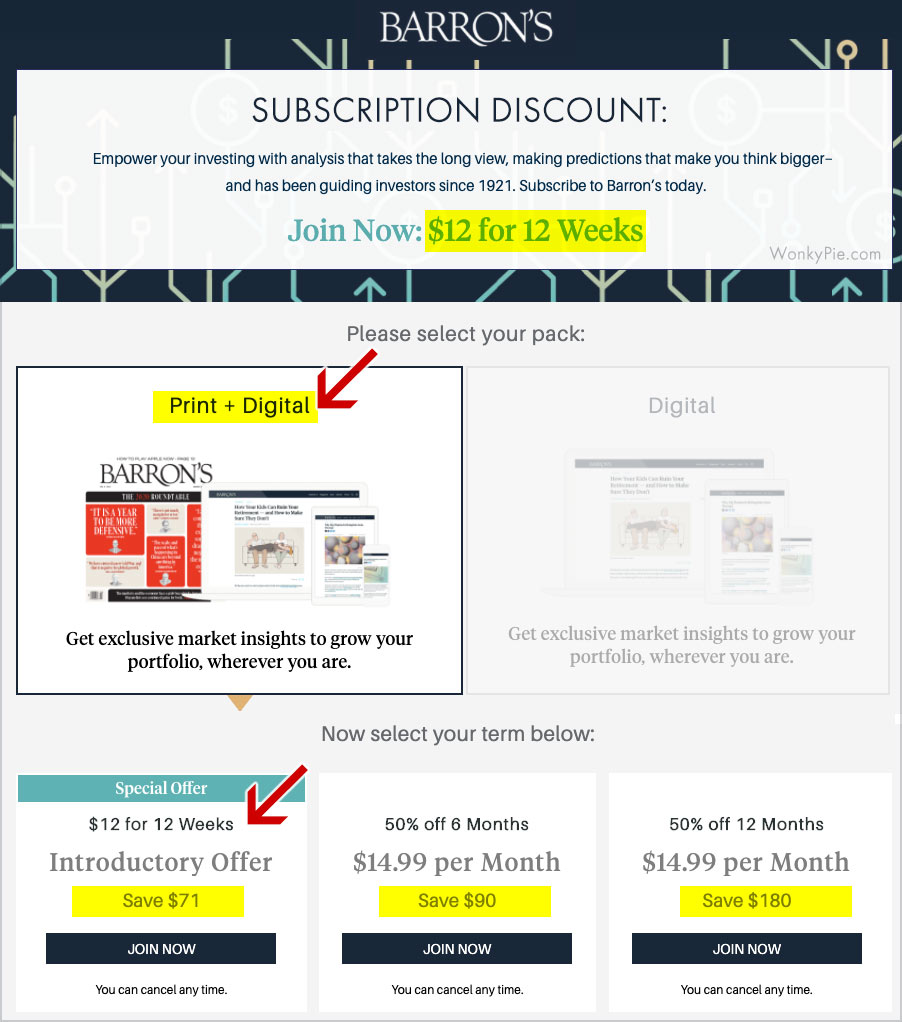 You'll have several subscription options:
Do you want Barron's Digital and/or Print Delivery?
Do you wish to sign up for 12 weeks for $12 or 50% off?
If you choose 50% off, do you want to lock-in the discount for 6 or 12 months?
---
Which Barron's Magazine Discount Option is Best?
As you can see, the longer your subscription, the more you save. So, if you just wish to try a Barron's subscription short-term, then the $1 per week deal might be best.
If you think there's a good chance you'll keep your subscription for more than a few months, then the 50% off special will save you more money. In fact, over the course of one year, the 50% off subscription coupon will save you $109 more than the $12 for 12 weeks promotion!
*Promotional subscription rates are available to new customers or those who have not had an active Barron's subscription in the last 180 days. Cancel anytime.
All Barron's magazine include tons of digital content including Barron's Buzz videos like this:
FAQS:
What's the best Barron's subscription deal? 💵
The 50% off coupon is best because you can lock-in the discount for up to 12 months. See offer
Is 12 weeks for $12 a good option?
Yes, this is the best deal short-term, but if you wish to subscribe for 6+ months, use the 50% off discount for a lower price.
Does the discount apply to Print delivery?
Yes, all subscriptions include Barron's Digital with the option of adding Print delivery
More Coupons, Specials:
Check out our other exclusive discounts for these top brands:
You can also check out Barron's app here. However, a lot of customers complain in reviews that the free version serves a lot of annoying ads. Thanks for stopping by Wonky Pie!