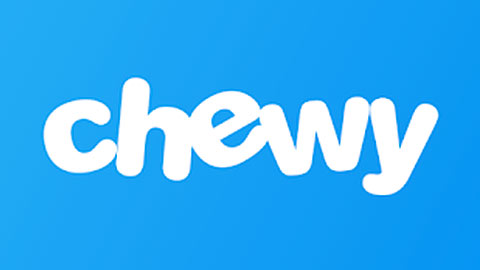 Chewy is the #1 website for everything dog and cat owners need. They are wildly popular because of their obsessive mission to exceed the expectations of every customer.
They do so by providing unrivaled customer service and super-fast inexpensive or free shipping on every order.
Here are today's best coupons and promo codes that actually work and include free delivery plus how to get free shipping plus $20 off $49 on your first Chewy order.
*Note: This post contains affiliate links and I may be compensated if you make a purchase after clicking a link.
Chewy Free Shipping: Best Coupons | $49 Minimum | Free Autoship | No Minimum? | Shipping Hack | $20 Off | Free Delivery Code | Codes That Work
---
Best Chewy Promo Codes With Free Shipping:
Save up to an extra $20 with one of these coupons that include free shipping on $49+ orders. Chewy promo codes can expire without warning but we test these codes every day, so they should definitely work!
$15 Off $49+
1b. Ends soon! Few restrictions. Get promo code:
1b.
Ends soon!
Few restrictions. Get promo code:
Show Less
Getting free delivery is another great way to save on your Chewy order. Here's how to get free shipping at chewy.com.
---
3 Ways to Get Free Shipping at Chewy.com:
Shipping a 28-pound bag of dog food isn't cheap, but there's always a way to get your Chewy pet food and supplies shipped fee. Here's how:
---
#1. Free Shipping With Minimum Order:
What is Chewy's free shipping minimum? Currently, all orders over $49 qualify for fast and free 1-3 day shipping!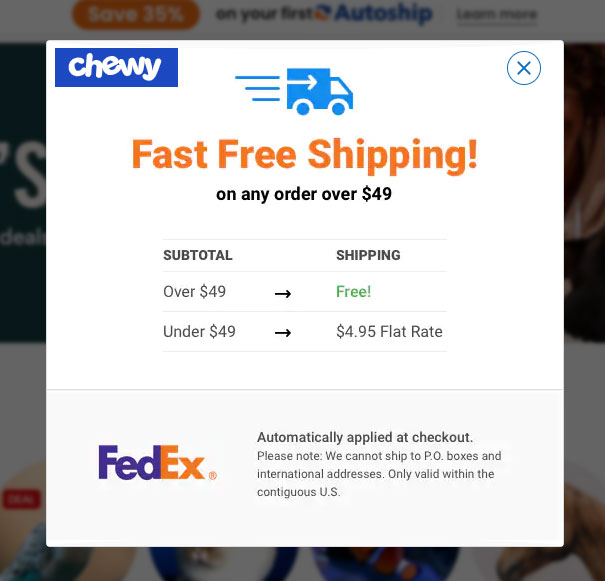 That includes everything from prescription pet meds to big bags of dog and cat food. I have no idea how Chewy is able to offer free rush shipping on $49+ but they do!
How long does Chewy free shipping take? Chewy ships all orders at 1-3 day speed, and some orders arrive in as little as 24 hours. If you spend $49+ you'll get this expedited delivery for free!
Does your order qualify for free delivery? Just click to view your shopping cart and you'll see whether you qualify. If you don't, you'll get a message informing you how close you are to meeting the minimum order requirement: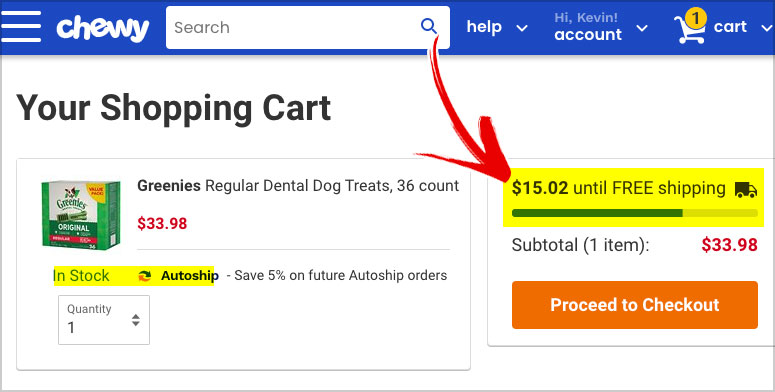 ---
#2. Chewy Autoship Free Shipping:
If you order the same items repeatedly consider Autoship. You'll get a 35% discount on your first AutoShip and can specify delivery frequency from weekly to every 8 months. This is great for products that your pet needs repeatedly like dog food, cat litter, pet medications, and flea and tick products like Seresto.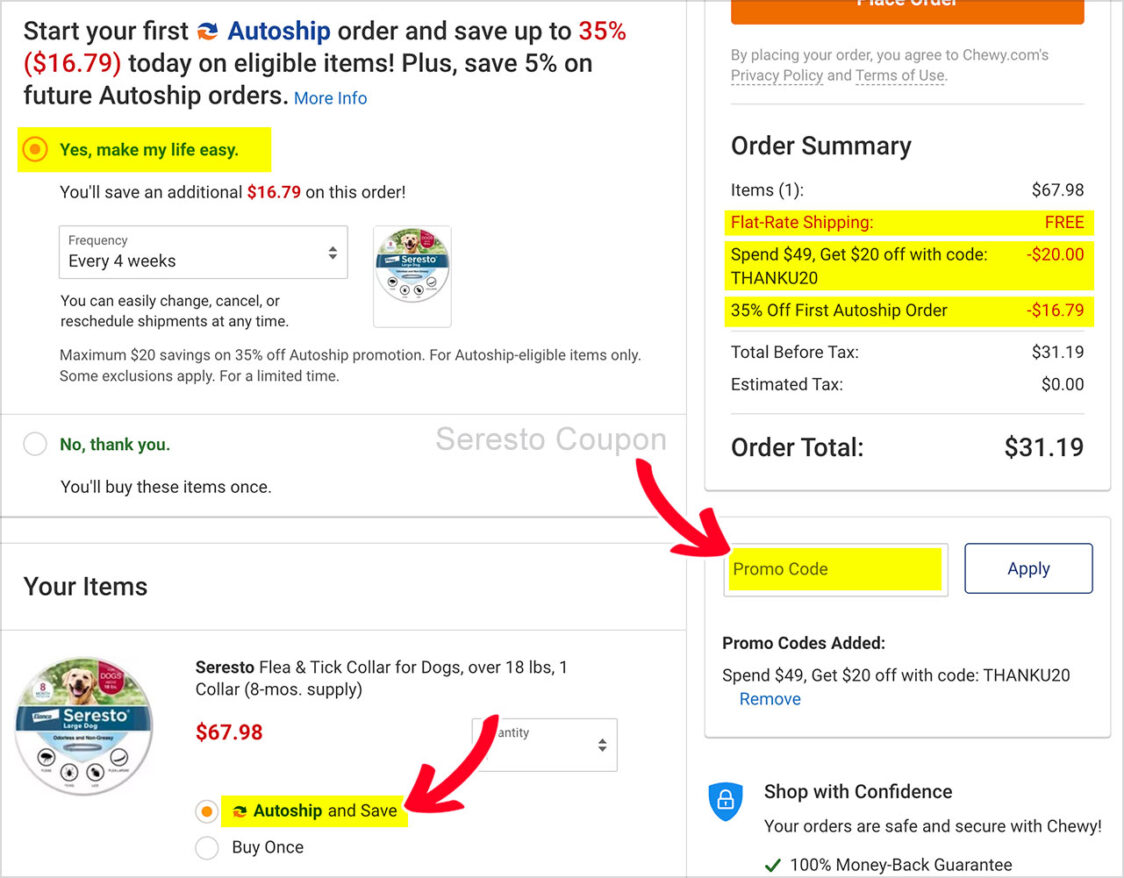 Autoship makes it simple to combine items into a $49 minimum order so delivery is free with every shipment. You also get an extra 35% discount on your first AutoShip order, which is pretty amazing!
---
#3. Chewy Free Shipping no Minimum?
Can you get free shipping on any Chewy order? Most products on Chewy.com are denoted as "free shipping eligible" which means they ship free if you spend a total of $49. Currently, there are no codes that work on any order with no minimum.
Tip: If you don't qualify for free shipping consider buying 2+ of an item at once to push you over the minimum order requirement. Free shipping saves $4.95, so it's worth stocking up to get it!
Actually, there is one way to get free shipping with no minimum. Here's the hack:
---
#4: Use a Free Shipping Promo Code:
Most of the time there is at least one Chewy promo code available. These codes are either posted on their on-site coupon page or available on coupon sites like ours.
Chewy promo codes have a minimum order requirement of $49, and codes for free delivery with no minimum aren't currently available.
Free shipping is a sweet extra bonus, so stock up or add another item or two so that you qualify. Always look for a Chewy free shipping coupon before placing your order!
3 Top Chewy Free Shipping Codes Now:
Free shipping on $35+ with code CHEWYFREESHIP35
Free shipping on all $49+ minimum orders this month
$20 off $49 plus free shipping with code: WELCOME2023 (exp)
---
#5. How Chewy Can Offer a $20 Off $49+ Code:
How can Chewy make money on a $20 off coupon? Actually, the $20 off $49 code is for real and part of a shrewd marketing strategy.
Have you ever noticed how cheap printers are? You can get one that scans, copies, and prints beautiful colors for less than $200. That's because there's lots of potential profit is in the sale of ink, which you're going to need!
The same thing is true about your first order at Chewy.com. They are willing to lose money to prove that they are hands-down the best online store for everything your dog or cat might need.
So, while the $20 coupon is almost too good to be true, it's really just Chewy making a $20 bet that you'll be a loyal and passionate repeat customer.
Tip: Chewy may have other special discounts for groups like students and The Armed Forces, but this $20 off code is still the best for new customers!
---
Chewy Promo Codes That Actually Work: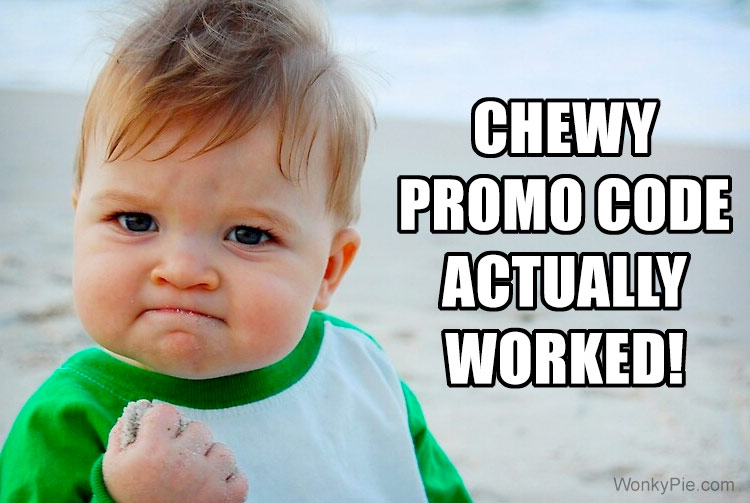 Chewy codes can be fickle and expire quickly without notice. That's why most of the ones you find on big coupon sites or Reddit don't actually work soon after being posted.
If you try to enter an invalid code you might get a message like this:
So, why isn't your code working? We contacted Chewy and here's what they said:
"Promo codes can be invalid if they've expired, already been redeemed, are for specific products, or been entered incorrectly. If you have questions about this code, please call us at 1-800-672-4399 or email us"
I also notice that many promo codes are intended for new customers only or for specific brands or categories of pet supplies like Seresto collars, Royal Canin, Taste of Wild, or Greenies dog chews.
As a result, you'll see a lot of comments on sites like RetailMeNot complaining that they don't actually work.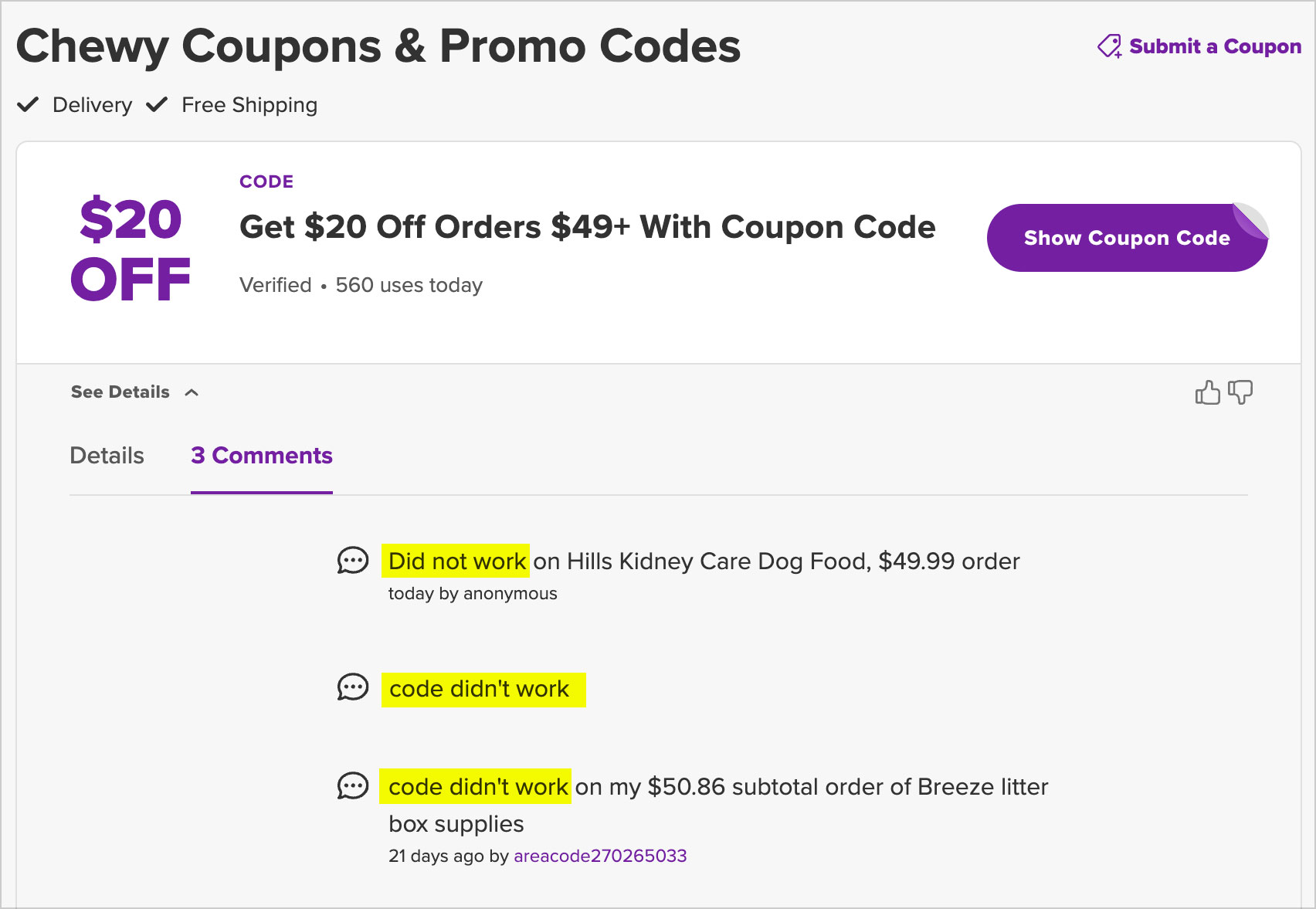 Because most Chewy promo codes expire after a week or two, most codes on sites like Reddit are stale and don't actually work.
So, if you find a great code that actually works, quickly use it before midnight or it might expire or turn into a pumpkin.
---
We Have More Free Shipping Codes:
You won't usually need a promo code to get free shipping every day at Chewy.com. However, we do have promo codes for free shipping and exclusive discounts from top brands like Vistaprint, Factor, Snapfish, Fanatics, and Finish Line.
We hope these Chewy codes actually work for you, and thanks for stopping by Wonky Pie!