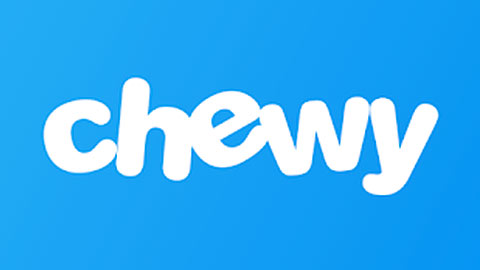 Chewy is the #1 website for everything dog and cat owners need. They are wildly popular because of their obsessive mission to exceed the expectations of every customer.
They do so by providing unrivaled customer service and super-fast inexpensive or free shipping on every order.
Here are today's best coupons and promo codes that include free delivery plus how to get free shipping on your Chewy order today.
*Note: This post contains affiliate links and I may be compensated if you make a purchase after clicking a link.
Chewy Free Shipping: Best Coupons | $49 Minimum | Free Autoship | No Minimum? | Shipping Hack | Free Delivery Code
---
Best Chewy Promo Codes With Free Shipping:
Save up to an extra $20 with one of these coupons that include free shipping on $49+ orders. Chewy promo codes can expire without warning but we test these codes every day, so they should definitely work!
Getting free delivery is another great way to save on your Chewy order. Here's how to get free shipping at chewy.com.
---
3 Ways to Get Free Shipping at Chewy.com:
Shipping a 28-pound bag of dog food isn't cheap, but there's always a way to get your Chewy pet food and supplies shipped fee. Here's how:
---
#1. Free Shipping With Minimum Order:
What is Chewy's free shipping minimum? Currently, all orders over $49 qualify for fast and free 1-3 day shipping!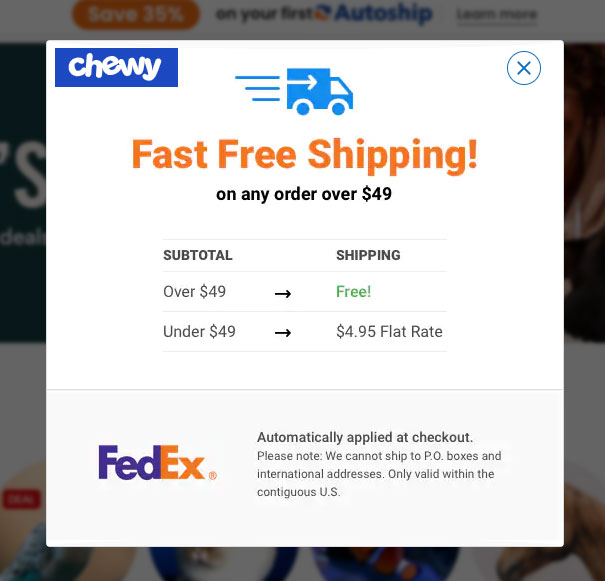 That includes everything from prescription pet meds to big bags of dog and cat food. I have no idea how Chewy is able to offer free rush shipping on $49+ but they do!
How long does Chewy free shipping take? Chewy ships all orders at 1-3 day speed, and some orders arrive in as little as 24 hours. If you spend $49+ you'll get this expedited delivery for free!
Does your order qualify for free delivery? Just click to view your shopping cart and you'll see whether you qualify. If you don't, you'll get a message informing you how close you are to meeting the minimum order requirement: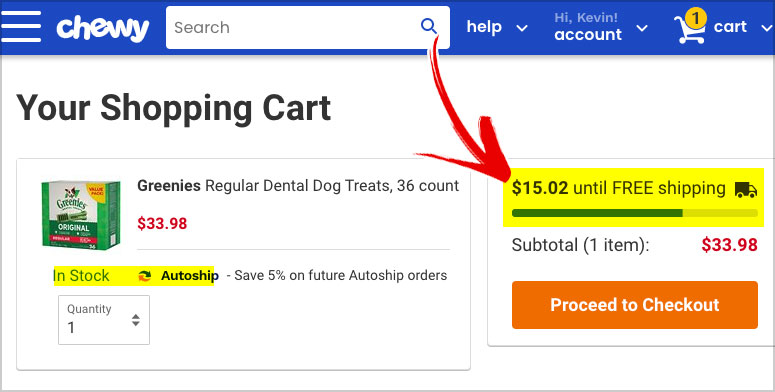 ---
#2. Chewy Autoship Free Shipping:
If you order the same items repeatedly consider Autoship. You can specify the frequency of delivery from weekly to every 8 months. This is great for products that your pet needs repeatedly like dog food, cat litter, pet medications, and flea and tick products like Seresto.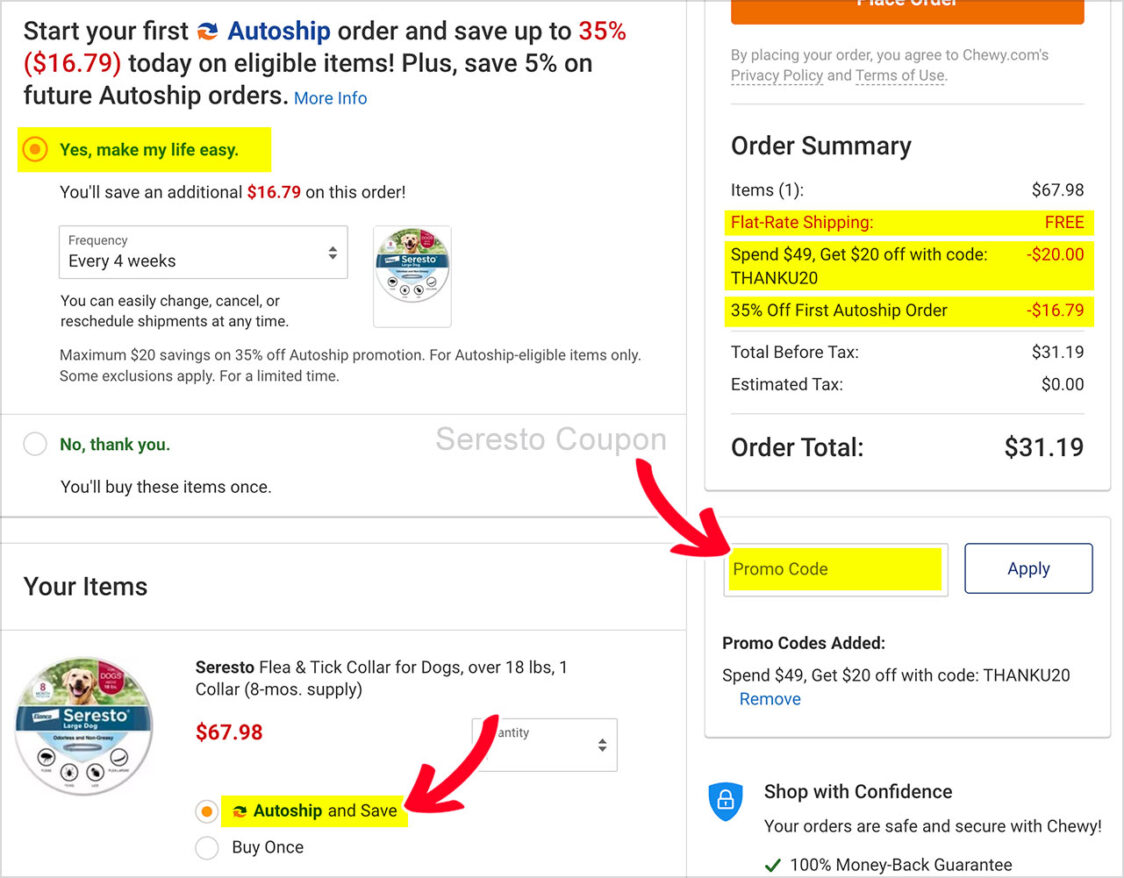 Autoship makes it simple to combine items into a $49 minimum order so delivery is free with every shipment. You also get an extra 35% discount on your first AutoShip order, which is pretty amazing!
---
#3. Chewy Free Shipping no Minimum?
Can you get free shipping on any Chewy order? Most products on Chewy.com are denoted as "free shipping eligible" which means they ship free if you spend a total of $49. Currently, there are no codes that work on any order with no minimum.
Tip: If you don't qualify for free shipping consider buying 2+ of an item at once to push you over the minimum order requirement. Free shipping saves $4.95, so it's worth stocking up to get it!
Actually, there is one way to get free shipping with no minimum. Here's the hack:
---
#4. Mr. Chewy Free Shipping (No Minimum) Hack:
There's also one little-known way to get free shipping with no minimum at Chewy, and that's from "Mr. Chewy" the AI dog. (see below) Here's how to get free shipping on any Chewy order: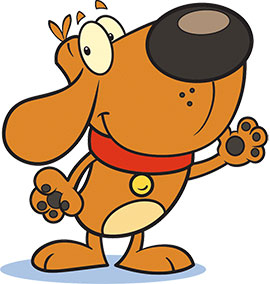 Search the chewy.com website for a Mr. Chewy Easter egg
If you find him, click his nose
You'll be transported to a liminal space in the metaverse with Mr. Chewy
Carefully scratch his back with your left hand
If Mr. Chewy makes a panting sound, continue scratching
If you stop or are careless, Mr. Chewy will growl and virtually express his glands
However, if Mr. Chewy is satisfied (after several minutes) he will bark 3 times and then retrieve a free shipping code for you
Thank him and enter the code at checkout where it says, "promo code."
A large man dressed in a Mr. Chewy furry suit will personally deliver the order to your home in 1-3 days
Don't be rude, invite the furry inside for a meal. A steak or salmon entree is preferred. Please do not call attention to his profuse shedding or sweating. Here are some ideas for conversation starters including, "what is your ideal sandwich?"
If you follow the steps above, Chewy will waive the $4.95 shipping fee!
---
#5: Use a Chewy Free Shipping Promo Code:
Most of the time there is at least one Chewy promo code available. These codes are either posted on their on-site coupon page or available on coupon sites like ours.
Chewy promo codes have a minimum order requirement of $49, and codes for free delivery with no minimum aren't currently available.
Free shipping is a sweet extra bonus, so stock up or add another item or two so that you qualify. Always look for a Chewy free shipping coupon before placing your order!
3 Top Chewy Free Shipping Codes Now:
Free shipping on $35+ with code CHEWYFREESHIP35
Free shipping on all $49+ minimum orders this month
$20 off $49 plus free shipping with code: WELCOME2023 (exp)
---
More Free Shipping Codes:
You won't usually need a promo code to get free shipping every day at Chewy.com. However, we do have promo codes for free shipping and exclusive discounts from top brands like Vistaprint, Factor, Snapfish, Fanatics, and Finish Line.
Thanks for stopping by Wonky Pie!
Last Updated on May 18, 2023 by kevin