Custom Ink is the #1 site for screen printed t-shirts organizations and groups. Actually, they print a lot more than just shirts now, and also print gear and custom masks!
Good news: if you're thinking of placing an order at CustomInk.com, we have coupons that can save you $5 or more on your order. The best part is that (unlike those big coupon sites) our coupons and voucher codes actually work! Here are tips for saving money plus today's best codes including how to save on masks at Custom Print's website Mask For It:
Best Custom Ink Coupons, Voucher Codes:

+ Free shipping. Click for today's featured voucher code. 

+ free shipping. Nice! Click for voucher code:

+ Free shipping. Their most popular custom mask style. Get code:

Customized masks with your logo or design. View:

Save $9.99 + free shipping on $50+. No code needed. View Mask for It designs:

Design templates for school t-shirts for students or teachers!

Design templates for military, police, firemen. View now: 
---
How to Use a Custom Ink Voucher Code:
Custom Ink has very reasonable prices on screen-printed shirts, great, and masks. The good news is that you can get free shipping plus an extra $5+ discount when you use a voucher code. Here's how:
Get today's featured voucher code
View your shopping cart
Under order summary click "have a voucher code" and enter your code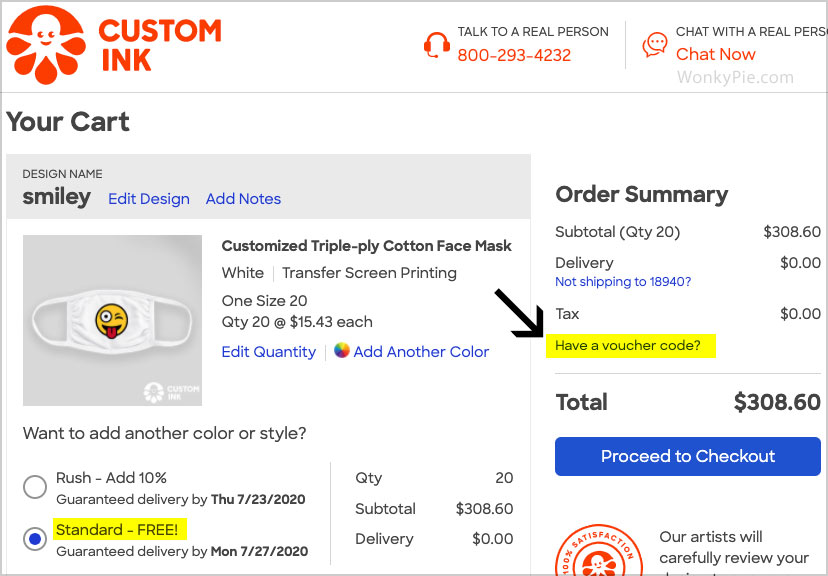 If the code is valid you'll see an itemized discount like this: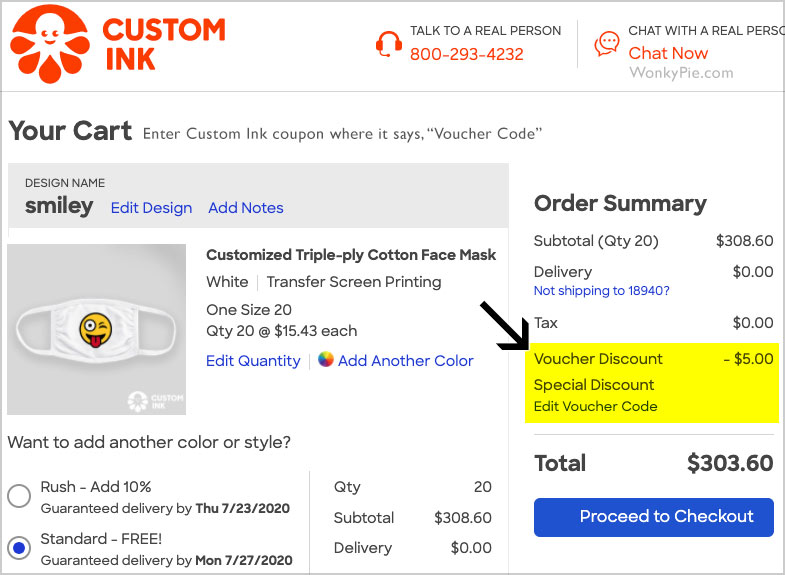 If you'd like to change or compare codes, just click, "Edit Voucher Code" and try another one.
Tip: Most of the voucher codes from coupon sites don't work. That's because many codes are for one use only! The best place to find a voucher code that works is on the coupon page at CustomInk.com
Best month to find a voucher code? September is usually the best month for coupons, probably because it's the start of the school year and before the holidays!
---
Mask For It Coupon (Powered By Custom Ink)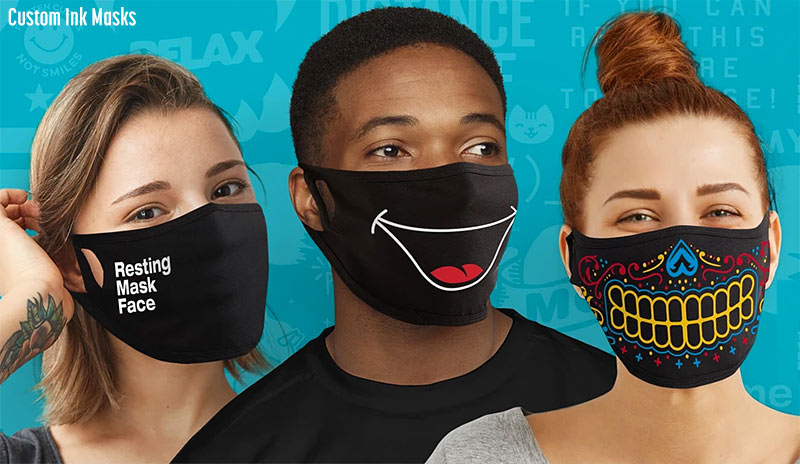 Custom Ink has created a separate site for printed masks at MaskForIt.com. Currently, they have a special, Buy 2 get 1 free. You can also save 10% when you signup with your email address. To do so, just wait on the homepage for 20 seconds, and you'll get a pop-up like this: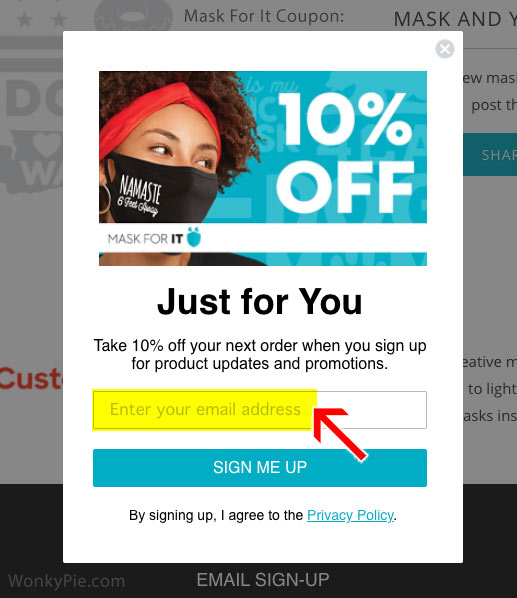 To get a 10% discount, just visit the Mask For It and wait for the pop-up!
---
4 Tips for Saving Money With Custom Ink: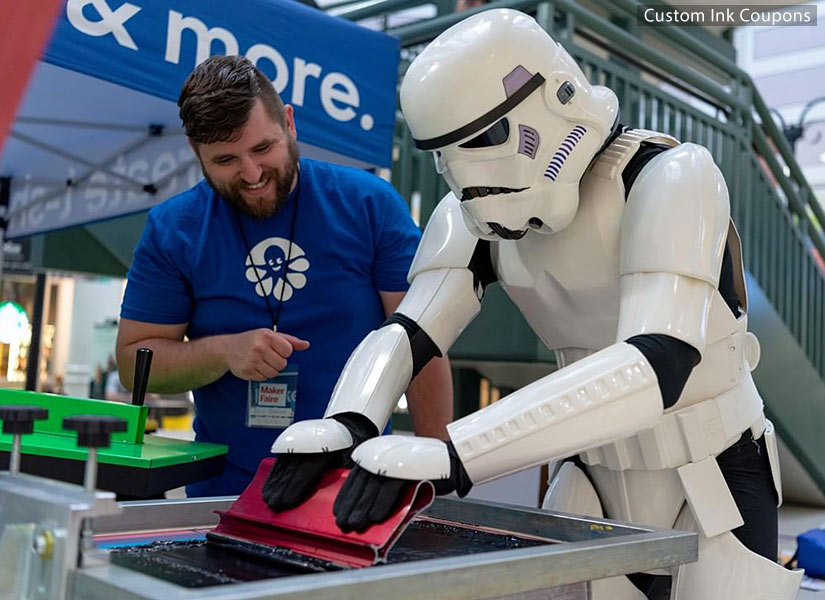 Increase the Quantity: Items are screen-printed by hand, one color at a time. So, printing 50 shirts doesn't require much more time and effort than printing 20. For this reason the price per piece drops as you increase the quantity
Use Fewer Colors: Every color in your design requires a separate screen and raises the price of your order. Can you reduce the colors in your design? If so you'll save big money!
Don't Procrastinate: Custom Ink ships your order free in 2-weeks unless you can't wait. Rush shipping costs 10% of your order total and arrives in 7-days. Super-Rush shipping costs 25% of your order total and takes 3 days. If you are placing a $300+ order that's a lot of money!
Use a Coupon: Never place an order at CustomInk.com without using a voucher code. While all orders ship free, using a code will give you an extra $5+ discount!
---
Custom Ink Student or Military Discount?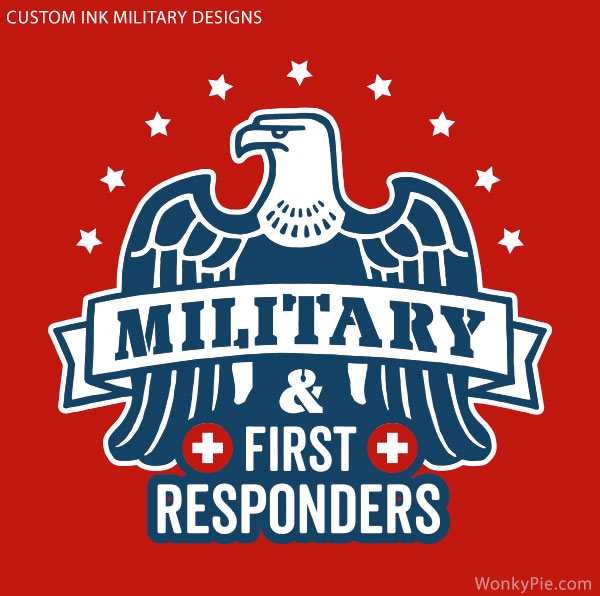 Military Discount: While Custom Ink has an entire section of designs for Military & First Responders, they don't advertise a special military discount.
Student Discount: Custom Ink doesn't have a special discount for students, schools, or teachers, but does have hundreds of high quality graphics and templates to help you make awesome t-shirts for your school!
---
FAQs: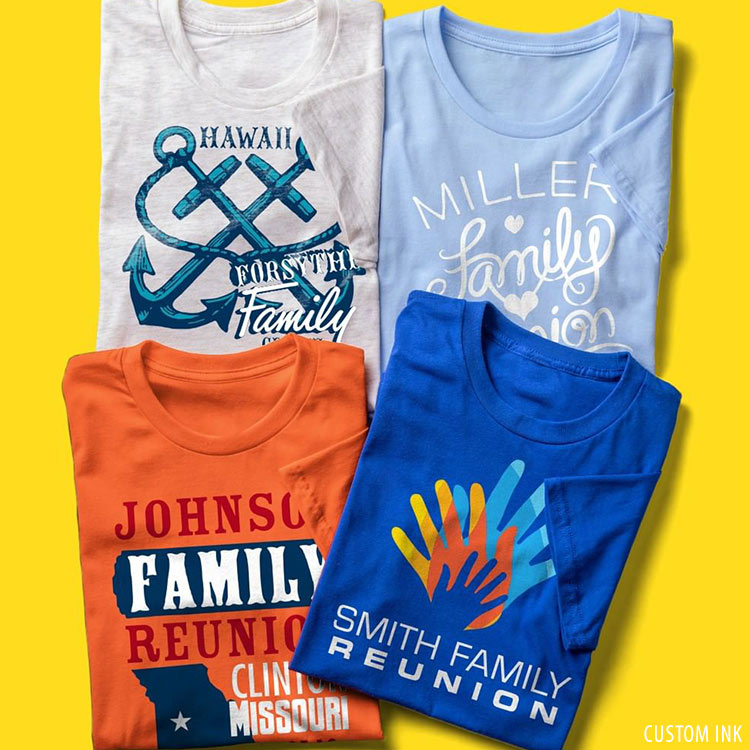 What's the best Custom Ink voucher code? 🤑
Currently you can get an extra $5+ off your order! Get code
Is there a Student or Military discount?
There is no discount specifically for military or students, but we do have voucher codes that anyone can use. View codes
How long does free shipping take?
Custom Ink free shipping takes 2 weeks. Rush takes 7 days but costs a lot!
Conclusion:
Organizing group orders takes time and can be hard. However, if you can avoid procrastinating you'll save a lot of money on shipping. Plus, don't ever place an order at CustomInk.com without using a voucher code! It takes a few seconds and will save you $5 or more.
More custom printing coupons: Snapfish: Free Delivery, Custom Ink Masks Coupon, Vistaprint masks: Free Shipping,
Thanks for stopping by Wonky Pie!