Why you should start planning your Resolution ASAP: The fitness industry will say, "Don't wait till Monday to START", Nike Says "Just Do It" and Facebook is riddled with implied shame for those with new years resolutions.
Crowding to the gym like the promised land in January, eating healthier, detoxing, getting organized, reading more, sleeping better, you name it and people will vow it and those who have it all together look down there noses.
This is all good, but why wait until New Year's to start your resolution? True, there's something about starting the actual new year with a fresh start, but 80% off New Year's resolutions fail before February, so don't wait until January to give it another shot.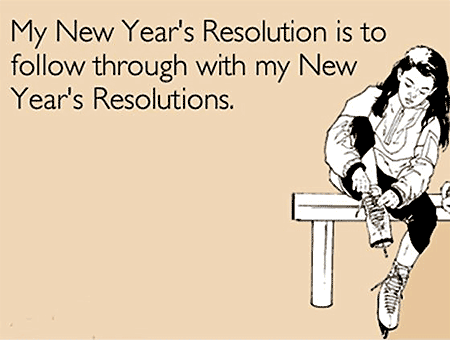 (More funny weight loss quotes) With resolve, leap into your NEWNESS first thing tomorrow. Here are 5 great reasons why you shouldn't procrastinate until New Years to make a resolution:
#1: Preparing for Change Feels Good
It's always mentally refreshing to prepare for change. Nothing FEELS better than to prepare for that start date. That moment when you know that you are ready to change. Whether it is hitting the gym at least once a week or quitting smoking, it is important to start as soon as possible, in order to make a positive change.
Just BE ready and leap into it confident you can keep your change! Every great step, project and success story has a start date, don't be sheepish if yours isn't January 1st! Sit down, create a game plan, get on your game face and ring in the "new year" prepared!
#2: Write Down Your Weight Loss / Fitness Goals
Writing out your goals and visions for a period of time will prove more LIKELY for your success!!
You are 70% more likely to achieve your goals if you write them down, so why not try!
Make your list, check it twice and even if you never see it again, you are more geared toward success. Just like tracking food, writing your workouts, journal writing, and creating vision boards, writing resolutions will give them more staying power than just an "inner vow" to do/be/feel better! Writing things down also help you to plan out your resolution better. Even if one of these goals is as simple as checking out sites like Mobile Mob to buy accessories for the Fitbit watch that's been lying in the drawer, this might be the motivation you need in order to keep on track of these fitness goals. If you write your resolution down and realize you don't know where to start then you can go to a blog like Thick and Tired which is all about health & fitness and read about where to start.
Bonus: Everyone and their mother is looking for a new relationship (like eharmony.com!) or starting a new diet in early January, but not so much in June. For this reason, you can find some great deals and promotions from the big names in weight loss.
*Related: New deals for WeightWatchers plans and the Noom app.
#3: It's Biblical (If That's Your Thing!)
God is ALL about newness!! God sent Jesus to this world so we could BE NEW!! 2nd Corinthians says we are already NEW creations in Christ. Revelation says that God makes ALL THINGS new and Isaiah below gives us hope that when promised newness of life and in life, even the driest path will spring forth life.
"Behold, I am doing a new thing;
now it springs forth, do you not perceive it?
I will make a way in the wilderness
and rivers in the desert." – Isaiah 43:19
It's human nature to feel good about positive change. If your goal is to lose 30 pounds, write it down, and then track your progress. Monitoring your journey and progress is key, so consider a diet like Weight Watchers that includes tracking, (and meetings?) or even a free app like MyFitnessPal!
#4: Resolution Means Determined and Unwavering
Resolution means a course of action determined or decided on. Not perfect, not completed, not wavering. But, you can do better than the 4 out of 5 people who quit their resolution after a month! It might take all year, sometimes it can take a few.
Don't think of a new resolution as a year of effort, as that can be an intimidating load on your back. Just think of it as a little effort every single day. Little by little one walks far and over the course of the year with a clear, God-ordained, written path decided on, you are BOUND to succeed!
#5 Your Resolution Will Inspire Others
We are light to be light for others. Don't be weary to be a resolutioner, be who you are and take someone with you, someone without the courage to go it alone! Or go it alone and see who you inspire to create their plan, step into their newness and create the life they always wanted. The effect is contagious and seeing others spark with determination and motivation is the best gift you can give and receive!
So, What's Your Resolution?
Think about your goals, then really meditate on them Visualize yourself succeeding, and write your goals down. Now, can you get started tomorrow? If not, when is your personal "New Year's Day?"
Article by Missy W.