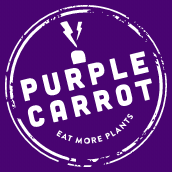 Buffalo cauliflower recipe from Purple Carrot. After going mostly vegetarian I really missed two things: chicken tacos, and chicken wings. This recipe is the best of both worlds while avoiding the nasty skin and stringy ligaments of a chicken wing.
You can easily double this recipe if you're having friends over for a football game. Never heard of Purple Carrot? We tried it and love it! (still members!) Actually, we wrote a review that explains how it works and the cost.
If you're interested we have a great $30 coupon here. Here's Purple Carrot's vegan recipe for Buffalo Cauliflower Tacos:
---
Vegan Buffalo Cauliflower Tacos Recipe: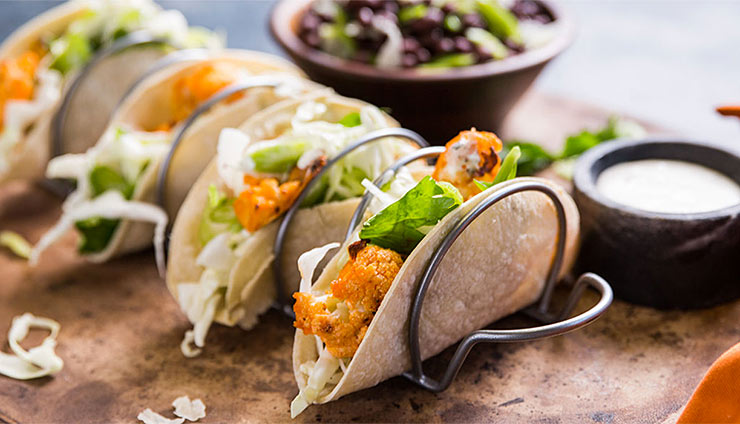 Buffalo Cauliflower Tacos (Vegan)
Tasty and crisp cauliflower tossed in a classic buffalo sauce topped with a crunchy celery slaw and bleu cheese dressing.
Ingredients
8

oz

cauliflower florets

1/4

cup

rice flour

1/4

tsp

garlic powder

3

oz

celery

1

scallion

1

lemon

3

oz

green cabbage

1

can

black beans

1/2

cup

Frank's Red Hot®

3

tbsp

butter

vegan

6

corn tortillas

1/4

cup

bleu cheese dressing

vegan

1

tsp

olive oil

pinch

salt & pepper
Instructions
1. Bake the cauliflower
Preheat the oven to 450°F. Rinse and chop the cauliflower florets into bite-size pieces. Lightly grease a baking sheet with 1 tsp olive oil. In a large bowl, whisk the rice flour, garlic powder, ¼ cup cold water, and a pinch of salt.

Toss the cauliflower in the batter and place on the baking sheet. Bake until crisped, about 10 to 12 minutes. Flip with a spatula and bake for an additional 6 minutes.
2. Prepare celery slaw
Rinse and dry the remaining produce. Remove the celery leaves from stalk and place the leaves in a medium bowl. Thinly slice the celery and scallion and add to the bowl. Add the green cabbage, juice from the lemon, and a pinch of salt and pepper. Toss slaw to combine. Drain and rinse the black beans.
3. Make Buffalo Sauce
Place a small saucepan over medium heat and combine the Frank's Red Hot® with the vegan butter. Whisk sauce until butter is melted, season to taste with salt, and remove from heat. Wrap the corn tortillas in foil and set aside.
4. Finish cauliflower
Remove the cauliflower from the oven and brush with Buffalo sauce (the sauce can also be lightly drizzled over the cauliflower). Return Buffalo cauliflower to the oven to bake until crisp, about 7 to 10 minutes.
5. Heat tortillas
Place the corn tortillas in the oven for 5 minutes to warm.
6. Build tacos
Lay warm corn tortillas on each plate and top with Buffalo cauliflower and a pinch of the celery slaw. Drizzle with Follow Your Heart Bleu Cheese Dressing. Mix the black beans into the remaining celery slaw and serve alongside the tacos with any remaining Buffalo sauce.
Notes
Healthy tacos! Baked cauliflower tossed in a classic spicy sauce. Topped with crunchy celery slaw and creamy vegan bleu cheese dressing Great alternative to beef tacos or chicken wings.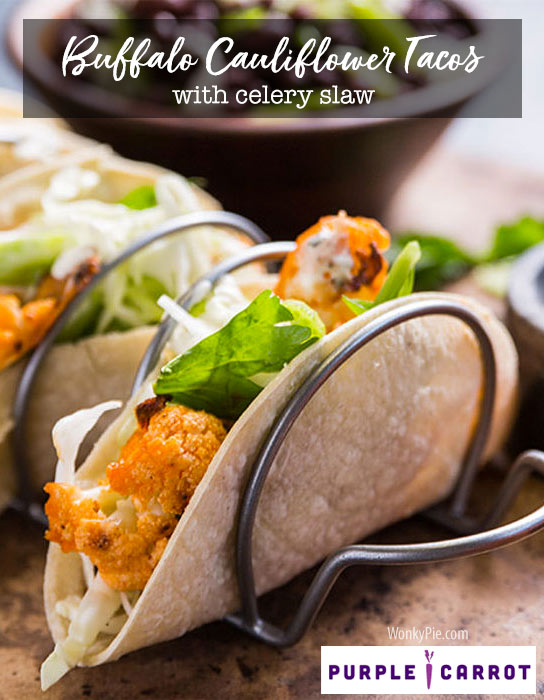 Buffalo Cauliflower Tacos!
I hope you think these tacos are as tasty as I do. The best part might be that they aren't greasy or fatty and you won't feel gross after eating these healthy chicken wing alternatives.

Thanks for stopping by Wonky Pie!
More coupons: Home Chef | Weight Watchers