Wondering what you eat during a typical day on Noom? While the Noom program doesn't provide food, they do provide the resources you need to eat healthily and lose weight. They do this through an app-based program that gives you a daily calorie budget which will increase if you exercise.
They then nudge you towards healthy food choices with recipes and their color-coded food lists.
No foods are off-limits, but healthy foods are green, and calorie-dense foods will be red. Sure, you can have some foods off the red list, but you'll need to balance them out with green foods.
In a nutshell: Make good choices, log your food, and track your weight loss!
Does Noom have sample menus? Noom does provide a free 7-day meal plan example, plus I created some free sample menus based on the food I logged over the last two days. I'm also adding a third sample menu made of all Noom recipes from the app.
Here's today's best signup promotion that starts with a free quiz and 14-day trial offer plus a Noom diet free plan: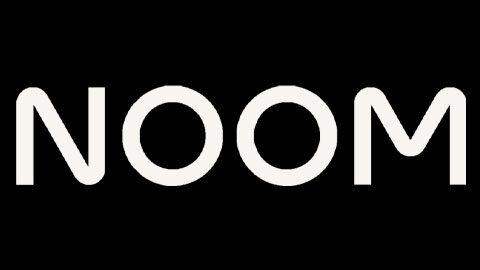 Noom: Sample Menus | Meal Planning | Logging Meals | Free Meal Plan
Here are some free Noom sample menus:
---
Noom Sample Menu Day 1: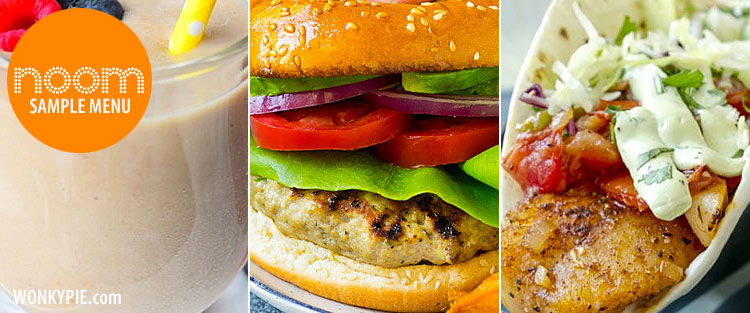 I had a budget of 1530 calories on this day because I worked out for 30 minutes in the morning:
Breakfast: Banana Ginger Smoothie (Noom recipe): 157 cal
Morning Snack: Apple (Gala) with peanut butter: 194 cal
Lunch: Turkey Burger w/ (baked) chips: 440 cal
Afternoon snack: Baby carrots w/ hummus: 138 cal
Dinner: Fish tacos (grilled) w/ brown rice: 588 cal
Evening Snack: 10 grapes: 20 cal
Total: 1537 calories – Just 7 calories over budget!
---
Noom Sample Menu Day 2: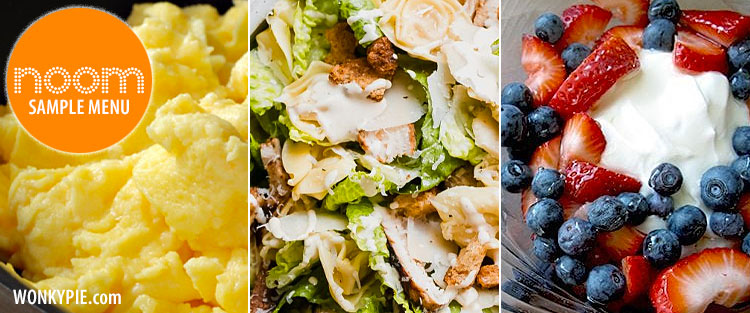 I had a budget of 1460 calories today because I walked for 30 minutes.
Breakfast: Scrambled eggs (2) w/ cheese + black coffee w/ sugar: 303 cal
Morning Snack: Banana: 105 cal
Lunch: Chicken Caesar salad + garlic bread: 350 cal
Afternoon snack: Greek non-fat Yogurt + blueberries: 109 cal
Dinner: Asian Orzo and Shrimp (Noom recipe) + glass of milk: 511 cal
Evening Snack: Rice Krispies w/ 1% milk: 175 cal.
Total: 1553 calories – 93 calories over budget!
---
Sample Menu Day 3: (All Noom Recipes)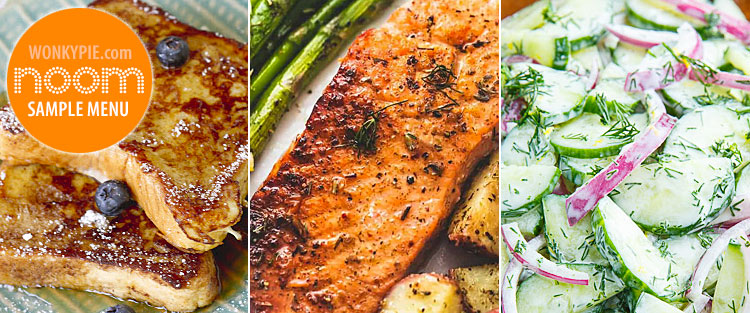 If you want to incorporate new meals into your menu, check out Noom's recipe section on the app. You can find thousands of great recipes that are sortable. For today I walked 30 minutes in the morning, so I have a 1460 calorie budget:
Breakfast: "Don't Get Fat" French Toast + Blueberries: 246 cal
Morning Snack: Smoky Paprika Kale Chips: 149 cal
Lunch: Corn & Tomato Chowder (recipe): 272 cal
Afternoon snack: Broccoli-Artichoke Dip w/ Toasted Pita Chips: 101 cal
Dinner: "Walk-the-Plank" Salmon w/ Grilled Pineapple & Asparagus (409 cal) + Men's Health Spicy Oven Fries (183 cal) total: 592 cal
Evening Snack: Creamy cucumber & dill salad: 55 cal.
Total: 1415 calories – 45 calories under budget!
Of course, cooking from recipes all-day would take a lot of time, but this Noom meal plan example is just to illustrate how you can bring healthy and tasty new meals and snacks into any day's Noom Coach menu!

---
Noom Meal Planning:
How do you plan meals on Noom? Planning a Noom menu doesn't require much time (unless you like that sort of thing!) While I do most of my planning on the fly, I'll also try to find a recipe or two from the Noom app to incorporate into my meal plan for that week. I have the tendency to stick with a small variety of meals, so that helps to keep my weekly menu fresh.
How many calories per day on Noom? Your calorie budget is determined by a number of factors like your height weight, and activity level. If you log your exercise, you'll notice your calorie budget increase for that day!
Here's how a Noom Coach menu comes together and is logged on the app:
First, when you open the app you'll see how many calories you have to budget for the day: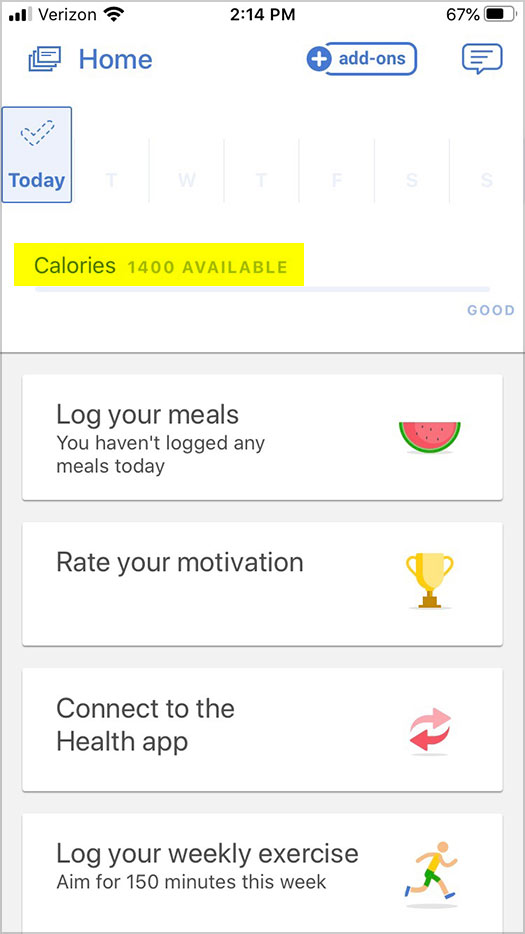 If you log exercise, you'll get more calories to spend on food.
---
Then, Log Each Meal:
Logging meals is the most important habit to have on Noom. According to a well-respected study, people who regularly log all of their food and exercise are much more likely to meet and maintain their weight loss goals.
Tip: Log your food after meals when possible so you know how many calories you have left and can plan accordingly!
As you can see from the first sample menu above, for breakfast I grabbed a banana ginger smoothie recipe from the Noom app: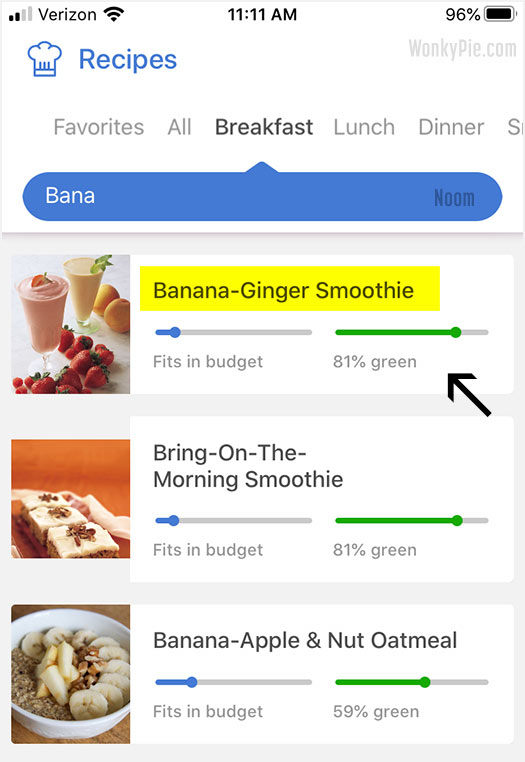 It tells you if a recipe fits in your budget, and you'll see how healthy it is by what % green it is. Just click on any recipe for details and instructions: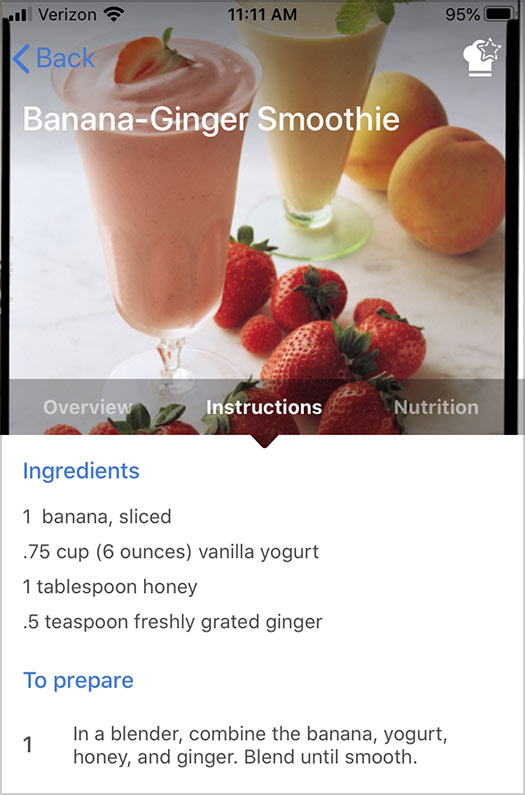 Yum! Noom recipes are a great way to find healthy new meals and snacks and know exactly how many calories are in each one.
Then, for the rest of the day's sample menu, I just made my own food and logged it as I went along. For example, at lunchtime, I ate a turkey burger. So, I just clicked, log your meals, and typed in "turkey burger." Since it's in Noom's database of thousands of foods, it came right up: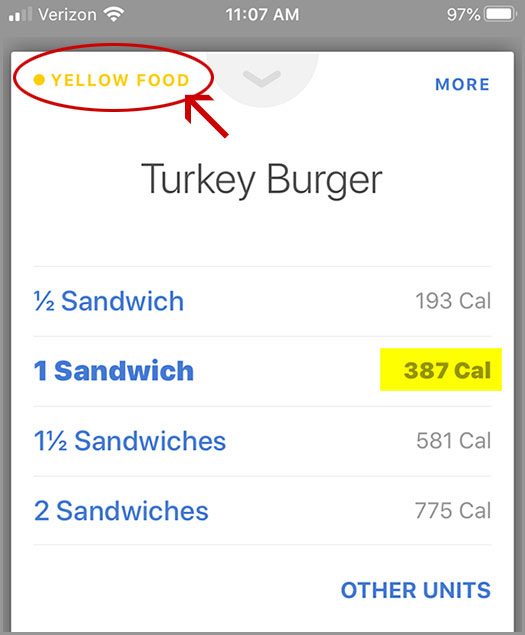 Notice that it's a yellow food?
That's ok. That just means it's "sort of healthy." Once I log it, the calories are added to my daily total along with the chips that I ate with it: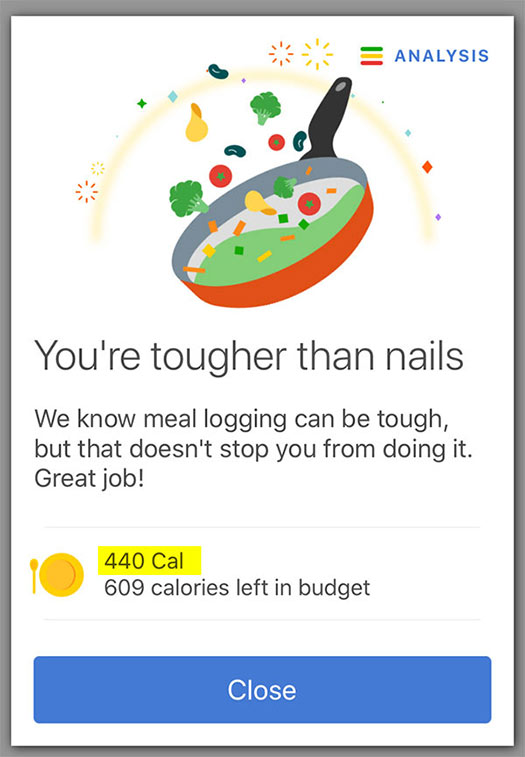 Wow, thanks for the positive-reinforcement!
I log each meal, and at the end of the day all of the food I ate is recorded and the calories are added: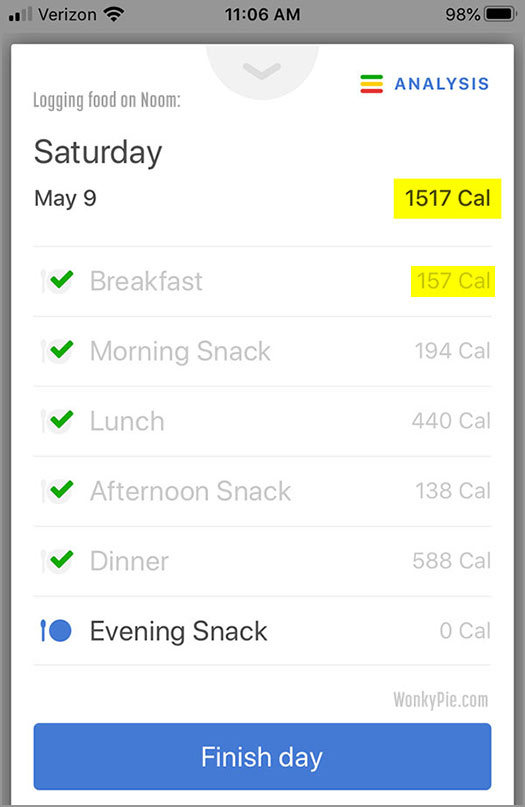 *Inspiring: Noom Before & After Photos
---
Noom Free Diet Plan w/ Recipes (PDF)
If you'd like a free taste of Noom, you can follow this printable free 7-day meal plan. It's a great way to understand the basics of the diet before joining or starting the free trial.
The free diet plan also includes a number of healthy free recipes and 100 ways to save 100 calories: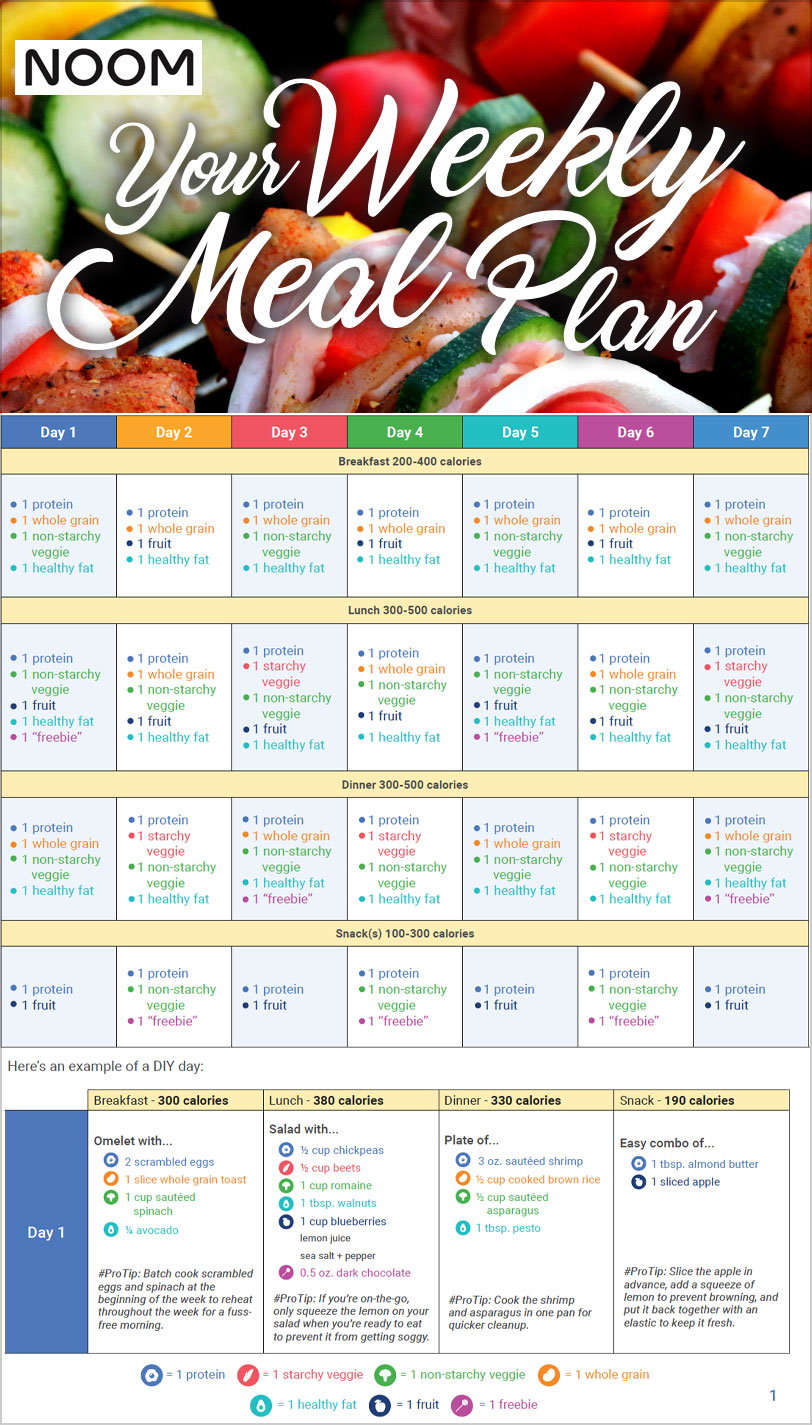 ---
Why Isn't Noom Free?
Noom is an app-based wellness program based on behavioral psychology. The diet plan costs money and includes several key components like coaching and tracking that are important to the success of the program.
While there are free Noom resources and recipes online, the Noom diet plan can't be effectively recreated as a free or DIY version. However, you can try Noom diet plan free for 14 days through this link to noom.com.
The free trial starts with a free assessment and concludes with an offer to start free.
---
The Noom Meal Plan is What You Make of It:
Unlike meal-delivery diets like Nutrisystem and South Beach Diet, the Noom diet doesn't include any food. Instead, their app helps you form healthy eating habits so that you can make smart choices on your own. They also have an important coaching component for support and accountability.
For this reason, there is an infinite number of potential menus you can create for yourself which may include one of the thousands of Noom recipes in their searchable database on the app.
If you are thinking of joining Noom, we wrote a review here where we talk about how it works and the cost. We also stay on top of any discount codes and coupons for sign up including their popular 14-day free trial.
Although Noom is a healthy diet that focuses on overall wellness and good eating habits, you should still talk to your doctor before starting any weight loss program.
Wellness Coupons: Weight Watchers | Byte Aligners | Adam & Eve | Purple Carrot
Thanks for stopping by Wonky Pie!